Hubert de Givenchy, the Fashion Legend Behind Audrey Hepburn's Style, Has Died at 91
The haute couture designer revolutionized the industry, pioneering an elegance that spread to the States via Jackie Kennedy's White House years.
---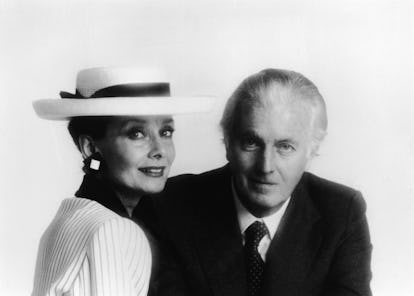 Hulton Archive/Getty Images
After the end of last year brought the death of the beloved designer Azzedine Alaïa, the fashion world has now lost another legend, just over two months into 2018. On Monday, news broke that over the weekend, Hubert de Givenchy—the founder, of course, of his namesake house, Givenchy—died at 91, decades after revolutionizing haute couture in Paris and bringing it over to the States with the onscreen help of Audrey Hepburn and the presidential platform of First Lady Jackie Kennedy, who had all eyes on the White House in large part thanks to his shift dresses and pillbox hats.
Born in Beauvais, France, Givenchy worked under heavyweights like Christian Dior, Pierre Balmain, and Elsa Schiaparelli, making him equipped to debut his first haute couture collection in his mid-20s, in 1952. With the collection he markedly took quite a departure from other designers by putting an emphasis on separates. Just two years later, before he was even 30, he broke ground again by becoming the first designer to launch a ready-to-wear brand that also managed to be high-end.
Givenchy's high-profile clientele also helped to rewrite the fashion status quo. He and Audrey Hepburn came to epitomize the designer-muse relationship and essentially invented the concept of a brand ambassador. Hepburn inspired Givenchy's first perfume collections, an important moneymaker for the brand, and became the first celebrity to star in a fragrance campaign, which she in fact did for free. Their bond, which ended up lasting for four decades, was strong from the moment they first met, in 1953: Givenchy took charge not only of Hepburn's personal wardrobe but also of her most famous outfits showcased onscreen, from her photo-shoot ensembles as a burgeoning model in Funny Face to her famed black sheath dress and evening gloves in Breakfast at Tiffany's.
Of course, Hepburn wasn't the only one to fall in love with the elegance of his designs: Princess Grace of Monaco, the Duchess of Windsor, Jane Fonda, and Marlene Dietrich were just some of the many wide-ranging names who opted to be outfitted in his ensembles. He managed to achieve that cult status by operating independently for more than three decades, before selling the house to LVMH in the late '80s (though staying on board as head of creative design until 1995). Even after he retired, the house never lost steam, thanks to a roster of talented designers such as John Galliano, Alexander McQueen, and Riccardo Tisci taking charge, with the latter adapting the brand to the Kardashian era over the course of a dozen years.
Former Givenchy Designer Riccardo Tisci on How He's Always Had Strong Opinions:
The house is now in the hands of Clare Waight Keller, the first woman to take its helm. Recently, she reflected on how thankful she was to have met Givenchy before his death: "Not only was he one of the most influential fashion figures of our time, whose legacy still influences modern day dressing, but he also was one of the chicest, most charming men I have ever met," she said.
In his later years, Givenchy pivoted to collecting 17th- and 18th-century sculptures, and took up residency in the 18th-century Château du Jonchet, about two hours west of Paris. He stayed true to worshipping his idol, Cristóbal Balenciaga, until his death, though he had long since well established his own design legacy. He'll also continue to have quite a different impact outside of fashion: Rather than sending flowers, his family has requested that his admirers donate to UNICEF in his memory.
Heading
Related: Azzedine Alaïa and Naomi Campbell: Recalling One of Fashion's Most Enduring Bonds
Jackie Kennedy Through the Years: A Look Back at the Original White House Style Icon
A smiling Jacqueline Bouvier arrives at St. Mary's Church in Newport, R.I., on the arm of her stepfather, Hugh D. Auchincloss, for her wedding, 1953. Photo courtesy of Getty Images.

Getty Images
Jackie Kennedy on a visit to India in 1962. Her signature pearls and gloves accessorize an apricot dress with bow accent. Photo courtesy of Getty Images.

Getty Images
Jackie looks windswept on a December afternoon in 1969 in a casual black turtleneck. Photo courtesy of Getty Images.

Getty Images
Jackie Onassis pictured receiving a gift from Prince Sihanouk of Cambodia and his wife during a trip to Cambodia in 1967. She dons a teal one-shoulder dress with decorative trim. Photo courtesy of Getty Images.

Getty Images
Jackie Kennedy on a trip to Canada in 1961. The First Lady matches an iconic pillbox hat to her red wool suit. Photo courtesy of Getty Images.

Getty Images
Jackie Onassis attends the Metropolitan Opera at Lincoln Center in 1967 wearing a white 3/4 sleeve gown cinched at the waist by a chunky belt with stone inlays. Photo courtesy of Getty Images.

Getty Images
Jacqueline Kennedy Onassis in a formal pants suit on East 75th Street, New York, 1960. Photo courtesy of Getty Images.

Getty Images
Jackie Onassis on the way to the Metropolitan Opera House House Royal Ballet in 1974. Her printed maxi dress exudes 70's glamour. Photo courtesy of Getty Images.

Getty Images
President and Mrs. Kennedy in West Palm Beach, Florida, 1961. Photo courtesy of Getty Images.

Getty Images
Ms. Onassis arriving at La Cote Basque in 1970. In a stunning red moment, Jackie looks playful in a beautiful ruffled dress that's belted at the waist. Photo courtesy of Getty Images.

Getty Images
Jacqueline Kennedy wearing a checked blue and white high cloche with a matching blue ribbon around the crown as she arrives with the President to greet the Pakastan President, Ayub Khan, Andrews Air Force Base, Maryland, July 11, 1961. Photo courtesy of Getty Images.

Getty Images
First Lady Jacqueline Kennedy walks a pace behind her husband in a monochromatic white outfit, a look that quickly became synonymous with Mrs. Kennedy during her Camelot days in 1962. Photo courtesy of Getty Images.

Getty Images
Jackie Kennedy exits a plane at Laguardia Airport Field in a knee-length leopard coat in 1962. Photo courtesy of Getty Images.

Getty Images
Jackie is pictured wearing her riding outfit at the 17th Annual Horse Show in 1970. Photo courtesy of Getty Images.

Getty Images
Jackie Onassis is photographed in 1970 at The Alvin Theater in New York wearing a black and white cocktail dress belted at the waist with geometric inserts. Photo courtesy of Getty Images.

Getty Images
Jackie is photographed at Heathrow Airport sporting a casual printed blouse and iconic oversized glasses in 1976. Photo courtesy of Getty Images.

Getty Images
Jackie Onassis pictured wearing a green cocktail dress to a dinner at La Cote Basque Restaurant in 1974. Photo courtesy of Getty Images.

Getty Images
Jackie wears a vibrant yellow gown to the Metropolitan Opera House in 1973. Photo courtesy of Getty Images.

Getty Images
Jackie wears a navy suit with a red bowtie while out with her children in 1971. Photo courtesy of Getty Images.

Getty Images
Jackie looks effortless exiting the cinema in a simple khaki skirt and tucked blouse during the summer of 1981. Photo courtesy of Getty Images.

Getty Images
First Lady Jackie Kennedy attends the unveiling ceremonies at the National Gallery of Art in a strapless lavender evening gown and satin elbow length gloves in January of 1963. Photo courtesy of Getty Images.

Getty Images
Jacqueline Kennedy Onassis wears a ballgown with a long sleeved sequin top to a gala at the New York Public Library in November of 1986. Photo courtesy of Getty Images.

Getty Images
Before she was a Kennedy, she was Jacqueline Bouvier. Here, the future Mrs. Kennedy is pictured in a floppy hat and shorts on holiday at the Kennedy compound in 1953. Photo courtesy of Getty Images.

Getty Images
In 1989, Jackie Onassis is sighted wearing a yellow sequin skirt paired with a crisp white blazer and pearls in New York. Photo courtesy of Getty Images.

Getty Images
Jackie Onassis attends her daughter Caroline's wedding wearing a long sleeved mint colored cocktail dress and gloves in 1986. Photo courtesy of Getty Images.

Getty Images