Celebrities Remember Irffan Khan, Who Died at 53
Remembrances poured out on social media from celebrities mourning the loss of the Bollywood icon whose work crossed over to English-speaking audiences.
---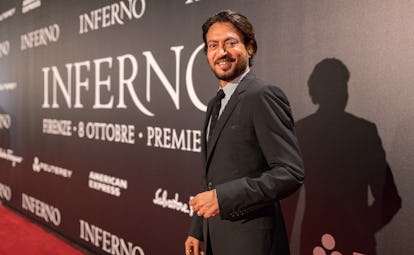 Photo courtesy of Getty Images.
Irrfan Khan, a Bollywood icon, has passed away at 53 years old.
According to a report from The Guardian, and a statement released on his behalf, the actor passed away in Mumbai due to complications with a colon infection. "Irrfan was a strong soul, someone who fought till the very end and always inspired everyone who came close to him," the statement read.
In 2013, he spoke to The Guardian about his crossover success, condemning the use of the word "Bollywood" when referring to Indian Hindi-language cinema. A portmanteau of the word "Bombay" and "Hollywood," the descriptor never sat right with Khan, whose career took off in 2002 after he starred in a low budget film from Asif Kapadia called The Warrior. "I always object to the word Bollywood," he said. "I don't think it's fair to have that name. Because that industry has its own technique, its own way of making films that has nothing to do with aping Hollywood. It originates in Parsi theatre." He went on to star in dozens of Indian films, as well as British and American ones after his breakout role in 2002.
Khan was a legend in Bollywood cinema, but his work crossed over to Anglo-American audiences, exemplified by the international successes of films such as Slumdog Millionaire, Life of Pi, Inferno, The Namesake, A Mighty Heart, The Amazing Spider-Man, and Jurassic World.
Celebrities shared their remembrances for the actor on social media. Riz Ahmed and Priyanka Chopra joined the chorus online, with Ahmed noting his performances as "consistently transcendent, he was a guiding light for so many of us" and giving a couple recommendations of Khan's work, imploring his followers to watch The Lunchbox or The Warrior.
Chopra—who starred with Khan in the 2011 film 7 Khoon Maaf, the 2008 film Chamku, and the 2014 film Gunday—shared her condolences to the actor's family on Twitter
Related: With "The Long Lockdown," Riz Ahmed Gives Fans an Opportunity to Connect