Hollywood Remembers Joel Schumacher, Director of Iconic Films, Master of Camp
From turning Matthew McConaughey into a star to putting nipples on the Batsuit, his unique legacy is unparalleled.
---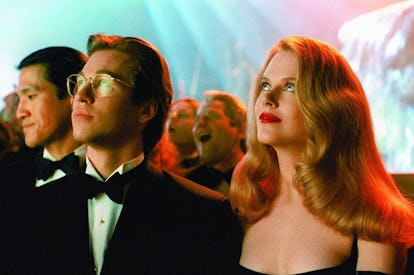 Val Kilmer and Nicole Kidman in Joel Schumacher's Batman Forever (1995). Film still courtesy of IMDB.
Joel Schumacher started out in Hollywood designing costumes for a Joan Didion-written film, managed to put nipples on George Clooney's Batsuit, directed a Brat Pack classic, and almost single-handedly got the rest of Hollywood to take Matthew McConaughey and Colin Farrell seriously as leading men. His career managed to weave between—and sometimes together—a certain idea of '90s studio prestige and all-out camp like no other director. And he did it all as the most high-profile openly gay director of his era.
Schumacher's reps confirmed that the director died peacefully at the age of 80 after a battle with cancer on Monday.
A New York City native, Schumacher's original interest was in fashion. He studied at both Parsons The New School for Design and the Fashion Institute of Technology, and got his start in show business as a costume designer with his first credit on the aforementioned Didion film, Play It Where It Lays. He then graduated to script writing, penning the films Sparkle, The Wiz, and Car Wash in short order. The Lily Tomlin-starring 1981 comedy The Incredible Shrinking Woman marked his big-screen directorial debut, but he'd cement himself four years alter with St. Elmo's Fire, the Brat Pack classic that helped make stars out of Emilio Estevez, Rob Lowe, and Demi Moore. He'd follow up that film by launching a cult franchise with the vampire comedy The Lost Boys. By the '90s, he'd become best known for alternating between Batman sequels (the ultra-camp Batman Forever and Batman & Robin) and the star-studded adaptation of John Grisham novels (The Client and A Time To Kill, the latter of which was a major breakthrough for McConaughey's career). His early '00s films Tigerland and Phone Booth introduced audiences to Farrell. The director would also go on to work multiple times with Nicole Kidman and Julia Roberts. Though, Schumacher's résumé isn't without its flaws. Despite getting his start writing black-centered films, many of his own projects lacked diversity. Falling Down, a study of white male rage, remains controversial to this day, and his casting of Philip Seymour Hoffman as a trans woman in Flawless would be considered a non-starter now. Still, if nothing else, Schumacher has always been championed for injecting queerness into both the text and subtext of many of his projects.
Several of Schumacher's peers, cast members, and famous fans paid their respect on social media.
Related: Remembering Christo, the Artist Who Transformed Cities and Monuments