Broadway Remembers Nick Cordero on Social Media After His Battle with COVID-19
Social media has been filled with an outpouring of remembrances for the 41-year-old Broadway actor who passed away after a months-long battle with COVID-19.
---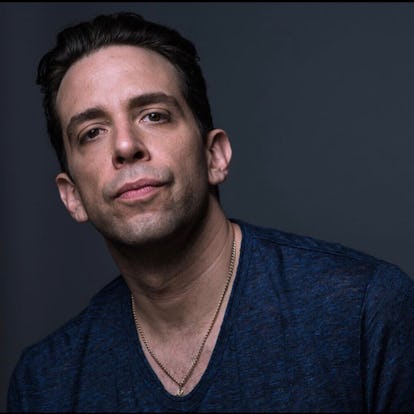 Image courtesy of @nickcordero1/@thejasongoodrich.
Actors and musicians are remembering Nick Cordero, the Tony-nominated Broadway actor who passed away from COVID-19 complications at 41 on July 5.
After starring on stage in Rock of Ages, Bullets over Broadway, Waitress, and A Bronx Tale: The Musical, the Canadian native was known in the theater community for his leading tough guy roles.
When he contracted the coronavirus in March, he was in good health. But his 95 day stay in the hospital was met with ups and downs, which his wife Amanda Kloots documented on social media. Initially diagnosed with pneumonia, Cordero had gone into a medically induced coma, woken up, and received a leg amputation as a result of the ways in which the virus attacked his system while hospitalized. About a week before he passed, Kloots wrote on Instagram that her husband was unable to move but could communicate with his eyes. A year ago, Kloots gave birth to their son, Elvis.
On July 5, Kloots confirmed Cordero's death on Instagram, writing, "Nick was such a bright light. He was everyone's friend, loved to listen, help and especially talk. He was an incredible actor and musician. He loved his family and loved being a father and husband. Elvis and I will miss him in everything we do, everyday."
Zach Braff, one of Cordero's best friends, mourned the death of the performer on Twitter, writing, "I can honestly tell you I have never met a kinder human being. Don't believe that Covid only claims the elderly and infirm."
Across social media, Broadway performers, including Lin-Manuel Miranda, Kathryn Gallagher, Philippa Soo, and James M. Iglehart, joined the chorus of celebrities sharing their condolences and remembrances of Cordero.
Related: Designers Are Donating Unused Fabric to UpWrap's Face Mask Initiative