Pierre Cardin, Space Age Fashion Pioneer, Dies at 98
Pierre Cardin, the Italian-born French designer known for his 1960s Space Age fashion designs and licensing practices, passed away at 98 years old.
---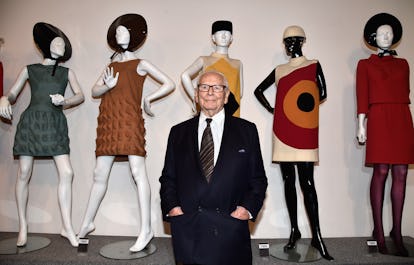 Photo by Pascal Le Segretain/Getty Images
Pierre Cardin, who was known for his 1960s "Space Age" fashion designs, passed away on December 29, according to the Fine Arts Academy of France.
Incorporating out-there, geometric shapes and patterns into his work that were inspired by space travel and minimalism, Cardin introduced mod chic styles to his clients, many of whom were quite famous. The French actress Jeanne Moreau was his muse, Jackie Kennedy wore one of Cardin's scarlet wool suits, and in one of the Beatles' earliest group portraits in 1963, the band wore sleek custom suits by the designer they clearly recognized as ahead of his time.
The designer was born in Italy and moved to France as a young teenager. He subsequently changed his first name from Pietro to Pierre, and pronounced his surname with a French accent, thus evolving into the Pierre Cardin many know today.
He began his career as a tailor's apprentice, worked for Elsa Schiaparelli, and became the head of Christian Dior's workshop in 1947. In 1950, he founded his own fashion house and by the 1960s he was one of the biggest proponents of prêt-à-porter.
Not only was Cardin known for his retrofuturist fashion sense, but he was one of the first designers to license his name, setting the stage for the logomania craze we still see today. In the 1970s and 1980s, the designer embossed his signature into thousands of items from watches to sunglasses.
In 2019, the designer was recognized with a retrospective at the Brooklyn Museum called Pierre Cardin: Future Fashion and in 2020, a documentary based on the Italian-born couturier called House of Cardin was released, with appearances from Naomi Campbell, Sharon Stone, Dionne Warwick, and Jenny Shimizu, all praising Cardin for his inclusive approach to fashion and modeling.
After the news of his passing, members of the fashion community from Jean Paul Gaultier to Nigel Barker shared their remembrances of Cardin on social media.
Related: Stella Tennant, Iconic British Supermodel, Dies at 50