Rapper Kamaiyah Is Here Repping the Real Women
The 24-year old Bay Area rising star says you don't need "all that extra."
---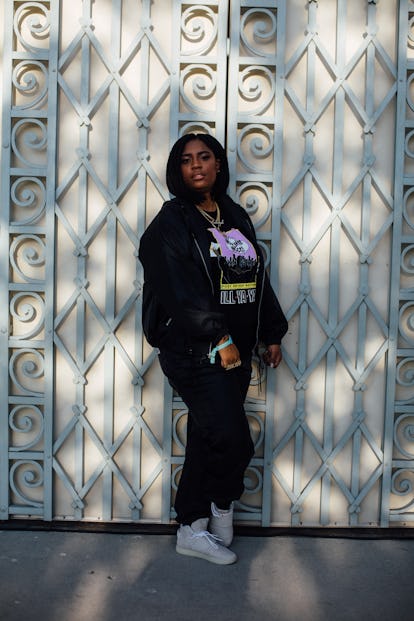 Emily Malan. Produced by Biel Parklee.
This past weekend, the 24-year old Oakland native Kamaiyah was sitting in her trailer backstage at the FYF Fest in Los Angeles, reflecting on how she came to be the hottest newcomer in the Bay Area rap scene. "Aaliyah, Missy Elliott and TLC, they showed me to be resilient, not care what nobody thinks about you," she said. "I own who I am and do what I do."
After releasing her debut mixtape, A Good Night in the Ghetto, with the standout track "How Does It Feel," earlier this year, Kamaiyah kept the hype going with her recent appearance with Drake on YG's "Why You Always Hatin." In the video, which has garnered over 12 million YouTube views in two weeks, she flips the power dynamic on the hip-hop scene: she's flexing at the head of a table, on a throne of sorts, flanked by two women as a shirtless, muscled man rubs her foot, while another pours her champagne.
"I don't wanna be sexed up," she said. "'Cause we tomboys, people think it's some weird shit going on. So many people feel the same as me, but they don't have a voice through Nicki [Minaj] — no offense, 'cause she's not representing them. If you see someone normal like you — 'cause I'm more normal than a motherf—-r — you feel like you good. You don't need makeup 24/7, you don't need your ass out, you don't need all that extra stuff to be beautiful and a black queen. And I want women to realize that."
Kamaiyah Jamesha Johnson began writing raps when she was around seven years old, she said, after witnessing Lil' Bow Wow's success: "I was a kid, and he was a kid, so I saw him and was like, 'I can do this.'"
But as a teen in the Bay Area, the rap scene came to be all about hyphy.
"When the movement came, I wanted to curse," she said. "That's what made me like, 'Nah, I'm turnt."
Though she's signed to Interscope, Kamaiyah has always been the orchestrator of her own success. Most of what's happened up until now — the timing of her mixtape drops and performances — has been her doing, she claimed. It's a different story, however, when it came to her documentary, a 17-minute film also called A Good Night in the Ghetto that you can watch on YouTube.
"Personally, I was like, 'I'm not doing it,'" she said of her initial reaction to the project. "'Cause I'm very private. I want to protect myself and those around me. But the label and my management was like, 'It's something you need to do. It's gonna make sense to you after you do it.' Then I did it, I saw it, I cried. I was like, 'Oh my god.' Now, I feel like it was very important and vital to my fan base to see who I am and where I came from."
In the documentary, Kamaiyah shares her journey, from growing up in East Oakland to the recent loss of her close friend, James, who's posthumously honored in "For My Dawg," the closing track of the EP.
"For me, everything that I've done in my career so far for the past seven to eight months, I haven't felt," she said. "I just recently started feeling again, because my best friend was dying from cancer. Everything was going on, but it wasn't hitting me."
And now?
"I saw through one of my homies on Snapchat that one of my videos was on MTV Jams," she said. "I felt it, I started crying, like, 'Oh, I can feel again.'"
There are more feelings to look forward to as Kamaiyah prepares to hit the road with YG, returning to Oakland at the Fox Theater in November, as part of her longest tour yet.
"It's going to build me as an individual and artist," she said. "It's going to make me who I'm supposed to be. It's my divine destiny."
Earlier in the day, she had tweeted about her excitement of recording a new track.
"I got the beat last night, and an hour later, I left for the studio and recorded it," she said. "This joint is so crazy. When you guys hear it… just know that my second project is gonna be just as good if not better than A Good Night in the Ghetto. I want people to know that when you get an album from me, it's worth every dollar you're spending. This is all leading up to my album."
A Good Night in the Ghetto, despite its 16 songs, is still a mixtape, she emphasized. Her LP was yet to come.
"The way I record, I hear harmonies and melodies. So if I don't hear them, I can't do it," she said. "Everything's been blocked 'cause I was going through so much mentally. But now that I've freed myself, I hear everything again."
Watch W's most popular videos here: