Rita Ora Trolled the MTV EMA Red Carpet In a White Bathrobe
Rita Ora wore a white Palomo Spain bathrobe on the 2017 MTV EMA red carpet.
---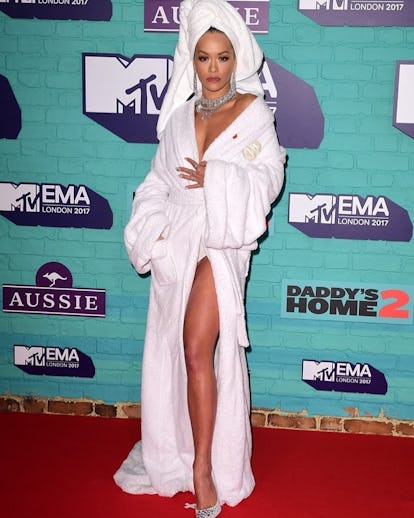 Palomo Spain/Instagram
Last night, Rita Ora fully stunted on the 2017 MTV EMAs red carpet, showing up to Wembley Arena in London wrapped in a white bathrobe and matching towel around her hair. The singer even completed her red carpet look with diamonds around her neck. The menswear label behind the snug ensemble is Palomo Spain; they even shared a photo of the singer on Instagram with the caption, "last night Rita Ora checked in at Hotel Palomo." This luxe comfort look begs some pressing questions: How did she get the towel to stay so tightly wrapped around her head, can we all just show up to work in bathrobes for the rest of the week, and does Hotel Palomo have any vacancies?
While fan reactions on Twitter occupied a range of opinions, the response to Rita Ora's decision to wear a bathrobe on the red carpet was mostly supportive, with MTV itself calling the red carpet look "iconic". She took to social media to prove that she is not averse to poking fun at herself either; a pre-recorded clip of her grand entrance to host the show features a scampering Rita Ora as she rushes through a parking garage to get to the awards on time before taking the stage in a shortened version of the robe, this time paired with white socks and white sneakers. Opulence meets comfort yet again.
Somehow, Rita Ora also topped this instantly "iconic" bathrobe red carpet look while hosting the show, as she took her bold fashion choices one step further once she appeared on stage, eventually sporting a simple black dress with a very large gardening tool as a necklace.
Rita Ora was not the only celebrity to model a stunt look on the red carpet or during the awards show—Demi Lovato also made an appearance in an oversized checkered suit, which looks like it could also double as a cozy pajama set if you need inspiration for how to get away with a chic but relaxed look that only someone like Demi Lovato could pull off. If Rita Ora's red carpet look forecasts any sort of trend, we should all look forward to an upswing of celebrities stunt dressing to troll the red carpet with loungewear. When Oscars season hits and we start seeing a smattering of slippers and bathrobes, you'll know who did it first (and best).
Related: Victoria Beckham Has Been Wandering Around New York City In Pajamas
See W's most popular videos: