Rita Ora Dyed Her Hair Red and She Looks Like a Different Person
Living up to her reputation as a style chameleon.
---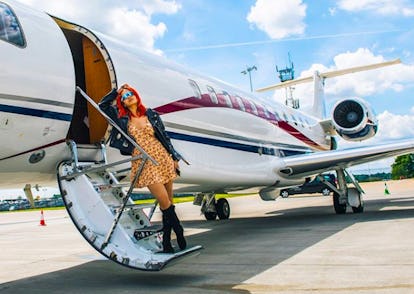 Photo courtesy of instagram.com/ritaora
Rita Ora has always been a style chameleon, but her latest look might be her most unrecognizable yet. Two weeks into her Girls tour, the pop artist revealed that she has dyed her hair red.
"Summers here I even got my dress out. First show Tirana then Verona ??‍♀️??‍♀️ oh and my hairs Red. Mwah ?," she wrote on Instagram, posting a photo of herself in her redheaded glory on the steps of a plane. Ora followed up the post with a few other close-ups of her new, fiery hairdo, revealing that London stylist Alisha Dobson was responsible for the new look, which was achieved with vegan hair dye by Bleach London.
"Shaggy layers and tangerine dream mix for @ritaora #summerswitchup," Dobson wrote on Instagram, describing her process. In the selfies of Ora that she posted, the music artist, model, and actress's hair does indeed veer more to the orange than the red side. But that may just have been the lighting, as Ora posted a run of photos of her new hairstyle with a green T-shirt on, which made her red hair pop even more.
She paired her red hair and green t-shirt with a Louis Vuitton denim jacket and matching mini-skirt and Nike sneakers.
To put into perspective just how different Ora's red hair is from her usual bleached locks, compare with the photo below.
Switching up her looks comes naturally to Ora, as she revealed to Vogue U.K. when discussing her beauty routine. "I like changing it up," she said, "I just cut my hair off and started doing a smoky eye. I'm a chameleon in all aspects of my life—my music, my wardrobe, my beauty. I can do red-carpet glamour and go all-out grunge the next day."
One thing, however, that doesn't change between those two modes is how Ora prepares herself for stepping out into the world. "You feel like a whole other woman," Ora told Vogue about how she feels after going through all the steps of her beauty routine for going out. "Give yourself a little look, tell yourself you're fantastic, and then you're ready to roll."