Riverdale Will Skip College to Become an Adult Murder Show—Can It Survive?
Conceivably, Archie and co. could keep getting involved in murders well into their 30s.
---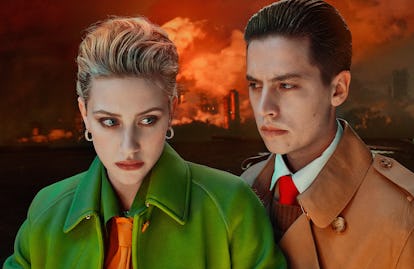 Photograph by Steven Klein; Styled Arianne Phillips.
It's a problem that has plagued networks for decades: high school lasts four years. A successful television show lasts at least seven. At some point, producers have to grapple with the fact that youth is cruelly fleeting, and their characters have to graduate at some point.
After four seasons on air, and despite an already hazy relationship with the concept of time and other basic laws of reality and plausibility, Riverdale is now set to embrace life after high school.
Which is somewhat admirable and restrained, considering Riverdale is one of the few teen series that could have just hinted that the town actually exists in some time bubble where no one really ages. Its viewers would have shrugged and said, "Yeah, sure, makes sense. Not the weirdest thing they've ever done."
Instead, according to show runner Roberto Aguirre-Sacasa, the series will just skip the characters's college years all together, zoom forward in time, and reconvene as Archie, Veronica, Jughead, Betty et. al return back home.
Season five, slated to premiere in January, 2021, will wrap up the previous storylines that were interrupted by the show's coronavirus-forced halt in production (prom, graduation, and all of that). Then, after about three or four episodes, the gang will reappear as world-wary twenty-somethings (aligning more closely with the cast's actual age).
This wouldn't be the first time a teen series used a time jump to conveniently ignore college: Pretty Little Liars and One Tree Hill did the same.
Other shows have made the, at times, clumsy decision to have the entire cast magically wind up attending the same college somewhere close to home. Narratively, it's an easy decision, but can often leave fans feeling confused and let down, as if those high school struggles ultimately meant nothing. Who isn't still somewhat upset that Boy Meets World's Topanga gave up her long-stated dreams for Cory Matthews, of all people?
A few shows (notably Degrassi) have let their original cast move on, while cycling in new characters.
The O.C. just decided to let itself burn out after four seasons, while Gossip Girl's New York-setting made it easier for the characters to believably attend different schools while still remaining in each other's lives.
Then there was Glee, which somehow literally tried all of the above (new students in the high school, several older castmates attending school in New York, and then, just for good measure, a time jump). Those post-high school plans involved Sarah Jessica Parker singing "Let's Have a Kiki" along the way.
Glee's plans may have been the most ridiculous, but it's not the only show that has lost steam past the graduation episode. Shows built around uniquely teen experiences often lose their purpose as the characters age.
That's good news, then, for Riverdale. Things like cults, organized crime, and multiple murders are about as far from typical high school experiences as you get. In fact, Archie and the gang could conceivably keep getting mixed up in increasingly bizarre murders well into their 30s, and we can rest, knowing that hopefully a few of the characters got to experience the joys of a murder-free college experience.
Related: Lili Reinhart on Painting, Discovering New Music, and Nursing Her Dog Milo Back to Health