With "The Long Lockdown," Riz Ahmed Gives Fans an Opportunity to Connect
The musician and actor discusses his pivot to an online, and mulls how a crisis can bring out people's true selves.
---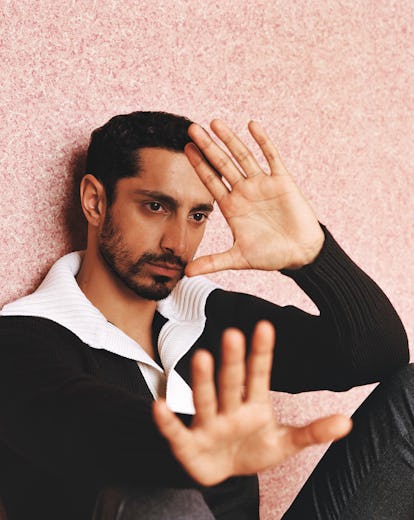 Riz Ahmed photographed by Alasdair Mclellan for W Magazine, June 2017.
To coincide with the launch of W's stay-at-home Instagram challenge, we reached out to the people for whom a shelter-in-place order is an opportunity for creativity, a call to action.
During a moment when so many celebrities and public figures have been getting it wrong, this eclectic crew has managed to hit all the right quadrants of empathy, humor, creativity, and realness. They've been lifting our spirits between all the dark news and the somber moments, reminded us to laugh, provided us with a much-needed distraction from the very real fears and tragedies, and been caring and thoughtful about what they've put out into the world. While we can't compare them to the doctors, nurses and essential workers risking their lives daily, the people who have pivoted to making charitable contributions, stepping up as entertainers, and sharing mental health resources have added something positive to the conversation.
Before the coronavirus hit, musician and actor Riz Ahmed was set to go on tour for his album "The Long Goodbye." Instead of canceling the tour altogether, he pivoted, turning it into an Instagram show called "The Long Lockdown."
How did your idea for The Long Lockdown come about?
I was just about to start touring my album, "The Long Goodbye," and was going to do something really special and something a bit different. It wasn't just going to be a concert or a gig. It had a narrative element. It had a theatrical element. It was commissioned in conjunction with Manchester International Festival and presented in amazing pieces like the Brooklyn Academy of Music. We were really excited to take this on the road and bring it to the people, live, in the flesh.
We made the decision a couple of weeks before the UK leg that we should reschedule, cancel, refund people's tickets. Just from a public health point of view, even though the recommendations hadn't been made at that point, we felt that the evidence was all coming in that holding large events would spread this disease. It was really coming off the back of that, when we had all this energy, all this momentum, all this creativity and desire to share with people who didn't necessarily have an outlet, when we created this Long Lockdown series.
It was just that desire to connect with audiences. The most fun part of making an album is playing shows, and I feel like this album was received really positively. It got such a great response, and I was so excited to take this crazy live show on the road. So when we didn't get that chance, I guess I felt like I still wanted to give myself and the fans the opportunity to connect in the place of that tour.
I just kind asked people, "What do you think it looks like? What do you think we should be doing?" And people said, "Actually, we'd just like to talk. We like to have some conversations." It's weird, because it's something that I do a lot in my actual life—try and bring rooms of people together and have conversations, create spaces for real talk between creatives and different backgrounds with different disciplines.
This is the first time I've been doing that for audiences. It's weird—I think, in a way, coronavirus and this crisis makes you more yourself. It's a kind of weird realness accelerator, isn't it? It forces you to drop your mask. Moments of crisis or moments of sudden shifts, often force you to just reveal who you really are.
Definitely. It's funny—many people who I've talked to echoed these sentiments that you're telling me now. They feel like they are getting back to their true selves.
It's interesting, because another thing I've had to juggle is, "Okay, I've got my film side of what I do, I've got my music side of what I do and then there's this other stuff that I do to more social engagement." I've always wondered how to bring it all together. I think the moments of drastic change or crisis, in the same way they force you to just do away with any tiptoeing, it's allowed me to bring together all the different sides of stuff I can do without overthinking it, without trying to make it too complicated or clever; just going, "Well, this was me. Here's the shit I do." In a way, it cuts the bullshit, it cuts out the performance element of it. You're just presenting yourself and all the different, sometimes contradictory things that you do to the world, unedited. It is an accelerator that brings us maybe closer to ourselves in a sort of crisis.
Is there any content giving you inspiration and helping you through this time?
I'm really enjoying the Jay Electronica album, A Written Testimony. It's also got some of the best Jay Z bars we've heard in a long time, I think it's brought an amazing side of him out.
As someone of Muslim heritage, I think this is a time when a lot of people are reflecting or looking for connection. Isolation really brings out that desire for us to connect to something other than ourselves. Not just in terms of other people, but perhaps something transcendent, looking for meaning in this time of suffering, looking for way to connect deeper, more to themselves and into something spiritual. So it was interesting for me in that moment to receive a Jay Electronica album because so much of its energy and so much of his lyrics speak about Islam.
Have you developed a daily routine in quarantine?
Oh man, yeah. I think we're all experts at editing and re-editing failed routines that we're trying to stick to right now. In a way, what we're trying to find is not just a routine to maximize getting shit done, because we need to accept that we may not be at a hundred percent productivity, far from it; we realize that if you get through the day feeling not terrible about yourself in the universe, then it's a good day.
I'm a big scheduler, my schedule is always rammed with doing 10 different things, and all these different plates I'm spinning. But I think for the first time, I'm drawing up schedules and plans that really factor in my well-being and my work-life balance—understanding that if I just sit at the computer from morning 'til night, or if I'm on phone calls from morning 'til night, hustling like I was before the coronavirus, I actually get to the end of the day feeling pretty shitty about myself. Whereas I think quarantine is forcing me to make time for my mental health, my physical health, my connection to friends, quiet time, in a way that I never prioritized before. For the first time in my life, my schedule is about balance, not about maximizing productivity and hustle. I think or at least I hope a lot of us right now are looking at the world and going, "Oh shit, we can all just get off the lap mate, get off the treadmill." That's where it stops, and the world keeps turning.Are there any charities or organizations that you would like to shout out?There are lots of touring musicians and music crews that are out of work right now. There's a UK fund, which is the PRS for Music Foundation and there's a U.S., one which is Musicares.
A lot of people are looking very locally to the frontlines, for example, NHS staff here in the UK, or food banks in the U.S. and of course we want to encourage people to continue to support that. I also want to see if we can shed a little bit of light on some of the most vulnerable people globally who are going to be dealing with this pandemic, which is refugees in refugee camps. For that, I'd like particularly to highlight the UNHCR COVID-19 Fund, which aims to equip frontline medical staff. Social distancing is really impossible in refugee camps and proper health care is hard to come by, and so in those really underserved communities and spaces is where we might see some of the scariest outcomes.
Related: Naomi Campbell, Christian Siriano, Charli XCX and More Are Defining "Quarantine Culture"