Robert Geller Revisits Berlin's New Wave for Spring 2017
German-born, U.S.-based designer Robert Geller returns to his roots for his buzzy Spring 2017 collection.
---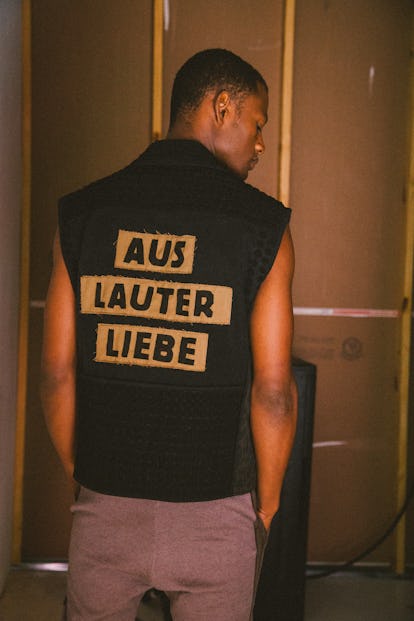 If the post-punk, D.I.Y. music scene of Berlin in the early '80s were resuscitated today, designer Robert Geller imagines it might look something like this: loose, breezy jackets in overdyed cupro, a synthetic fiber that mimics the look and feel of silk, sharp suiting bound with contrasting webbing, cropped pants, leopard print — and a few colorful pompoms —all set to a score of '90s German techno like DJ WestBam.
Geller returned to his German roots for his Spring 2017 menswear presentation, which debuted at New York Fashion Week: Men's on Tuesday. He revisited the Neue Deutsche Welle, the German New Wave movement that seized Berlin's itinerant youth about a decade prior to the fall of the wall. Born in 1976, just before the movement's inception, Geller is too young to have experienced the energy on which his collection was based first-hand, but he has nevertheless mined the period for inspirations. (But for all the German influence, he says he listened to a whole lot of the Cure while designing.)
It's a juxtaposition of hard and soft, and of retro and contemporary, that has found its way into Geller's collection. The period he's honed in on was one of immense destruction and reconstruction in Berlin, he explained backstage hours before his show, and that manifests in a "romantic, post-punk-y" presentation in neutral shades with the occasional bright pop of fuchsia, red, or green. As the house lights went down, the pièce de résistance of his show stood illuminated: a glassed-in, graffiti-tagged set at the foot of the runway, designed to mimic the Berlin housing that turned into squatters' dens in the same period as the New Wave emerged. Polaroids, photographed by Geller's stylist Yuji Takenaka, pinned to lapels and the backs of jackets echoed Raf Simons's recent Robert Mapplethorpe-infused show at Pitti Uomo, while German slogans like "Aus Lauter Liebe" and "Geniale Dilettanten" — the title of the show, which means "Genius Dilettantes" — were emblazoned on canvas bags and sleeveless vests.
Music has woven through Geller's work from the outset — he consulted for Kanye West on Yeezy Season 1, and Vic Mensa rapped about a "Robert Geller hoodie" in his new track "Dynasty" — but '80s Berlin isn't the only thing he let into his studio this time around. The Spring 2017 runway also saw the debut of Geller's sunglasses collaboration with Garrett Leight, who he met after discovering Leight's designs in Japan, and the continuation of his Common Projects footwear collection. But it's still Geller at the center of it all — as he said backstage, of his own wardrobe, "All Robert Geller, all the time."
Watch all the episodes of "The Myth of Orpheus and Eurydice," a four-part film series by Gia Coppola, here. Produced for Gucci by W magazine.
Robert Geller's Berlin Post-Punks Take New York Fashion Week: Men's