Why A Longtime Batman Producer Has Full Faith In Robert Pattinson
The fans have gotten it wrong before.
---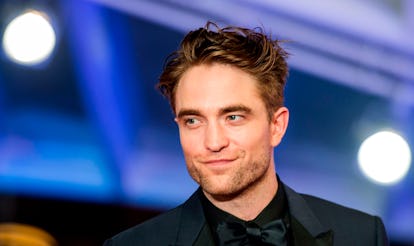 FADEL SENNA/Getty Images
Batman fans have been upset over casting decisions before. And more often than not, they change their minds after seeing the movie. So maybe they should wait to judge a movie until after they've seen it? That, at least, is what longtime Batman producer and literal professor of comic book folklore Michael E. Uslan said at Germany's CCXP Cologne convention. "My position is this: trust the filmmaker and give the filmmaker, and the filmmaker's vision, the benefit of the doubt. Then wait 'til you see the movie," said Uslan, per Comic Book, adding, "And then once you see the movie, judge the hell out of it. But I think that's really the formula going forward. I couldn't be happier, I couldn't be more enthused, as a Batman fan, that Matt Reeves is the filmmaker in charge and has selected Robert Pattinson to be his next Batman."
Uslan was referring to the (relatively small) backlash that arose after the Internet learned the caped crusader would be played by none other than the pretty boy Twilight vampire Edward Cullen. He compared it to the misbegotten casting outcries of yore, noting that after Tim Burton tapped funnyman Michael Keaton for the role, "The fans were up in arms: 'How can you have a comedian play Batman? You guys are gonna revert it back to the 1960s show, you're gonna destroy Batman.' Until they saw the movie and saw what Tim Burton's vision was, and how he executed it. And then the fans never wanted anyone else to be Batman." The same thing happened to Heath Ledger and Anne Hathaway when Christopher Nolan cast them as the Joker and Catwoman, respectively: their public personas didn't match the characters, but their performances were pitch-perfect. The lessons here are not to judge a movie but its cast list, or an actor by their first role, and to trust in a director's vision above all. And, of course, to not listen to fanboys. They're never happy and they're rarely prescient.
Judge for yourself when Matt Reeves' The Batman lands in theaters in June 2021.
Related: Robert Pattinson Is Our Next Batman, But What About Kristen Stewart as Catwoman?
Suki Waterhouse's Pink Highlights, Hailey Baldwin's Glowing Skin, and More of the Best Beauty Moments of the Week
Suki Waterhouse debuts bright pink highlights. Photo courtesy of Instagram.
Natalia Vodianova poses in a red lip while on set. Photo courtesy of Instagram.
Lupita Nyong'o looks radiant during golden hour. Photo courtesy of Instagram.
Kiko Mizuhara pairs a blotted lip with rosy highlighter. Photo courtesy of Instagram.
Jennifer Lopez looks glam in a smokey eye and polished curls. Photo courtesy of Instagram.
Rowan Blanchard opts for a red lip and colorful smokey eye. Photo courtesy of Instagram.
Imaan Hammam wears bright blue shadow. Photo courtesy of Instagram.
Reese Witherspoon pairs her "I voted" sticker with a matching red lip. Photo courtesy of Instagram.
Fernanda Ly sports pastel pink pigtails. Photo courtesy of Instagram.
Hailey Baldwin wears a shimmery highlight. Photo courtesy of Instagram.
Romee Strijd shows off beachy blonde waves. Photo courtesy of Instagram.