Robert Pattinson Has Reportedly Contracted COVID-19, Halting The Batman Again
Filming on "The Batman," as a result, has been put on hold.
---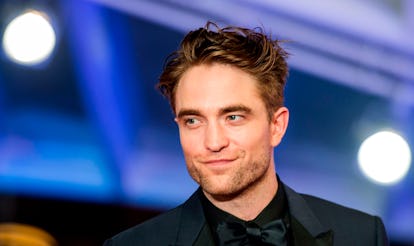 FADEL SENNA/Getty Images
Despite continued concerns about the indoor spread of the coronavirus, Tenet hits theaters in America tomorrow. However, one of the film's stars has reportedly tested positive for COVID-19 himself.
According to Vanity Fair, Robert Pattinson has tested positive for the virus. The news not only adds another winkle to Tenet's release, but has also completely halted production on The Batman. Despite releasing a teaser trailer late last month, the film was still under production and had only recently began filming again.
Warner Brothers had confirmed earlier in the day that the British-based filming had halted once again after a member of production had tested positive, but would not confirm whether or not Pattinson was the production member in question.
Pattinson is reportedly now back in isolation.
Pattinson was holed up in London during lockdown orders (reportedly with girlfriend Suki Waterhouse), and struggled to find ways to keep in superhero shape while awaiting production to begin again. His meal plan had involved eating tuna straight out of the can with a bit of Tabasco and attempts to microwave pizza, according to a profile in GQ.
While surges in the virus are no longer backing up emergency rooms throughout most of the world, the disease continues to spread and claim lives. Pattinson is also not only the recent Hollywood A-lister to contract the virus. Yesterday, Dwayne "The Rock" Johnson revealed that his wife and their two young daughters had also recently battled the disease. Though the NBA and WNBA avoided outbreaks during their playoffs due to the arrangement of playing in a "bubble," outbreaks among both professional and college athletes also continues to raise questions about the plausibility of returning sports entertainment to normal.
As for The Batman, there were at least three months left of production to be completed on the film. It's still scheduled for release in October, 2021. Pattinson will star in the film alongside Zoë Kravitz as Catwoman, Paul Dano as The Riddler, Colin Farrell as The Penguin, and Jeffrey Wright as Commissioner Gordon.
Related: Is Zoë Kravitz's Catwoman Going to Get a Costume Upgrade in The Batman?