Robert Pattinson's Quarantine Seems To Be Going…Well?
He's been hanging out in London with his girlfriend, avoiding his Batman exercise routine, and eating tuna straight out of the can.
---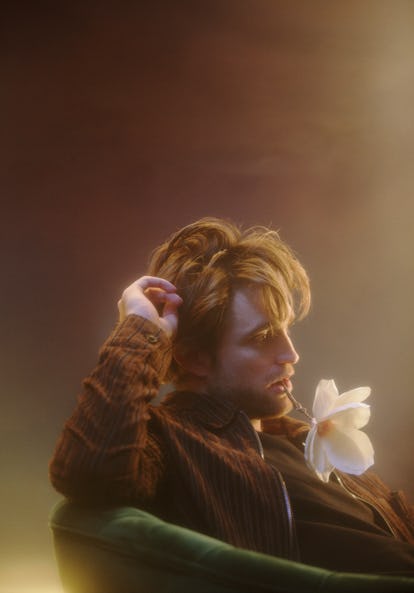 If anyone knows how to practice social distancing, it's Robert Pattinson, who was recently dubbed the king of quarantine by GQ magazine.
According to the cover interview, the actor has been holed up in a really nice apartment in London—provided to him by The Batman production crew—with his girlfriend. (The girlfriend in question, however, is not specified.)
At one point in his life, he was unwilling to be a movie star, but now Pattinson finds himself taking on one of the most iconic superhero roles in one of the biggest comic book franchises. His trainer has reportedly begged him to do at least one exercise a day in order to keep himself in shape for when The Batman resumes production, but Pattinson avoids it—unlike Zoë Kravitz, the movie's Catwoman, who told him she'd been hitting the home gym five times a week.
Apparently, the actor spends his days trying (and failing) to explain the plot of his next film, Christopher Nolan's mind-bending movie called Tenet (which the director claims will still be released in theaters this summer despite various state mandates for citizens to remain at home during the coronavirus pandemic), and eating food the Batman crew sends over to him, which includes oatmeal with vanilla protein powder and tuna and hot sauce straight out of the can. In other words, Pattinson likes to "just sort of eat like a wild animal."
He also tries the occasional microwaved pasta dish, as part of his failed business venture for a product he invented called Piccolini Cuscino, which involves some sort of combination of corn flakes, sugar, microwaved pasta, sliced cheese, "any sauce," and hamburger buns.
Unfortunately, in his quest to demonstrate the creation of the food product, he accidentally set some tin foil ablaze by putting it in the microwave. At least his home remained intact.
Related: Aubrey Plaza and Bill Murray Spoof Robert Pattinson