Escape Artist
The Robert Rauschenberg Foundation launches a residency program program at the late artist's island retreat.
---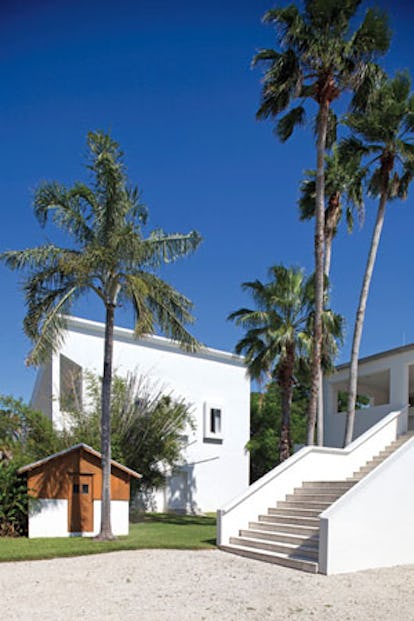 In 1969, at the height of his fame, Robert Rauschenberg left New York and bought a house on the island of Captiva, a four-mile strip of white sand off Florida's Gulf Coast. By the early '70s, the remote sanctuary had become his primary residence. Today, the late artist's 20-acre compound on Captiva is the site of a new residency program, thanks to the Robert Rauschenberg Foundation's $350 million endowment, projected over the next decade and a half. "This place is a departure from the world," says Christy MacLear, the foundation's executive director. For a painter known for the all-inclusive chaos of his canvases, Rauschenberg had a design for living that was simple. When he moved to Captiva, the only way to reach it was by ferry (now there's a causeway), and a lone policeman could patrol the island.
The artist on the island, 1979.
Over the years, Rauschenberg brought many New York artists—Roy Lichtenstein, Cy Twombly, James Rosenquist—to the tiny shelling community to visit and work. Since his death, in 2008, a younger generation, including John Currin, Rachel Feinstein, and Shirin Neshat, has visited. Now the foundation is hosting a multidisciplinary pilot year with 42 artists-in-residence; launching in fall 2013, the program aims to evoke the type of free-flowing exchange Rauschenberg experienced in his formative years at North Carolina's Black Mountain College art colony. In Rauschenberg's lifetime, it was often said that he invited the world into his work. It should be noted that he also kept the door open on his way out.