Happy Birthday, Bob
The late artist Robert Rauschenberg is still surprising us on what would have been his 90th birthday.
---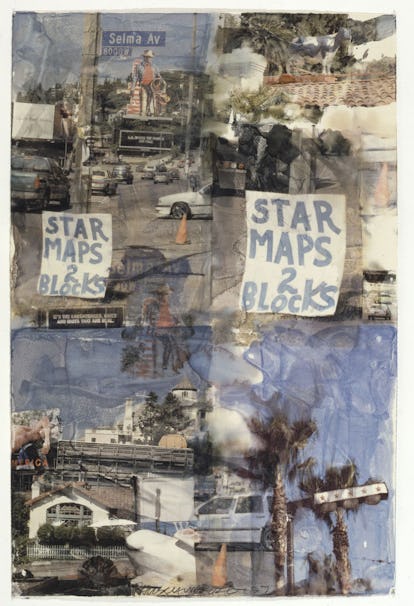 Until he died in 2008, Robert Rauschenberg was an uncommonly prolific artist, at times to his own detriment. "What's the matter with him?" the painter Barnett Newman reportedly complained. "Does he think it's easy?" So, while not every work was designed to be a masterpiece, the discovery of five new paintings—never before exhibited until tonight by Pace Gallery in New York—is still a cause for celebration. Not to mention that today, a year before his coronation at the Tate Modern in London, where Rauschenberg will receive his first posthumous retrospective, would have been his 90th birthday.
"Anagram, Arcadian Retreats, Anagrams (A Pun)" is on view through December 12 at New York's Pace Gallery, 435 W. 25th St.
Photos: Happy Birthday, Bob
Robert Rauschenberg Break Alake (Anagram), 1997 ©Robert Rauschenberg Foundation/Licensed by VAGA, New York, NY
Robert Rauschenberg Chateau Shadow (Anagram), 1997 ©Robert Rauschenberg Foundation/Licensed by VAGA, New York, NY
Robert Rauschenberg Lips (Anagram), 1997 ©Robert Rauschenberg Foundation/Licensed by VAGA, New York, NY
Robert Rauschenberg Red Risk (Anagram), 1996 ©Robert Rauschenberg Foundation/Licensed by VAGA, New York, NY
Robert Rauschenberg Jaywalk (Anagram), 1996 ©Robert Rauschenberg Foundation/Licensed by VAGA, New York, NY