Young Artists: Robin Rhode
The acclaimed South African artist readies for a show exploring British Colonialism at London's White Cube.
---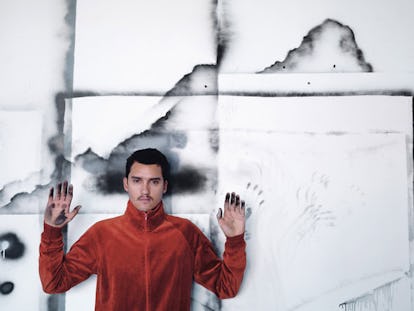 At art school in Johannesburg, South Africa, Robin Rhode was one of only a very few students of color. While his peers turned to European art history as a starting point, he says, he struggled to establish his own identity. Finally, he recounts, "I discovered that to find my own language, I had to look within my lived experience."
The memory that came to inform his work seems an unlikely source of inspiration: a hazing ritual at his high school. "We would take kids to the toilets, draw something on the wall with chalk and then force them to interact with it," Rhode recalls. He and his friends would sketch a bike, for example, and make their victims pretend to ride it.
Drawing on that imagery, Rhode began creating videos, photographs and performances in which he or one of his doppelgängers interacts with an image graffitied on a wall or sidewalk. In a 2003 performance at the Walker Art Center in Minneapolis, he sketched a car and then tried to break into it. A video from his first show at New York's Perry Rubenstein
Gallery in 2004 depicts two boys who appear to swing off the handlebars of a bicycle, which is chalked on the ground.In the years since, Rhode's profile has grown steadily, with a solo exhibition at the Haus der Kunst in Munich and group shows at the Museum of Modern Art in New York and the Nasher Museum of Art at Duke University. Art adviser Sandy Heller compares Rhode to Basquiat and Warhol. "The work is aggressive; it's accessible; it's attractive," he says.
Rhode, 32, is now in what he calls "semiretirement" from performances. "I was doing so much of it, it was becoming a trap," he says. Instead he's making sculptures that echo the themes of his performances and videos, such as a bicycle carved out of soap and a gold-plated shovel in a pile of coal dust meant to evoke South Africa's gold mines. A new exhibition at London's White Cube, opening November 26, explores British colonialism. "It's a very political show, which I think is needed in London right now," he says.
Rhode moved to Berlin in 2001 for a three-month artist residency but, while there, ended up falling in love with writer and fellow artist Sabinah Odumosu. The two now have a son, Elijah, six. Rhode says he misses the sense of urgency that surrounds art in South Africa. "Art has to function as a necessity, as a need," he said. "In South Africa [there is] this strong desire for artistic voices to be heard beyond the limitations of economy, beyond borders. This I find inspiring."