Roc Nation Signee Justine Skye On Her Goals, Her Influences, and Yeezy Season 4
The fledgling singer is next up.
---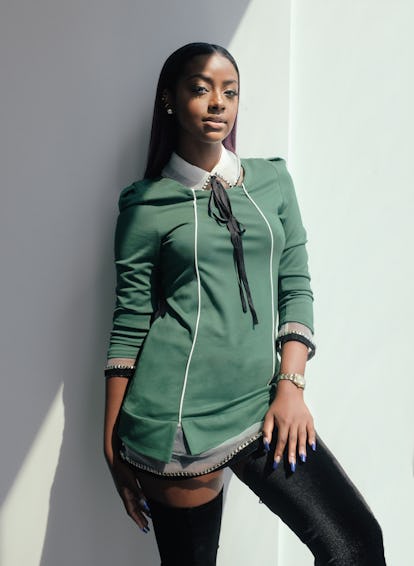 Justine Skye wants to make sure you'll remember her. The girl known by her legions of Tumblr fans as "The Purple Unicorn" is especially striking in person: among a sea of magazine staff dressed in neutral hues, her lawn-green jacket and over-the-knee peep toe boots announce her arrival. A blossoming artist, Skye has so far lent her lilting, almost conversational singing voice to sleepy, sexy R&B jams. "U Don't Know," the first song produced under the golden umbrella of her new label Roc Nation, is out today, and it's stunning: a slippery crooner punctuated by soft kick drums and skittering clicks. Accompanied by her equally stunning mother, Skye popped by the W's offices to discuss her artistic goals, Yeezy Season 4, and (who else?) Frank Ocean.
So you went to the Yeezy show. How was that? It was dope! We waited a long time, but after the show started there were a lot of dope pieces. It was really exciting. One of the models almost fell, and that was excruciating to watch — everyone was Snapchatting and I was like, "I can't do that to her." Even though everyone else was doing it to her, I was like, "I'm not joining this group."
And you have a new single coming out! Could you tell me a little bit about your process? So the song actually was presented to me, it was already written by this amazing songwriter, his name is Kevin Garrett. He's super super dope, he wrote the first song on Beyonce's album. Like, the intro to it. Everyone was so proud, oh my god. And we've been meaning to get to the studio and get something done, and so finally we have this song. The producer's name is Chris Loco and they actually made the song in Jamaica; I'm Jamaican so it was like, Oh my god, perfect vibes. And I'm really in love with Afrobeats music, so I've been really inspired by that lately. I met Wizkid and we've wanted to work with each other for a long time, and I just felt like it was the right thing to get him on the song. It was just the right vibe, you know, it's Jamaica meets Africa, reggae meets Afrobeats. They're different but they have kind of the same sounds in a way.
You must love this kind of dancehall distillation that's on the radio right now. Oh, absolutely. Yeah, I grew up around it. It's great to see dancehall making a comeback on radio because Sean Paul was killing the game back in the day and now it's on the rise again. It never left in a lot of places, but in the U.S. now it's really making its statement again. Everyone's jumping on the wave right now, so it's super super dope that the Caribbean's getting this exposure.
What would you like to accomplish as an artist? You want to accomplish everything; there's no limits to what you want to do. You want to do movies, you want to do modeling, you want to be an entrepreneur, you want to enter every aspect of the entertainment business. Who knows, maybe I'll be a basketball player one day? No, I'm definitely never going to be a basketball player. I have no hand-eye coordination. But I'm definitely focused on my music right now. I mean, it's the beginning. This is my introduction as a Roc Nation artist. I feel like I'm at home. I have my family and I have a great team, finally, and I'm so excited to see this path take its course.
Totally. I just kind of wanted to know: Have you listened to Frank Ocean's Blond yet? I love Blond. I've been obsessed with a couple of songs. "Nights" in particular, and oh my god, "Ivy."
"I thought that I was dreaming when you said you loved me?" Bye. Wait, no, first of all, when the album dropped, I was going through a crazy moment where someone popped back up into my life and I was just like, I don't know if I want to listen to this Frank Ocean album yet, because I just don't want to be in my emotions right now. And I'm like you know what, I'm just going to give it a try, and that was the first song I played and I literally started crying, I was like, Nooo. And I just screenshot it and sent it to the person and I was like, "Dedicated to you."