Rodarte for All: The Fashion Designers Team Up with & Other Stories
Kate and Laura Mulleavy bring their Los Angeles aesthetic to the Swedish brand.
---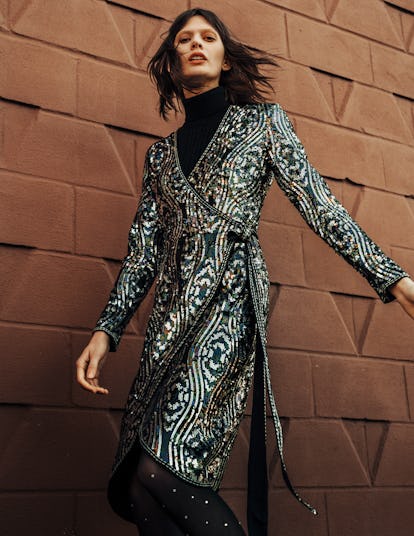 Photographer: Ben Grieme Stylist: Alex Harrington
When working on a collection, Rodarte's Kate and Laura Mulleavy admit they can become obsessive to the point of insanity. They definitely had bouts of crazy while creating their capsule line for & Other Stories, which hits stores this month. "I think we had 300 conversations about the Lurex yarn," says Kate, sporting the coppery striped sweater that resulted. Fortunately, the Swedish retailer, which eschews fast fashion for thoughtful design at an accessible price, is just as meticulous. "& Other Stories is dedicated to making things with integrity and workmanship," Laura says. "It allowed us to do what we do best." The collection, which evokes the louche spirt of 1970s Los Angeles, features silk pajama tops, patchwork-leather skirts, crushed-velvet evening pants, and a sequin dress that, predictably, took a fair amount of back-and-forth to get right. "In the end, that's what makes the pieces good," Kate says. "When you put love into something, it comes out better."
Hair By Tamas Tuzes for Bumble and Bumble at L'Atelier NYC; Makeup by Junko Kioka for chanel at Joe Management; set design: julia wagner; Model: Chloe Wheatcroft AT MUSE Management; photography assistant: Brian Kanagaki; fashion assistant: Megan Soria.