Rodarte's Spring Show is the Stuff Dreams Are Made Of
In the season of see-now, buy-now, Rodarte eschews commerciality to deliver their most ethereal collection yet.
---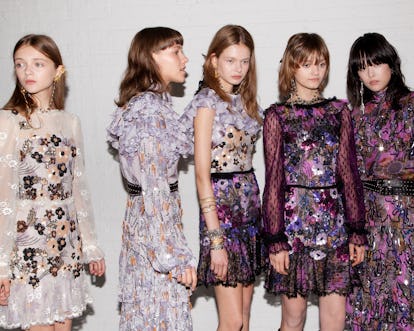 Kate and Laura Mulleavy, the sisters behind Rodarte, have never been ones to make clothing for retail purposes. Their designs, which in the past have featured Star Wars motifs and tie-dye patterns, have always held more appeal on the red carpet or the pages of fashion magazines. And while they've attracted many celebrity and editor fans, after 10 years in business, it's unclear how much they've actually put in the bank. As Robin Givhan pointed out in the Washington Post earlier this year, "To the extent it exists, Rodarte is a grudging fashion business."
The spring 2017 show on Tuesday was as ethereal as ever. Inspired by honeybees and Janis Joplin, it featured tulle dresses with pearl and pleather flower details, honey comb tiered ruffle blouses, voluminous shearling and chiffon coats, lasercut studded leather jackets, and trousers with safety pins up the side. It was celestial, inventive, and likely not very commercial. But in a season when see-now, buy-now is the biggest trend, and the focus is on sales above all else, a runway show made of pure dreams was an absolute delight.
Go Backstage at Rodarte's Spring 2017 Show
Watch Cindy Crawford get ready for Tom Ford's show: