Róisín Murphy, European Pop Goddess, Returns to America to Blow Everyone's Mind Again
After a decade away, the woman who was doing avant-pop long before Lady Gaga, is back with a vengeance, with a brand-new record and her first American tour since the glorious Overpowered era.
Photographs by Oliver Holms
---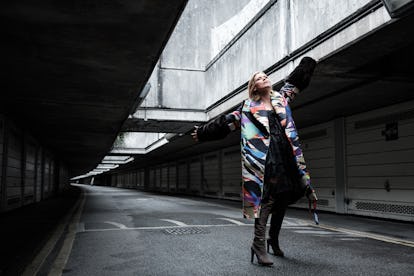 Oliver Holms. Produced by Biel Parklee.
Róisín Murphy was getting her nails done. "Shellac," she said, the hum of the salon in the background vibrating over the phone line when we connected recently. The Irish electronic diva was in her adopted hometown, London, pondering colors. She had been in a green mood lately, she said, but it might be time for a change. She paused over an iridescent chartreuse that caught her eye.
"That's a little bit trampy, now that I'm looking at it," she said as she mulled over her selection.
The 43-year-old musician had just finished a tour of festival appearances across Europe following the release of her latest album Take Her Up to Monto, which made its debut back in July to near-universal praise, and was preparing for her first American tour – she'll play Music Hall of Williamsburg on Friday night – since 2007's Overpowered. That sophomore record put her on the map both as a solo artist and as a sort of proto Lady Gaga, a champion of eclectic, avant-garde fashion from the likes of Gareth Pugh, Maison Margiela, and Viktor & Rolf, couture punks all of them.
Murphy first gained notice as part of the electronic duo Moloko – there's an infamous story about her meeting with Mark Brydon that led to their debut album, Do You Like My Tight Sweater? But, throughout her solo career, she has painstakingly crafted a cohesive visual and sonic aesthetic surrounding each of her various projects.
For Mi Senti, her 2014 EP of classic Italian tunes reimagined over electronic beats, she wore exclusively pre-LVMH prize Thomas Tait; for the full-length Hairless Toys the following year, she dissociated from time, wearing vintage pieces from the '60s through the '90s.
"My house is, it's sick. You walk in the door and you can't get past the door for the amount of moths flying around," she said, deadpan. "It's all this mad, really quite smelly vintage."
Take Her Up to Monto is no different, and yet it's completely different: Named for an Irish folk tune — and for Dublin's historic red light district, Monto — it's a record about embracing Murphy's fundamental Irish-ness. Though artists like the Cranberries, U2, or Hothouse Flowers — the punks, the rockers with folk roots — might be synonymous with Irish artistry, electronic music is less frequently associated.
"There's some kind of disconnect there…That's not what Irish people are supposed to do," she said. Where Hairless Toys was all about transcending time and place, Monto places Murphy squarely in the contemporary.
"The idea of this Irish lyric right on top of this experimental record seemed to appeal in a kind of punk way, and showing myself in the true present moment became a bit of an obsession on this, visually," she said. On the album cover, Murphy wears a hard hat, a recurring visual motif she's incorporated into videos and stage-wear, along with head lamps, reflective vests, and caution tape, that nods to the largely Irish workmen — "navvys," as they're known colloquially — who helped, and continue to help, construct London.
Still, despite their divergent themes, Take Her Up to Monto emerged from the same intense writing session as Hairless Toys, a five-week period in the winter of 2014 that resulted in enough material for not one, but two records. Murphy completed Hairless Toys with her longtime producer Eddie Stevens, directed videos for "Unputdownable," "Evil Eyes," and "Exploitation," toured with the record, and then delved back into the studio to polish the unfinished tracks from those winter sessions that would eventually form Take Her Up to Monto.
"There's a lot of love songs in there for sure, but they are kind of arch and ironic and full of sort of adult shade and humor and irony," she said. "I think that's just representative of my time of life, really."
Music is the beating heart from which all other conduits of Murphy's aesthetic descend; vital arteries of photography, sculpture, architecture, fashion design and even urban planning all pump energy back into the tender core. She's an architecture aficionado who envisioned herself becoming a visual artist when she was a young teenager just discovering Cindy Sherman. She happily, accidentally fell into music when she was 19 and dating a then-33-year-old Brydon; throughout a career spanning three decades, her visual identity has remained tantamount, Sherman still a critical reference.
"The visual's an expression of the artist, or should be, I think, and it's never been more so than lately," she said. She styles herself, and lately she's taken to directing her own videos — "Really and truly, the last two videos ["Whatever" and "Ten Miles High"] I made are the way I see."
Fashion-with-a-capital-F, the establishment, played a key role in the Overpowered era — Murphy even walked Alexandre Vauthier's debut couture show in January 2009 — but the industry has since lost its allure. Or, as she put it, more unequivocally, "It's absolutely gone beyond the pale of being at all interesting in any way, shape, or form."
"The creatives are being sort of whipped to death to keep on manufacturing," she continued. "That has an effect even at the very sort of far end of avant-garde fashion…I don't know if there is such a thing as avant-garde fashion anymore. There's nothing that sort of surprises me there anymore at all."
Though she's disenchanted with the fashion industry, that's not to say she's not still paying attention; Murphy wore the now-infamous silver sequined Vetements dress from the Spring 2016 collection to the Mercury Prize in 2015, before either Taylor Swift or Kim Kardashian had set her sights on it. (Murphy has long been at the fore of avant-garde fashion: Back in 2008, she wore an architectural Gareth Pugh dress to Paris Fashion Week; six weeks later, Beyoncé donned the same design.)
Just over two months ago, she posted an Instagram of the latest Jacquemus campaign, an image of a curious sprawl of plaid-clad models, a faceless tangle of limbs. It caught her attention for its sculptural quality, something she said she also tries to cultivate in her own performances.
So this story returns again to Murphy's Instagram. Over the summer, just before the release of Take Her Up to Monto, the singer posted an image of an apartment complex mid-demolition. "Already bored #next," she captioned.
"I don't like permanency," she said. "I just like to slip and slide, and in identity, I think that's a very feminine artist's point of view."
She referenced Sherman again as a visual cue, but her words also brought to mind the French feminist writers of the late-20th century — Hélène Cixous and Julia Kristeva chief among them, who emphasized the relationship between femininity and fluidity, a distinctly female boundlessness that defies categories imposed by social norms.
"There's a great deal of tension between so many kind of distinctive and restrictive female archetypes and images in the world," Murphy said. "When you play with the archetypes, you get free."
Back in the studio, she's already playing with the next project. "Just kind of blowing everybody's mind again," she said. "Basically."