Bright Lights, Big City
Australian label Romance Was Born takes their design vision to décor with help from artist Camille Walala
---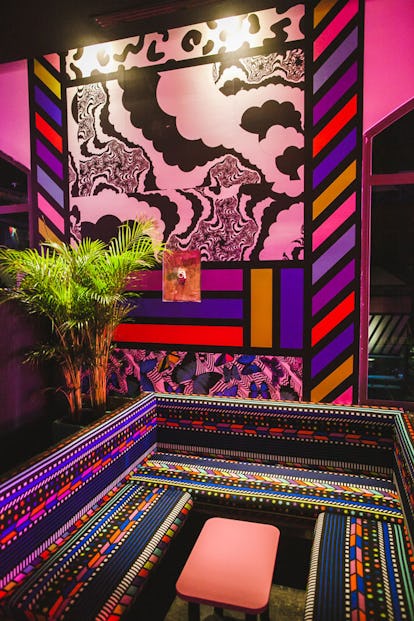 Even amidst the rainbow bright runways and colorful street style ensembles that are popular in Sydney, Australia, local brand Romance Was Born stands out for their exuberant, art-inflected approach to fashion. Now, designers Anna Plunkett and Luke Sales have teamed with U.K. artist Camille Walala to turn their Technicolor touch towards interiors, with the redesign of Lo-Fi, a bar in Sydney's hip Darlinghurst neighborhood.
The new space combines Walala's graphic, geometric style with the label's wild color sense (plus an oversized butterfly print from their recent "Dream On" collection) in a hypnotic mix of print and pattern that extends from custom wallpaper to upholstery. The result is a psychedelic, techno-tribal dreamscape that's part-James Bond, part-kaleidoscope. "A friend introduced us to Camille's work and it was love at first sight," says Plunkett of the collaboration. "It's just an extension of our mutual love of art."
The project is hardly the label's first joint effort—in their 10-year career Plunkett and Sales have worked closely with artists including Del Kathryn Barton and Kate Rohde—and it certainly won't be their last. Later this summer, Romance was Born will release a collection of party-ready prints (titled "Reflected Glory"), created with artist Rebecca Baumann. It's the perfect cure for a case of Saturday night fever.
Lo-Fi by Romance Was Born, ​383 Bourke St., Darlinghurst, Australia, romancewasborn.com**
Photos: Bright Lights, Big City
Photograph by Ari Pashalis.
Photograph by Ari Pashalis.
Photograph by Ari Pashalis.
Photograph by Ari Pashalis.
Photograph by Ari Pashalis.