Romy and Michele's Bold Style Still Holds Up 20 Years Later
Here, 10 styles lessons to learn from Romy and Michele's High School Reunion.
---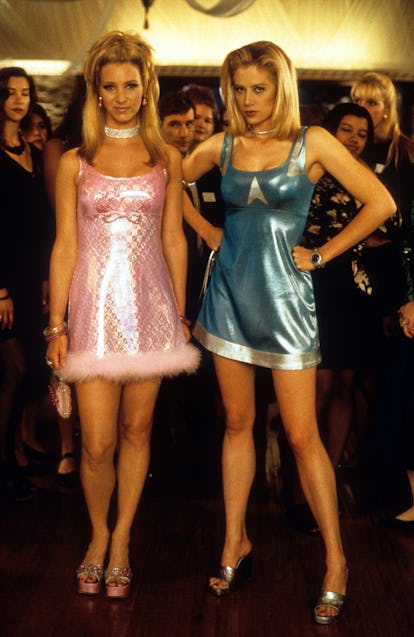 Hulton Archive/Getty Images
It has been exactly 20 years since Romy and Michele's High School Reunion premiered in 1997, but everyone could still learn a thing or two from the film's hilarious BFF heroines, played by Lisa Kudrow and Mira Sorvino. They represent the idea that originality is far more valuable than popularity, and that good style isn't always fashionable.
At the beginning of the film, Romy and Michele try to be people they're not in order to impress their classmates at reunion: they start working out, try to find boyfriends, and apply for jobs, but quickly realize that faking it might be the easiest option. So instead, they buy business suits, borrow a fancy car, and hit the road.
Of course, Romy and Michele's classmates quickly see through their disguises as business women, who invented post-it notes. But they've all got something to hide, too: it turns out the popular girls aren't so happy after all, and the prom king is a drunk. The only person who defended Romy and Michele's outfits in high school turns out to be a Vogue editor.
In the end, the misfits triumph. They get the guys, the crown, and have high-paying jobs. After the reunion, the two BFFs took their design and sewing skills, which they first picked up in Home Ec, and open their own clothing store in Los Angeles. Revenge never looked so good.
Here, 10 style lessons to learn from Romy and Michele's High School Reunion.
1.) Fashion is just like, everything.
2.) You never have nothing to wear when you can make your own clothes.
3.) Deduct 16 pounds when you weighing yourself in platform high heels.
4.) A cell phone is the best accessory.
5.) Dress for a workout like you're going to the club.
6.) A business woman's wardrobe consists of a suit, glasses, and a briefcase. Being a business woman is all about wearing suits, glasses, and You can look like a business woman if you just wear stupid suits and phony glasses and carrying briefcases.
7.) Roots can be so bad they're good.
8.) Always tell yourself how cute you look. You're just being honest.
9.) You don't always need a top to win.
10.) No accessory is as good as a best friend.
21 Moments That Defined 1990s Fashion
At his Spring 1993 show for Perry Ellis, Marc Jacobs sent out flannel shirts and skirts, baggy pants, floral dresses, and skull caps that led to his now-infamous firing. However, grunge became fashion — and it was okay to wrap your old plaid button down around your waist and pair sneakers with dresses. Here, Marc Jacobs fitting a model backstage before she hit the runway.
Photo by Kyle Ericksen.
Christy! Naomi! Linda! Cindy! Claudia! These models were the firsts to be household names and to this day are beauties that continue to inspire future generations. Here, Christy Turlington and Naomi Campbell at a benefit for Gianni Versace.
Photo by Jim Smeal/WireImage.
Tom Ford was hired at Gucci in 1990, and was promoted to creative director in 1994. At his March 1995 show, he sent out the top girls of the time — like Shalom Harlow and Amber Valetta — in velvet hip-hugging pants, satin shirting in jewel tones. The previously snoozy fashion house was shaken up and it was all of a sudden a sexy, jet-set brand that everyone wanted to wear, including Madonna. A few months later after the collection debuted, the singer wore one of Ford's best looks from the collection to the MTV Video Music awards. Here, the opening look of his Fall '95 show.
Photo by Getty Images.
Off the runways, it was Britney Spears who was making a big impact on fashion at large. Spears released "…Baby One More Time" in 1998 and suddenly every teenage girl (as well as plenty of adult women) in America was rocking thigh high socks, braided pigtails, and pleated, school girl miniskirts.
Photo by Brenda Chase/Online USA, Inc.
Ah, those good old days of the "A&F Quarterly" catalogues full of glossy, young football studs and cheerleaders in little to no clothing. There was the occasional appearance of a crinkled plaid button down shirt or a pair of barely-there denim cut-offs, but it was the overall lifestyle teens everywhere bought into. '90s fashion will forever be stamped with a big, bold A&F logo.
Photo by David Pomponio/FilmMagic for Paul Wilmot Communications.
Galliano catapulted to fashion stardom with his groundbreaking Fall 1994 collection. With the help of important friends like Amanda Harlech, Stephen Jones, and Portuguese socialite São Schlumberger. he pulled together an East-meets-West collection that landed him at the helm of Givenchy a year later. In 1996, he then took over at Dior and put on some of the most extravagant shows the house had ever seen.
Photo by Getty Images.
Speaking of Galliano: At the 69th Annual Academy Awards in 1997, Nicole Kidman would forever change red carpet dressing by sporting one of his designs for Dior, a flawless, devastating silk gown in iridescent chartreuse that immediately appalled Joan Rivers and upstaged Tom Cruise.
The designer was the most exciting designer coming out of the London scene and he was also the most controversial. "Highland Rape," his Fall 1995 collection, featured models clad in torn plaids lace, and also the "bumster" — an extremely low cut pant, as McQueen found the most sensual part of a woman's body to be the end of her spine. Here, a bumster look from that collection. The introduction of this silhouette on McQueen's runway may be the reason why the extremely low-rise look was so popular in the early 2000s.
Photo by Rose Hartman/Getty Images.
Angela Chase in My So-Called Life, Cher Horowitz in Clueless, Liv Tyler's Corey in Empire Records, Winona's Lelaina Pierce in Reality Bites, Sofia Coppola's girls in The Virgin Suicides — all characters who's on screen style has influenced what every girl of the '90s (and today!) wanted to wear.
Photo by Paramount Pictures/Getty Images.
The signature, upside down triangle Guess logo was positively ubiquitous in the '90s. Guys and gals alike were enamored by the sportswear brand's jeans, overalls, and logo t-shirts. Today, it feels as relevant as ever, with top models like Gigi Hadid fronting its recent ad campaigns and rapper A$AP Rocky as a collaborator.
Photo by Al Freni/The LIFE Images Collection/Getty Images.
We all know the story, the English waif who changed fashion, rushing in this so-called heroin chic look. She was the face of Calvin Klein Obsession in the early '90s, and here, she appears with the designer in 1995.
Photo by Ke.Mazur/WireImage.
Paltrow stepped onto the 1996 Academy Awards red carpet wearing that now- iconic pale pink Calvin Klein slip dress and the best accessory one could ask for: Brad Pitt on her arm. We've been looking for a slip dress this good ever since.
Photo by Barry King/WireImage.
There was Marc Jacobs, Calvin Klein, Tom Ford, and Alexander McQueen, and then there was Helmut Lang. The designer, who left the scene in 2005, changed fashion forever with his minimalist, utilitarian designs. His influence is still widely present in the work of many top contemporary designers of today.
Photo by Getty Images.
The hair, the slip dresses, those '90s light-washed jeans that we're all coveting today — Winona was the ultimate '90s It girl with an edge. Liv Tyler, in Empire Records, is a close second.
Photo by Max B. Miller/Archive Photos/Getty Images.
Winona might have been the quintessential It girl, but Parker Posey's Mary in Party Girl was the dreamboat socialite of the downtown, a precursor, in style and personality, to all the party girls who followed, from Chloe Sevigny to Paris Hilton. Photo courtesy the Everett Collection.
Those oversize logo T-shirts and sweatshirts, the briefs with the Tommy Hilfiger logo peeking out of jeans, and the big Hilfiger logo duffel bags — the brand was everything in the '90s thanks to the late Aaliyah, who became the face of Tommy Jeans.
Photo by KMazur/WireImage.
You can't talk '90s fashion without mentioning the Spice Girls. The all-female, British group was formed in 1994 and quickly rose to global mega stardom. Their pop-y ballads were undoubtedly catchy, but what we remember most was their platform shoes, skintight leather mini dresses, and sequined getups. Perhaps most importantly, this was the beginning of Posh Spice, aka Victoria Beckham.
Photo by Tim Mosenfelder/ImageDirect.
It was in 1993 that America learned of one Björk Guðmundsdóttir, best known simply as Björk. With songs like Venus as a Boy and Big Time Sensuality, her seductive interpretation of triphop, and her defiant androgyny, she came to define the style and look of the European alternative scene, one that Madonna herself, the decade's earlier provocateur, would crip when she asked the Icelandic singer to collaborate on her Bedtime Stories album. Here, she is pictured in 1993 in The Face, one of the iconic magazines of the period like Details and Sky that is no longer around. Photograph by Glen Luchford.
The famously reclusive Martin Margiela most certainly earned his space in the' 90s fashion history books. Like Lang, the Belgian helped reinvent the codes of fashion with his provocative, trompe l'oeil signature designs. Few collections better embody all things Margiela better than his Spring 1996 collection, which included that sequin print dress and nude bodysuits.
Photo by Karl Prouse/Catwalking/Getty Images.
In 1995, Isaac Mizrahi became a cult figure. Yes, he was already a rising star in the world of fashion, but a little documentary called Unzipped would make him a household name. After a badly reviewed collection, he allowed his then partner Douglas Keeve to follow him around as he put together his fall 1994 collection. As the legendary Polly Mellen pointed out in one scene, "It erases EVERYTHING."
Photo by Nick Waplington.
After Sex and the City launched in the late '90s and fan girl Carrie Bradshaw cemented Manolo Blahnik as the shoe to be wearing, the footwear brand was catapulted to cult obsession status. That was only further cemented in the Sex and the City movie, when Big asks Carrie to marry him with a pair of blue Manolos.
Photo by Getty Images.
Watch W's most popular videos, below: