Meet Rooms, the Stylish Tbilisi Design Duo Setting their Eyes on New York
Step aside Demna Gvasalia, Nata Janberidze and Keti Toloraia of Rooms are the newest Georgian exports.
---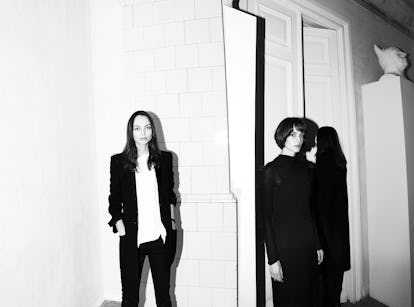 When Nata Janberidze and Keti Toloraia were deciding on a name for their new Tbilisi-based design label in 2007, they decided to keep as straightforward as possible and go simply by the word Rooms: "Just like the Doors," Janberidze said with a laugh. "We do interiors as well, and it's the simplest kind of word, so I think it has a little bit of a sense of humor to it."
That effortless sensibility carries over to their designs: Rooms is all about keeping things light and simple, something Janberidze is quick to point out is "not achieved by shapes or materials only. Having a calm state is a big part of it all."
Janberidze and Toloraia first met studying interior design at the Tbilisi Academy of Arts, and though they were reportedly the first designers to show outside of Georgia, until now, the duo has barely been represented in the U.S. That changes this week, with their first New York showing at the downtown design store The Future Perfect. Appropriately titled "Wild Minimalism," the show is a mix of of wood, brass, and mirrored chairs and tables that are both functional and sculptural. Janberidze and Toloraia took inspiration from the surrealist films of the Georgian filmmaker Sergei Parajanov, which is how they ended up with more unexpected designs like a chair with horns, a table atop a staircase leading to nowhere, and an "invisible" armchair covered in mirrors.
Their main influence, though, was traditional Georgian design. "We really wanted to go back to our ethnic roots," Janberidze said. Each piece was produced in Georgia using traditional handcrafting techniques, which is partly why each piece is produced in a limited edition of 50.
Rooms isn't just inspired by Soviet styles, though. "As the country's developed, and we've developed as well, we take influences from everything," Janberidze explained.
The change is certainly welcome: "When we started, there were very few design companies in Georgia because of the economic hardship and the wars our country had to go through – I don't think anyone had time for design," Janberidze said with a laugh. That could explain why they were the first Georgian design label the Future Perfect founder David Alhadeff had ever heard of, though it doesn't seem like it'll stay that way for long: "Right now, it's like a creative explosion is happening in Georgia," Janberidze said. "I think we're just late bloomers, you know?"