Rooney Mara Woos a Hot Priest and a Fighter Pilot in Secret Scripture Trailer
The film, centering on an Irish love triangle in the 1940's, packs on a whole lot of melodrama just in the trailer alone.
---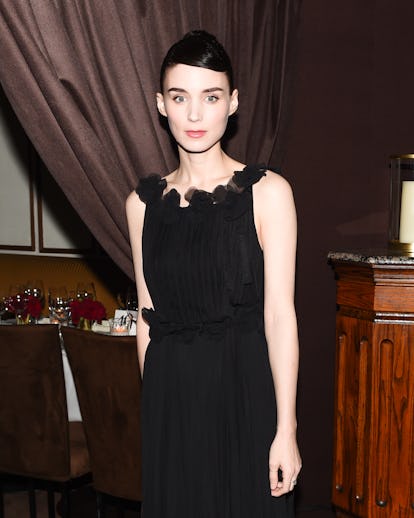 In The Secret Scripture, Rooney Mara and Vanessa Redgrave play the same woman 50 years apart. Mara plays the character when she was young and beautiful and incapable of escaping the romantic attention of every man around her, including a brooding priest played by Theo James. Redgrave portrays the character decades later as the last inhabitant of a soon-to-be-shuttered mental hospital.
If you're thinking that perhaps the moral of the story might be that "men will do little more for you than lead you straight to the asylum," well, yeah, sort of.
Directed by Academy Award-winning filmmaker Jim Sheridan, and based on Sebastian Barry's Man Booker Prize-shortlisted novel of the same name, the movie is as much about the central love triangle and this character's arc as it is about Ireland's history and patriarchal society (dropping the trailer around St. Patrick's Day was perhaps not unintentional).
In the trailer, Mara's 1940's-version of the character develops feeling for a hotshot WWII fighter pilot played by Aidan Turner. In the meantime, she also attracts the attention of James' priest character, who seems to respond to his forbidden feelings by trying to belittle and control her.
At one point, Mara shouts at the pilot, "I just don't want to be the center of everyone's attention, Jack."
And then the priest comes over and sucker punches him.
So, yeah, a lot of period piece melodrama to be had here.
In the present-day scenes, Redgrave's older version of the character slowly reveals her history to a doctor played by Eric Bana. The film's title comes from the secret diary the character kept in the margins of an old bible.
The film premiered at last year's Toronto International Film Festival where it received mixed reviews. Though, both Mara and James did receive notices for their acting. Perhaps your enjoyment of the film depends on how much you're into European period melodramas in the first place.
You can find out for yourself when the film premieres on May 19.
If you need a Mara fix before that, you only have to wait a few weeks until her next film, The Discovery, premieres on Netflix.
Rooney Mara's Favorite Love Scene Is an Awkward Love Scene: