Rosetta Getty: Clothes Minded
You can't have Rosetta Getty's fabulous life—but thanks to her new clothing line, you can dress the part.
---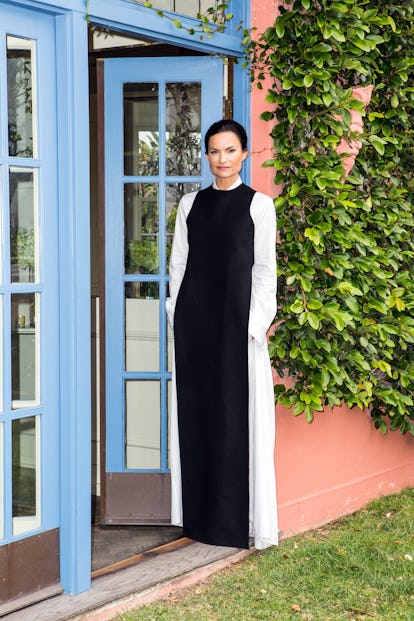 Third Time's a Charm Even with four kids, a crammed social calendar, and a seemingly never-ending home-renovation project, Rosetta Getty always has her mind on fashion. "If I'm not doing a collection, I'm talking about it," says the 44-year-old, whose eponymous line will hit stores this fall. It is hardly her first go at it. Raised by artist parents on a commune in Silver Lake, Los Angeles, Getty first entered the fashion world as a 14-year-old model, shuttling between Paris and Milan and posing for lensmen like Paul Jasmin and Bruce Weber (who shot her for Azzedine Alaïa's highly collectible first book). Burned out at 19, she returned home and enrolled at Otis College of Art and Design to study fashion design. In 1997, she started Rosetta Millington, a luxury children's line that she shuttered eight years later when she had kids of her own with her husband, the actor Balthazar Getty. Then, in 2006, she launched Riser Goodwyn, a collection of cocktail dresses that garnered fans like Kirsten Dunst and Kristen Stewart before it was sidelined by the birth of a fourth child. Now, with her youngest about to start kindergarten, Getty figured it was time once again to indulge her passion.
Dressed for Success Getty might admit to a clothing obsession, but you wouldn't know it by looking at her closet. "I don't like clutter," she says of her meticulously edited wardrobe, which includes a smattering of pieces from Comme des Garçons, Dries Van Noten, Céline, and Maison Martin Margiela. A self-described tomboy who counts tough cookies like Louise Bourgeois, Patti Smith, and the '70s filmmaker Chantal Akerman as her style icons, Getty pairs most outfits with flats. "Even at night, I try to avoid heels," she says. Her new line is geared toward women like herself who appreciate elegant, easygoing clothes that go from day to evening: plush-velvet trousers, fluid silk shirt dresses, chunky bathrobe cardigans.
Collective Heart The Gettys have spent the past seven years renovating a midcentury house in the Hollywood Hills. During that time, the family has been living nearby in an early-20th-century Spanish mansion, which Rosetta has furnished with Danish-modern pieces and industrial-looking finds like a 1960s Achille and Pier Giacomo Castiglioni stereo bought at a German auction. Her husband may be the great-grandson of the oil tycoon J. Paul Getty, whose trust built the Getty Museum, but it is Rosetta who does the art buying. She purchased her first piece—a Robert Motherwell painting—20 years ago and has since acquired work by James Nares, Wolfgang Tillmans, Olympia Scarry, and John Knuth, a Los Angeles artist whose dappled paintings, created with the help of watercolor-fed houseflies, inspired the palette for her line. Yet of all the things she's collected, it is a bundle of love letters from her husband that she prizes most. "I'll read them, and even if I'm hating him, I love him all over again," she says.
Photos: Rosetta Getty: Clothes Minded
Getty at her house in L.A., wearing a look from her new line. Photograph by Jeremy Liebman.
Balthazar dancing with their son Cassius in 2010 in Tuscany, where the family vacations every summer. Courtesy of Rosetta Getty.
Rosetta with Balthazar and one of his BMW motorcycles. Photograph by Jeremy Liebman.
Ettore Sottsass's Ultrafragola mirror, which Getty plans to buy. © 2014 Artist Rights Society (ARS), New York/ADAGP, Paris.
Poolside in Tuscany with the kids, 2013. Courtesy of Rosetta Getty.
Her daughter Grace in Tuscany, 2012. Courtesy of Rosetta Getty.
An emerald ring from her mother. Photograph by Jeremy Liebman.
Getty's favorite hotel, Le Sirenuse in Positano, Italy. Courtesy of Le Sirenuse in Positano.
A look from Getty's new line. Courtesy of Rosetta Getty.
A look from Getty's new line. Courtesy of Rosetta Getty.
Love letters from Balthazar. Photograph by Jeremy Liebman.
Cassius and Balthazar in Malibu, 2011. Courtesy of Rosetta Getty.
John Knuth paintings in her L.A. house. Photograph by Jeremy Liebman.
A Louise Bourgeois–esque table designed by Michael Wilson. Photograph by Jeremy Liebman.
Bourgeois, Getty's style icon. Photograph by Alex Van Gelder.
A James Nares painting and a vintage Castiglioni stereo in her house. Photograph by Jeremy Liebman.
Her collection of flats includes Birkenstocks, Céline slippers, and a ponyskin pair from Christophe Lemaire. Photograph by Jeremy Liebman.
Bruce Weber photographs of Getty, 1987. Photograph by Jeremy Liebman.
The Central Garden at the Getty Center. Photograph by Redux Pictures.