Scarlett Johansson, Kate McKinnon, and Ilana Glazer Kill a Stripper (and Their Buzz) in Rough Night Trailer
They're in for a helluva hangover.
---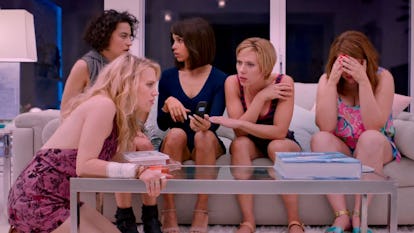 The trailer for Rough Night—starring Scarlett Johansson, Kate McKinnon, Ilana Glazer, Zoe Kravitz, and Jillian Bell—dropped Wednesday (which is also International Women's Day) and grapples with a women's issue near and dear to us all: Are bachelorette parties actually worth it?
Sure, there's debauchery and nostalgia and, if your maid of honor happens to be a sufficiently adept planner, perhaps a trip to a boozy, breezy locale. Yes, you will remember this time forever. All of which is lovely and fine. We get it, but there's also the forced enthusiasm, budding resentment, and slightly amiss friendship dynamics that come from reconfiguring what are likely to be some pretty rusty relationships, not to mention the culmination of considerable favor-doing under the banner of an "honor."
Rough Night isn't covering novel ground by tapping in to these tensions. Bridesmaids and Bachelorette did a killer job of getting at the inherent unease that often accompanies female friendships. But Rough Night has something new to contribute. Namely, a killer job. The raucous comedy follows five reunited college besties as they go to Miami, celebrate Johansson's character's impending nuptials, do a quite a bit of cocaine, and accidentally kill a male stripper. Hey, you know what they say: What happens in Florida…makes for a memorable headline.
For some reason, McKinnon is doing an Australian accent in Rough Night, a fact that is both besides the point and somehow very much worth mentioning.
Lucia Aniello directed the women-fronted comedy, also penning the script with Broad City's Paul W. Downs. Demi Moore, Ty Burrell, and Colton Haynes also star in Rough Night. The project, formerly—gloriously—known as Rock That Body, strangely does not count Dwayne Johnson among its cast.
Rough Night is rated R, in case you missed the part about killing a stripper. It hits theaters June 16.
Scarlett Johansson's Come-to-Jesus Moment as a 7-Year-Old Kid: