Here's the Important Reason Rowan Blanchard's Beauty Routine Has Fully Transformed
"I wasn't interested in being quote unquote beautiful, maybe because I was told that trying to be that sacrificed your feminism. I was more interested in looking weird for myself," she said. "But now I'm also actually setting out to look like a pretty girl."
---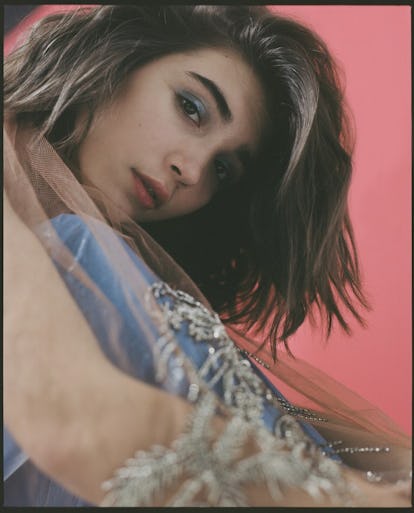 As a child actor, Rowan Blanchard has spent years being told how to dress, act, and look by adults. But now, she is taking control of her physical appearance and, in doing so, exploring how she can control not only her own self-image, but also the way other people perceive her. In a new interview with InStyle, Blanchard explains how experimenting with makeup in particular has taught her more about femininity, feminism, and fighting the patriarchy.
"I'm starting to realize the…power you have with your physicality," she said. "Attention is still a new thing. It's been fun to play with other people's gazes and explore who's looking at you: How do I look, and how is that being perceived?" Blanchard, who said she used to model her look after "strange" people like Sailor Moon and Ziggy Stardust-era David Bowie, described her recent shift toward a style that is classically perceived as feminine. "I wasn't interested in being quote unquote beautiful, maybe because I was told that trying to be that sacrificed your feminism. I was more interested in looking weird for myself," she said. "But now I'm also actually setting out to look like a pretty girl."
A Definitive Ranking of Rowan Blanchard's Most Daring, Fashion-Forward Makeup Looks of All Time
This graphic treatment is one of Blanchard's most daring makeup looks yet.

Rowan Blanchard at the NYLON Young Hollywood Party at AVENUE Los Angeles on May 2, 2017 in Los Angeles, California.

JB Lacroix
With a multi-colored eye, Blanchard proves she isn't afraid of some color.

Rowan Blanchard at the Chanel dinner celebrating Lucia Pica and the Travel Diary Makeup Collection at Capo on July 12, 2017 in Santa Monica, California.

Emma McIntyre
The CFDA awards are an opportunity to celebrate the American fashion industry. Naturally, Blanchard chose a fashion-forward look, with small crystals below her eyes, for the occasion.

Rowan Blanchard at the 2017 CFDA Fashion Awards at Hammerstein Ballroom on June 5, 2017 in New York City.

Taylor Hill
Blanchard's graphic eye makeup and super straight hair were a futuristic, sleek combination.

Rowan Blanchard at "Chanel Collection des Metiers d'Art 2016/17 : Paris Cosmopolite" Show on December 6, 2016 in Paris, France.

Pascal Le Segretain
A graphic white line added a playful touch to Blanchard's boho look.

Rowan Blanchard attends the H&M Conscious Exclusive Dinner at Smogshoppe on March 28, 2017 in Los Angeles, California.

Charley Gallay
A swipe of silver eyeshadow was the perfect look for a summer evening in New York.

Rowan Blanchard at the Coach Summer Party on The High Line on June 6, 2017, in New York City.

Photo by Katie Thompson for W Magazine.
Blanchard's frosted blue eye looked anything but retro.

Actress Rowan Blanchard arrives at the International Women's Media Foundation Courage Awards at the Beverly Wilshire Four Seasons Hotel on October 27, 2015 in Beverly Hills, California.

Amanda Edwards
Blanchard upped the glamour of a bronze smoky eye, by adding a glittery brow.

Actor Rowan Blanchard attends the 10th annual Women in Film Pre-Oscar Cocktail Party at Nightingale Plaza on February 24, 2017 in Los Angeles, California.

Frederick M. Brown
Blanchard adds a pop of color to an otherwise natural makeup look.

Actress Rowan Blanchard attends Children Mending Hearts' 9th Annual Empathy Rocks at a private residence on June 11, 2017 in Bel Air, California.

David Livingston
A simple pop of color was a subtle, playful touch on the red carpet.

Actress Rowan Blanchard attends Teen Choice Awards 2016 at The Forum on July 31, 2016 in Inglewood, California. (Photo by Kevin Mazur/Fox/Getty Images for Fox)

Kevin Mazur/Fox
Sure, a cat eye isn't anything knew. But Blanchard goes to the extreme with her winged look.

Rowan Blanchard attends the launch party for Chanel's new perfume "Gabrielle" as part of Paris Fashion Week on July 4, 2017 in Paris, France.

Stephane Cardinale – Corbis
A little volume goes a long way.

Rowan Blanchard attends Teen Vogue's 13th Annual Young Hollywood Issue Launch Party on October 2, 2015 in Los Angeles, California. (Photo by Jason Kempin/Getty Images)

Jason Kempin
That shift has included dabbling on bold red lipstick, dramatic false lashes, and a fully beat face. "I told my makeup artist, 'I want the highlight [snaps], I want the contour [snaps]. I [snap] want [snap] to go [snap] there [snap],'" she said, also noting her newfound love of long acrylic nails. "I really enjoy them, but it takes a f*cking while," she said. "I sit there for two hours, and I'm so bored. It's work!" Rowan said that she first witnessed this work in action when she was younger, while watching her mom and aunts get ready. "It was so fascinating to me. And so glamorous, watching them look at themselves in the mirror, wearing push-up bras and all these other things," she said. "I was like, 'Whoa! The world of femininity is so crazy!'"
But rather than seeing stepping into this "world" as a mode of conforming to societal ideals, Blanchard is doing so as a way to push back on expectations. "The way I view it is that women have to use whatever we were given," she said. "So if we're given these frameworks of things that are inherently feminine, whether that's makeup or the femme fatale or even sadness — all these tropes associated with being a girl — I want to explore the undoing of patriarchal things in that same way."
Related: Rowan Blanchard Talks About the Power of Teenagers, A Wrinkle In Time, and Her New Book Still Here