The Royal Baby's Responsibilities
In case you missed them, here are the top style stories from the week
---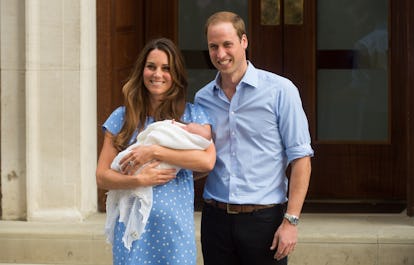 Abercrombie & Fitch Currently being investigated for discrimination in France; really, really needs to stop hiring staff based on appearance.
Barneys New York Rumored to be teaming up with Jay Z this holiday season; fingers crossed for a six-hour performance piece inspired by "Jingle Bells."
Beckham, David Appears without a shirt in a new fragrance ad, because why bother wearing clothes when your abs look like that.
Casablancas, John The founder of Elite Models responsible for the careers of Cindy Crawford, Naomi Campbell, Linda Evangelista and more passed away at age 70.
Diaz, Cameron Was named artistic director of footwear label Pour la Victoire; apparently considers years of actively wearing shoes the top criteria for being able to design them
Ditto, Beth The Gossip singer married Kristin Ogata in a Jean Paul Gaultier gown that would make Madonna proud.
Dolce & Gabbana Being sued by Peter Fonda over Easy Rider-inspired shirts; can't seem to cut a break.
Issa Launched a high-street version of the now iconic dress Kate Middleton wore in her engagement photos; counts on selling out.
Lagerfeld, Karl Is the subject of a four-hour documentary that will air in Germany in September; no word of whether or not his upcoming candle collaboration or love of Cate Blanchett will be covered in detail.
Mizrahi, Isaac Teams up with Tweezerman, even though he was born without brows. Stay tuned for the brand's campaign next year starring Whoopi Goldberg.
New York Fashion Week May have a new home, if the CFDA gets its way. Prepare to reorient yourself yet again.
Prinsloo, Behati Debuts new engagement ring; attempts to convince fans she and Adam Levine are really getting engaged.
Proenza Schouler Changes Fashion Week show time from 8 p.m. to noon; plans on starting 10th anniversary party early.
Rihanna Appears more clothed than usual in the ad for her new fragrance, which, ironically, is called "Nude."
Royal Baby Officially named George; is already responsible for breaking Jenny Packham's website and overshadowing the birth of Penelope Cruz and Javier Bardem's second child. Tough break.
Williams, Michelle Now modeling for Louis Vuitton; continues to work it.