Family Affair
With their pioneering museum and all-for-one approach, the Rubells are the art world's game changers.
---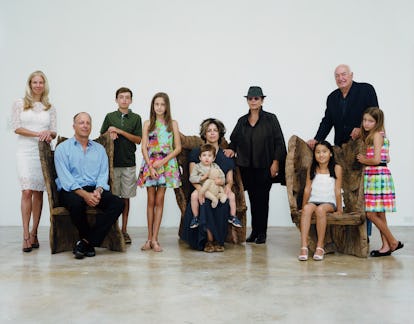 Photograph: Rineke Dijkstra
In 1981, on theirregular rounds of New York's East Village galleries and alternative spaces, the collectors Mera and Don Rubell struck up a friendship with a curator they'd met at the Mudd Club, a nexus of downtown cool. His name was Keith Haring, and he organized exhibitions upstairs. One day, in passing, he mentioned he was also an artist. At the time, Don, an obstetrician, and Mera, a teacher, lived on the Upper East Side with their two kids, Jason andJennifer. Don's brother Steve had cofounded Studio 54, the hottest disco on the planet, and artists would often refer to Don as "Steve Rubell's brother, a doctor who collects new art with his wife."
The Rubells had begun buying art in 1964, the year they married, putting aside money each week to pay for it. Their limited funds led them to focus on "talent that hadn't yet been discovered," recalls George Condo, whose work they acquired early on. They loved talking to artists, often spending hours in their studios. When they asked Haring if they could visit his, he told them he had nothing ready for them to see. But a few months later, he invited them to his first solo show, at Club 57. Struck by the markings Haring had made over iconic images of Elvis Presley and Marilyn Monroe, the Rubells asked to buy everything, only to learn that a guy named Jeffrey Deitch, an art adviser at Citibank, had arrived just ahead of them and snapped up a piece. Still, they took the rest, and soon Haring was introducing the couple to friends like Jean-Michel Basquiat. Haring became so close to the Rubell family that he even illustrated the invitation to Jason's bar mitzvah—a drawing of two figures vaulting up stairs to a radiating number 13. The couple supported Haring until his death from AIDS in 1990 and even hosted the artist and his parents for dinner one night. Haring wanted his family to understand that he had made it, and what better way, he thought, than to show them his work in a Manhattan townhouse owned by art collectors?
In the 50 years since the Rubells started acquiring the very latest art, much has changed. Contemporary art is a glamorous commodity, the places to find it are proliferating around the globe, and the Rubells have become major players, with their own museum. Together with Jason, 45, and Jennifer, 44, they have built the Rubell Family Collection and Contemporary Arts Foundation, which boasts some 6,800 works by 831 artists. One of the most ambitious private collections in the country, it is housed in a former Drug Enforcement Administration warehouse the Rubells bought in 1993, in the once crime-ridden Wynwood Arts District of Miami. Though they like to think of themselves as "New Yorkers in exile," as Mera put it, they are keenly associated with Art Basel Miami Beach, which they helped initiate. Their rotating exhibitions are timed to coincide with the fair's opening week in December, and their off-the-wall Basel breakfast, concocted by Jennifer, a hotelier–and–food–impresario–turned artist, is a must-attend event.
And yet, five decades on, the Rubells themselves still operate the way they always have: They work for a living, running Rubell Hotels, the family business they set up in the '90s, with Jason; they relish being the first to discover artists and drive hard bargains with galleries. And studio visits remain their priority. "Art doesn't come to you," Mera says. "You have to go to the art." When the Los Angeles–based artist Aaron Curry was away on a day the Rubells were in town in 2005, the couple was so eager to learn more about him that his gallerist, David Kordansky, got permission to break into his studio. "When I came back, I could tell that they had dug through everything," Curry recalls. "It was as if they were trying to figure out my brain, not just what I made." Soon, Curry was on a plane to Miami, and the works the Rubells commissioned from him were presented later that year in their 2006 "Red Eye" exhibition, alongside those by other emerging Los Angeles artists like Sterling Ruby and Thomas Houseago. "The defining characteristic of their collecting is how much they look and how much they've seen," says Jennifer, recalling that she hated being dragged to galleries as a kid.
Fittingly, a two-story library packed with artist monographs and catalogs connects Don and Mera's modest, sparsely furnished home to the45,000-square-foot Rubell Family Collection. When I visited this past June, works by 28 contemporary Chinese artists occupied 26 of the 28 galleries, the result of six trips to China and 100 studio visits the family had made between 2001 and 2012. Upstairs, in its own space, was one of the few pieces that is on permanent view: Charles Ray's Oh! Charley, Charley, Charley…, a depiction of an orgy made up of eight life-size mannequins, all in the artist's likeness.Don, Mera, and Jason had seen the sculpture in 1992 at the internationalexhibition "Documenta XI," in Kassel, Germany, and couldn't get it out of their heads. Two weeks later, they asked to purchase it and learned that Ray was eager for cash to buy a sailboat. "In those days, art didn't sell at the speed it does now," Jason noted wryly. "We actually had time to think about it."
In the open-plan living area, Mera was cooking gluten-free pasta and marinara sauce with clams and Don was setting the table. The walls were bare. "This is our thinking space," she said. Mera, 71, puts you in mind of a Jewish Yoko Ono, with her spiky black hair, pink-frame sunglasses, and fondness for Panama hats and black leggings. Inspired by Andy Warhol, she often wears a wig to openings. Don, 74, is her opposite. Tall and sporty, wearing a polo shirt, black pants, and sneakers with neon laces, he has a quipster's wit and the air of someone who would prefer that you cut to the chase. A conversation with the couple is never straightforward: Ask a question, and while one answers, the other provokes a debate that can go on for some time.
"We've become more comfortable with our eccentricity," Don said at one point about their approach to collecting. "If something feels like it would be interesting, we take a shot at it. It just feels right."
"It feels more than right, Don," Mera interjected. "It feels compelling. Because it's risky, you know?"
"It's not risky," Don demurred. "No one's going to shoot us."
Recalling first glimpses of works by the artists they collect, they'll unpack exhibition highlights the way baseball fans recount historic plays. "I can't think of anybody who loves to talk about art and ask questions more than they do," says Helene Winer, whose pioneering Metro Pictures gallery introduced the couple to Cindy Sherman, Richard Prince, and Robert Longo.
The Rubell Family Collection has been open to the public for 20 years,and plans for an anniversary exhibition opening at Miami Basel and dovetailing with the couple's golden wedding anniversary were still being hatched. "We've been trying to figure out 'How do we celebrate 50 years in a way that's us?'" Mera said. "A gold bracelet wouldn't do it, and going backward is not our thing." Looking to the future, they have commissioned six rising artists to create solo shows. The lineup includes painter Lucy Dodd; sculptor and painter Will Boone; and mixed-media artist Kaari Upson, who is casting the couple's mattress in silicone; as well as market darling David Ostrowski, a painter known for his minimal compositions. The Rubells paid each artist a flat fee in advance, essentially purchasing the work sight unseen.
The idea for the solo shows was inspired by the Rubells' experiment with Oscar Murillo, whose paintings they first encountered at the 2012 Independent Art Fair in New York, in the booth of the London gallerist Stuart Shave. Everything was sold by the time they arrived, but they pressed Shave to arrange a meeting with the 26-year-old Colombian artist. "He'd stayed up working 36 hours straight so he would have paintings to show us," Mera said. They bought the lot and invited Murillo to spend the summer in Miami, using the Rubell Collection's largest gallery as a studio. During Art Basel that December, they gave him his first U.S. solo exhibition, and, in due course, he was snapped up by the mega-gallerist David Zwirner. Understandably, the Rubells feel a familial attachment toward Murillo, whose rapid ascent has already spawned a backlash. Speaking of Murillo's Zwirner debut this past May, Mera told New York Magazine, "We have not had a sit-down with David about Oscar. And it bugs the shit out of me. You'd think he would call us up and say, 'Who is Oscar?' We know him so well."
The visibility they give artists strengthens the Rubells' bargaining power, because their exhibitions can raise profiles and prices. Since the Rubells rarely sell works, they are not the immediate beneficiaries of artists' increasing values, but the family is sometimes criticized for the kind of bartering it does. Young artists are eager for the Rubells' imprimatur, which can put pressure on their gallerists to agree to the Rubells' requests to buy in bulk or at steeply discounted rates. "Young dealers are afraid to say no to them," a veteran said.
They now buy upward of several hundred works a year, and every Rubell knows the collection by heart. "It's like a chip in our brain," Jason said. Their hotel business supports their art habit, and, in both realms, everyone in the family is an equal partner. (Jason's gregarious wife, Michelle, 42, is also part of the team; her trial by fire came on her first trip to Art Basel in Switzerland when Mera quizzed her nightly on the artists she'd seen that day.) Since coming out as an artist in 2009, Jennifer, who studied fine arts at Harvard and lives in Manhattan with her two young kids, has removed herself from the buying process. Best known for her food-based installations—such as the one for the Brooklyn Museum that involved a giant piñata of Warhol's head and a baseball bat—she unveiled a series of oil paintings at the New York gallery Sargent's Daughters in October. Under the name Brad Jones (to suggest a male painting phenom), Jennifer collaborated with the artist Brandi Twilley, who painted her nude three afternoons a week for more than a year. Their resulting work explores the conversation between model and artist and the evolving record they create.
No purchase is made unless Don, Mera, and Jason all agree. "It's likethey're one organism speaking out of different mouths," says former Art Basel director Sam Keller. "There are battles," attests the painter Rashid Johnson, whose first New York solo show, in 2008 at the Nicole Klagsbrun gallery, seemed to be a bust until the Rubells walked in and bought all the work. Their only stipulation was that Johnson join them for breakfast. "With them, you can't just say, 'I like this.'You have to make clear why. They collect with the idea that the artists already in the collection are going to be affected by the artists they acquire—that it's a shared home." In fact, in the lead-up to "30 Americans," their 2008 intergenerational survey of works by African-American artists, which looked at diverse perspectives on race, identity, and artistic legacy, the Rubells, Johnson recalls, engaged in soul-searching sessions with several artists to ensure they were behind the project's premise.
That she presides over such a vast collection still mystifies Mera, who insists she lacks the acquisitive gene so pronounced in her husband and son. Born in 1943 in Tashkent, then part of the Soviet Union, to Polish Jews fleeing the Nazis, Mera lived in a refugee camp in Germany, and in Israel, before arriving in Brooklyn at age 12, speaking no English. "The narrative of my family was 'If you want to survive, don't get attached to objects,'" she told me. "Don and Jason love the pursuit. For me, collecting art gives me an insight into the culture and how to live my life." Her father was a Sunday painter in Central Park, and both parents worked in the hairdressing salon that he opened in Brooklyn after being fired from a tony Manhattan salon for referring, in his Yiddish-accented English, to a customer's "hor."
Mera met Don in the library of Brooklyn College when she was 19 and he was 21, and the two married soon after. With a math degree from Cornell, Don headed to medical school, with stints in the Army Reserve to pay for it, and Mera became a teacher for Head Start, a program for low-income families. Don's mother was a Latin teacher, and his father, a postal worker, taught tennis to his sons and to the neighborhood kids. The family passion for tennis almost rivals that for art. Don and Mera play every day at dawn on the court behind their house; Don has won numerous amateur championships; Jason was the star of the Duke University tennis team; and Jason's son, Sam, was ranked the No. 2 under-12 player in Florida. There are always rackets in the trunk of their car in whatever city they happen to be.
In those early days, Don and Mera bought Picasso and van Gogh posters on visits to MoMA, as well as pieces they discovered in storefront artist studios. But in the late '70s they started collecting with greater focus. Their opening-night party for the Whitney Museum's Biennial, which they began hosting in 1977, drew most of the artists and curators in town, in part, because there were no competing events. "You'd see artists who had the kinds of career you hoped to have," Cindy Sherman says. That first year, Jeff Koons arrived a day late by mistake and was invited to join the family for dinner. He sent an inflatable plastic flower he'd made to thank them, the first of several Koons pieces they acquired until his prices spiraled beyond their reach.
"We were thought of as this crazy couple who bought this crazy art," Mera recalled. "And we thought, If we had one or two pieces by someone, we 'had' an artist." Lacking vast resources, they were forced to make choices, "so we chose Haring, not Scharf; Clemente, not Chia; Kiefer, not Baselitz." With the '80s came escalating prices and dominating collectors of new art, like the ad magnate Charles Saatchi. Wall Street wolves arrived to openings in limos and fell over themselves trying to acquire Schnabels and Salles. The marketing of young talent moved into high gear, and increasing competition led the Rubells to Europe, where they discovered the work of Neo Rauch, Rosemarie Trockel, and others. Jason, meanwhile, had become a collector himself. At 14, he used savings from his bar mitzvah to make a deposit on a painting he saw at Pat Hearn's gallery by the then emerging George Condo. He began a racket-stringing business to pay off the rest. "Mera called me up and said, 'Jason just bought his first work, and it was one of yours!'" recalls Condo, whose piece Immigrants became the cornerstone of the exhibition of his own collection that Jason curated at Duke University—while still a senior.
Jason and Jennifer's formativeyears were spent under the spell of Steve Rubell. Warhol sketched 13-year-old Jennifer on a napkin the night she accompanied her uncle to Halston's apartment. In the early days of Studio 54, she and Jason would watch rehearsals for the extravaganzas planned for that night in the club before heading home to do their schoolwork. "Steve never let us go into the basement," said Mera of the disco's drug den. "We were the working stiffs. He would tell us to save our money and not spend it on art. And Andy [Warhol] would defend us." In 1980, Steve and his business partner, Ian Schrager, went to prison for tax evasion; when they got out, they moved the scene into hotels and made Jennifer the concierge at the Royalton.
Steve Rubell died from AIDS in 1989, at 45, leaving the family devastated. Jason abandoned his plans for a tennis career, a move it took him years to admit that he had regretted. The family had grown up with Schrager, and Don and Mera imagined that he would welcome them into the business, but as they tell it, he turned away from the family, and the relationship ended. "Everyone thinks our inheritance from Steve accelerated the collecting," Don said. "But he died during a recession, so it's not the amount people think." In the early '90s, Jason moved to Miami to begin what turned out to be a brief career as a gallerist; the family followed in 1993. Mera had become a commercial real estate broker, and there were deals to be had: The Rubells bought the DEA warehouse; a largely vacant office complex on Lincoln Road that they turned into the Sony Building; and the boarded-up Greenview Hotel in then down-at-the-heels Miami Beach. Mera renovated the hotel, and Jason and Jennifer ran it.
In Miami at that time, contemporary art was far from the center of the conversation. The Miami artist Mark Handforth, the Rubell collection's first director, recalls his astonishment at seeing trucks deliver provocative art to one of the most dangerous neighborhoods in town, and the impact of spending time with heavy hitters like Paul McCarthy and the reclusive Cady Noland, who came to install their works. Other key visitors included the Art Basel director Lorenzo Rudolf, who was considering a winter location for the prestigious art fair. "We were driving him around South Beach," Jason told me, "and I said, 'Why don't you do some cool beach thing here?' He loved the idea." Mera not only organized the first trip to Basel for Miami city officials to convince them of the fair's value but, as Sam Keller recalls, also talked up Miami to the galleries with which they dealt.
Now that Miami is an essential stop on the global art go-round, the Rubells have also turned their attention to other cities. In Baltimore, they recently renovated the once grand Lord Baltimore Hotel, where they hope to enlist the filmmaker and artist John Waters to program its speakeasy. And in Washington, D.C., in 2010, they bought an abandoned historic school from the Corcoran Gallery of Art, across the street from the Capital Skyline Hotel, which they also own. They are partnering with a developer to build apartments, a hotel, and a second Rubell museum. Twenty percent of the 400 apartments will be designated for emerging artists. "It's our most ambitious project," Mera said of the $150 million venture. "By a lot," Don added. They expect to break ground in 2015.
The Rubells led the wayin opening their private collection to the public back in 1994. "Their model was a game changer," says Tom Eccles, the executive director of Bard College's Center for Curatorial Studies, noting that many major contemporary collectors followed suit. The Rubell Family Collection, along with its educational programs and library, is run by a not-for-profit foundation, though the majority of the artworks are owned by the Rubells. Some detractors contend that while these privatecollections have the semblance of public museums, the art they present is privately owned and increases in value the more widely it is seen. The Rubells readily loan works to museum exhibitions and send their shows on tour, but they are sometimes criticized for not serving on boards or donating key pieces to institutions, as many high-profile collectors do. "It's not our mission to give works to museums," Mera replied when I asked why that is. Unlike museums, she said, they have the agility to respond and take risks in a fast-moving art world. "And we have zero social aspirations."
The Rubells, in fact, do seem happy to keep their own company. "The most beautiful thing is our grandson Samuel is now obsessed," Mera told me in Aspen, where the Rubells holiday in July with their five grandchildren: Sam, 13; Ella, 12; Olivia, 9; Stevie, 9; and Max, 2. The whole crew was back from Art Basel in Switzerland, where Sam, Don said proudly, "blew his bar mitzvah money" on a skateboard by Josh Kline. "It was his first purchase!" When I met up with them again in Miami in August, it was Don and Mera's 50th wedding anniversary. Assorted works from the collection were being photographed for their anniversary exhibition catalog, and open crates lay everywhere. In the kitchen, Jennifer's daughter Stevie was decorating cupcakes, and Jennifer was leading Max around the galleries. Mera, meanwhile,was providing updates on Sam's progress in a tennis tournament via texts she received from Jason. Earlier in the summer, she had proudly recounted a story about the night she told her grandchildren that the Miami Art Museum had just become the Pérez Art Museum Miami, after a gift worth $35 million from the billionaire Jorge Pérez. They were all eating pizza when she suggested that, since it was no longer being used, they should consider taking the name Miami Art Museum for themselves. "What do you mean?" Olivia had replied. "This is our museum." Mera proposed they take a vote, and it was unanimous. The Rubell Family Collection was not changing its name.
The clan at the Rubell Family Collection in Miami, on chairs by the Chinese artist He Xiangyu, from left: Michelle, Jason, Samuel, Ella, Jennifer, Max Wyss Rubell (on lap), Mera, Stevie Kim-Rubell, Don, and Olivia.

Photograph: Rineke Dijkstra
Franz West's Goeschl, 2007, and Untitled (Note With Table), 2005 (from left), sit atop the Rubells' dining table

Photograph: Rineke Dijkstra
Kaari Upson's Rubells, 2014. Courtesy of the Rubell Family Collection.
Richard Prince's Untitled (Man's Hand With Cigarette), 1980. Courtesy of the Rubell Family Collection.
Keith Haring's Marilyn Monroe, 1981. Courtesy of the Rubell Family Collection.
Haring's Elvis Presley, 1981. Courtesy of the Rubell Family Collection.
Pink Nose, 2014, by Brad Jones (Brandi Twilley and Jennifer Rubell). Courtesy of Sargent's Daughters.
Jason Rubell, Haring, and Don Rubell (from left) at Haring's opening at the Leo Castelli Gallery, New York, 1985. Courtesy of the Rubell Family Collection.
Cady Noland's This Piece Has No Title Yet, 1989. Courtesy of the Rubell Family Collection.
Rashid Johnson's The New Negro Escapist Social and Athletic Club (Thurgood), 2008. Courtesy of the Rubell Family Collection.
Jason Rhoades's Untitled (Chandelier), 2004. Courtesy of the Rubell Family Collection.
Cindy Sherman's Untitled #304, 1994. Courtesy of the Rubell Family Collection.
Polaroid for portraits of Mera and Don Rubell by Thomas Ruff, 1988. Courtesy of the Rubell Family Collection.
Andy Warhol's Portrait of Steve Rubell, 1975. Courtesy of the Rubell Family Collection.
Warhol's Studio 54, 1979. Courtesy of the Rubell Family Collection.
Steve Rubell with Halston (center) and Liza Minnelli at Studio 54, New Year's Eve, 1977. Courtesy of Ron Galella/WireImage/Getty images.
Paul McCarthy's Cultural Gothic, 1992–1993. Courtesy of the Rubell Family Collection.
Ménage à trois: Mera and Don, with Charles Ray's Male Mannequin, 1990, photographed in the Rubell Family Collection on August 30, 2014, their 50th wedding anniversary.

Photograph: Rineke Dijkstra
Sittings editor: Esmé René.