In the Studio with Ruby Barber, the Florist Behind Berlin-Based Mary Lennox
Take a look at the ethereal, gravity-defying creations that have made her fashion's go-to floral designer.
---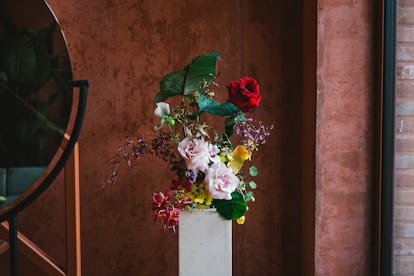 Flowers have no place in Ruby Barber's apartment. "I shouldn't say this… but I really enjoy not having them around," confesses the floral designer behind the avant-garde botanical studio Mary Lennox.
The same cannot be said for her workspace, an airy studio in Berlin's Schöneberg neighborhood. The afternoon light that filters through its large bay windows stains the terracotta floor and walls a plummy red. In this wash of color, the bundles of cherry branches, heaps of silky pampas grass and paper-leafed mandarins that cover Barber's work table take on the saturated, overripe glow of a Flemish still life. It's no wonder that the likes of Chanel, Gucci and Versace have tapped Barber to breathe life into their campaigns, runway presentations, and boutiques.
When Barber started Mary Lennox (named for the spoiled British schoolgirl in Frances Hodgson Burnett's The Secret Garden), she was in her early twenties and focused on, "you know, flowers in a vase." Now that the neat-headed, bare-stemmed bouquet has gone the way of the promise ring and the sweater set, Barber has loosed unruly tangles of hops vines and dusty cones of amaranth from the confines of the vase and allowed them to take over the entire room. There's a heady chaos to Barber's installations, a hint of hedonism where order once reigned. Roses and tulips have given way to dark, waxy grapes as long as pinky fingers for Italian gin maker Villa Ascenti, frothy masses of raw cashmere for Loro Piana, and dense mists of Queen Anne's Lace that creep across hallways and condense in the air like sentient storm clouds, in an immersive installation she created for Chanel.
To take in Barber's designs is to feel the line between flower shop and art gallery melt away. "The materials have begun to take on a life of their own," she says of her gravity-defiant creations. "It's getting harder and harder to identify them as flowers."
Barber spends her days scouring Berlin's parks for dry materials and visiting local growers in Brandenburg and Potsdam, returning to her studio to assemble dripping, plumed constructions from the spoils. While her regular haunts supply the materials for most of her creations, some of Barber's favored brambles can only be found further afield—and sometimes for just a week or two at a time. In late summer, Dutch hydrangea farms dispose of several wheelbarrows' worth of sun-crisped heads. On the island of Mallorca, the narrow country roads are littered with perfect gold-fringed palm fronds. In the southern Italian countryside, overgrown family greenhouses shelter dead plants that have dried perfectly in place. "No work needs to be done to make an installation from these things," Barber says. "Nature's done the work already."
The daughter of two contemporary art gallerists, Barber's rise has coincided with a shift in the fashion and visual art worlds, where a growing appetite for living designs has put her abstract installations in high demand. "There's an increasing desire in modern times to feel close to nature. People want more and more to incorporate that natural language into their lives, and brands are starting to understand that." But Barber's designs, commissioned to reinvigorate established labels, are so rich in color and texture as to risk eclipsing them altogether. At last year's Saut Hermès, an equestrian competition sponsored by the French house at the Grand Palais in Paris, Barber hung enormous downy columns of tea-colored amaranth like stalactites from the glass-paneled ceilings of the Grand Palais. For Loro Piana's Fall/Winter 2020 presentation, her team scoured the Lombardy region of Northern Italy, sourcing a medley of local plants to construct a garden inside of the mid century modern venue.
The year has been a whirlwind for Barber; a steady stream of projects kept her bouncing between Hamburg, Paris and Milan until Germany's recent lockdown order resulted in a sort of forced retreat. "It's a relief in a way, and a chance to think about the sort of work I actually want to do," she says of the imposed hiatus. Perhaps, while she's confined to her apartment, Barber will make an exception to her no-flowers-in-the-home rule. Her window looks out onto a park, so she can keep an eye out for the first blooms.