The Gospel According to RuPaul: 10 Inspiring Quotes Before the Return of RuPaul's Drag Race
When you've been the self-described first "Supermodel of the World," as RuPaul Charles sang in the '90s, you've earned the right to dispense a few pearls of wisdom along the way. Here, 10 key words of wisdom by the TV personality.
---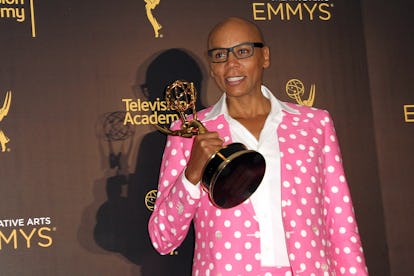 Tommaso Boddi
As RuPaul Charles tells it, it was a 1999 episode of Hollywood Squares that marked the end of his first go-round with fame. After defying all odds to become America's first household name drag queen with super model-worthy looks and a kind of sweet "drag queen next door" attitude, Charles could sense a shift in the culture. "Towards the late '90s, there was a feeling of hostility, especially after '98," she once told Spin magazine. "I went on Hollywood Squares in 1999 and I could tell that the audience, even some of the stars on the panel, there was a certain animosity towards me and what I was doing."
During the George W. Bush years, RuPaul slipped back into the underground, forgoing offers during the exploitive celebrity reality shows era and, at one point, not doing drag at all for a few years.
It wouldn't be until about 10 years after that Hollywood Squares appearance that Charles would mount his comeback with the first season of RuPaul's Drag Race, this time squarely on his own terms. The show, which premieres its 9th regular season (and 11th overall when two "All-Stars" seasons are counted) on Friday, has since grown into a cultural phenomenon that isn't about to retreat back into the closet anytime soon.
Charles' second act is also marked by the fact that he's no longer facing the world from just behind the false eyelashes of his Glamazon creation. In fact, you're more likely to see RuPaul these days in a suit than a gown. And he's no longer playing a part to please others, but he can be fully himself in interviews and public appearances.
Charles seems to have formulated his own special brand of spirituality that draws equally from a high-low mix of the new age teachings of Eckhart Tolle (best known for the book The Power of Now) and the no nonsense teachings of Judge Judy, with a little bit from both The Wizard of Oz and The Matrix (two films that have more in common than you might suspect) thrown in.
It seems to be a winning, and highly influential mix. Want proof? Just check out the catalogue for the current Whitney Biennial. Christopher Y. Lew, the Biennial's co-curator, uses RuPaul's Drag Race as a metaphor for the exhibit in his introductory essay.
Unfamiliar with the teachings of RuPaul yourself? Here's ten key quotes to take with you from the Tao of Ru.
"If You Can't Love Yourself How In The Hell Are You Gonna Love Somebody Else?"
Ru's philosophy begins with the simple notion of loving yourself, duh.
"We're all born naked and the rest is drag."
In RuPaul parlance, drag isn't just a man putting one some hip pads, a wig and a gown to lip sync to Lana Del Rey. Drag is whatever guise we adapt whether to fit into the world or stand out. A $3,000 Italian suit is as much Wall Street c-suite drag as a feathered headdress and bedazzled bra is showgirl drag.
"When you become the image of your own imagination, it's the most powerful thing you could ever do."
Naturally, there's nothing more powerful than finally bringing your "drag," whatever it may be, up to par with what you've always imagined for yourself in your dreams. It's a triumph of sorts.
"I feel like you're being sabotaged by your inner saboteur."
In Ru's world, the biggest villain is within yourself. It's your "inner saboteur." The little voice in your head that stokes your fears and tells you what not to do. Sure, the outside world may fuel it, but ultimately whatever is holding you back is in your head and sometimes the best you can do is to tell that little voice to shut it.
"What it says on your driver's license isn't really who you are—you are something much greater than that."
As it turns out, Ru isn't too into labels.
"The overall commentary on what I'm doing is saying, 'Hey look! I get to create whatever persona I want to, and it's all up to me. And the truth is, we are all basically the universe—pretending to be humans for a brief moment of time.'"
.Because, you know, all we really are is a momentary expression of the universe's power.
"Fulfillment isn't found over the rainbow—it's found in the here and now. Today I define success by the fluidity with which I transcend emotional land mines and choose joy and gratitude instead."
A bit of Tolle's influence here. Ru is all about "the power of now."
"That is the key to navigating this life—don't take it too seriously. That's when the party begins."
When in doubt, just laugh at it all.
"You know, the matrix says, 'Pick an identity and stick with it. Because I want to sell you some beer and shampoo and I need you to stick with what you are so I'll know how to market it to you.' Drag is the opposite. Drag says, 'Identity is a joke.'"
No, seriously, it's all just a bit joke.
"It's very easy to look at the world and think, this is all so cruel and so mean. It's important to not become bitter from it."
At the end of the day, the world may be tough, but don't let it get you down. Laugh at it. As Ru says, "If they ain't paying your bills, pay them bitches no mind."
Butterflies of Paris: How Street Style Stars Do Paris Fashion Week
Carmen Carrera: Show Girl
Roberto Cavalli dress; New York Vintage tiara; House of Lavande earrings; CZ by Kenneth Jay Lane bracelets; Giuseppe Zanotti Design sandals.
Gaultier Paris dress; Lynn Ban earrings.

Photographer: Steven Meisel Stylist: Edward Enninful
Prada top, bottom, hat, sleeves, and shoes.
Proenza Schouler bustier; Early Halloween, NYC vintage bow tie (in hair); Badgley Mischka earrings; Lynn Ban necklace.

Photographer: Steven Meisel Stylist: Edward Enninful
Agent Provocateur playsuit; Siman Tu headpiece; Fenton earrings; CZ by Kenneth Jay Lane rings and bracelets.
Beauty note: Play up your bronze ambitions with Vita Liberata Phenomenal 2-3 Week Tan Mousse in Medium.
Dsquared2 dress; Thorin & Co. for House of Lavande earrings; Lele Sadoughi bracelets; Giuseppe Zanotti Design sandals.

Photographer: Steven Meisel Stylist: Edward Enninful
Gillian Gardner for Show-Off Las Vegas bra and briefs; Giambattista Valli cape; Siman Tu tiara; Nicole Romano earrings.

Beauty note: Shoot for a full moon with Talika Paris Backup 3D Serum.

Photographer: Steven Meisel Stylist: Edward Enninful
The Blonds corset; I.D. Sarrieri briefs; Iradj Moini earrings; (from top) Dannijo cuff, R.J. Graziano bracelet; Lynn Ban ring.

Photographer: Steven Meisel Stylist: Edward Enninful
Gillian Gardner for Show-Off Las Vegas G-string; Lynn Ban tiara, earrings, and bra (on mirror); Dannijo necklace (in hand); Carrera's own pasties.

Photographer: Steven Meisel Stylist: Edward Enninful
Jason Wu bra and skirt; Ranjana Khan earrings.

Photographer: Steven Meisel Stylist: Edward Enninful
From left: Louis Vuitton playsuit; Thorin & Co. for House of Lavande earrings and necklace; CZ by Kenneth Jay Lane ring; Pologeorgis fur scarf; Lynn Ban bracelets. On Linda Evangelista: Burberry London trenchcoat; New York Vintage headpiece; her own dress and bag.

Beauty note: For lush lashes that keep them guessing, call on Benefit They're Real Mascara.

Photographer: Steven Meisel Stylist: Edward Enninful
Gillian Gardner for Show-Off Las Vegas bra and briefs; Giambattista Valli cape; Siman Tu tiara; Nicole Romano earrings; (right wrist) Lynn Ban bracelet; (left wrist) Bounkit cuff; Christian Louboutin shoes.

Photographer: Steven Meisel Stylist: Edward Enninful
Thakoon jumpsuit and jeweled body piece; Early Halloween, NYC vintage headpiece; Kenneth Jay Lane earrings; (right wrist) Ben-Amun bracelet; (left wrist) CZ by Kenneth Jay Lane bracelets; CZ by Kenneth Jay Lane ring; Jimmy Choo sandals.

Hair by Oribe for Oribe Hair Care (Oribe Salon Miami Beach); makeup by Pat McGrath for Covergirl; manicure by Jin Soon Choi for JINsoon. Models: Carmen Carrera at Elite Model Management; Bart Grzybowski, Andre Ziehe, Josh Upshaw at Ford Models; RJ King, Brittain Ward at Wilhelmina; Nate Gill, Jae Yoo, Dorian Reeves at Soul Artist Management; Ollie Edwards, Corey Baptiste, Danny Schwarz at VNY Model Management; Diego Miguel, Ryan Kennedy at IMG; Tomas Skoloudik, Cameron Gentry at DNA Model Management. Set design by Stefan Beckman at Exposure NY. Production by Steven Dam for PRODn at Art + Commerce.

Photographer: Steven Meisel Stylist: Edward Enninful