Naomi Campbell and Linda Evangelista Paid Tribute to RuPaul, Supermodel of the World
RuPaul, supermodel of the world, was deemed one of the most influential people in the world, and Naomi Campbell and Linda Evangelista have her back.
---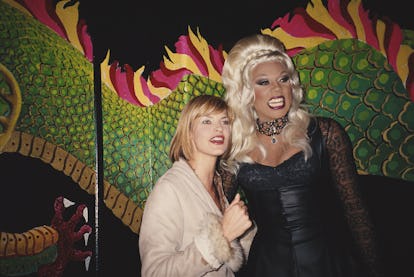 Rose Hartman
Almost 25 years ago, RuPaul burst into American pop culture with a catchy ode to the glamazons of the day called "Supermodel (You Better Work)," name checking Linda, Christy, Naomi and others along the way. The novelty track and MTV staple was the beginning of a career which now warrants inclusion on Time's annual list of the 100 most influential people on the planet.
That is perhaps not surprising for a figure that is in part responsible for not only our recent infatuation with contouring, overdrawing our lipstick and all things "shade," but also for reminding us that gender is not an absolute thing.
Also, perhaps not surprisingly, one of those supermodels, Naomi Campbell, was charged with doing the honors of writing the accompanying tribute essay.
"As soon as I saw him, I wanted to know where he was going, because that was where I wanted to be," Campbell wrote of their first meeting back in the early '90s.
"As I got to know him better, I got to experience firsthand his wit and his intelligence—he's like an encyclopedia," she continued. "And his beauty is far beyond skin-deep."
Of course, this isn't the only recent link-up between the supermodel and the drag queen. They made a joint appearance on Andy Cohen's Watch What Happens Live! last month, during which Campbell revealed that all her peers kept "Supermodel" on repeat when it came out.
Indeed, Campbell isn't the only supermodel who adores RuPaul. There's a plethora of pictures of Linda Evangelista and RuPaul partying back in the '90s, and incidentally, on this season of RuPaul's Drag Race, the judges constant comparison of a perceived favorite contestant, Valentina, to Evangelista has caused some rancor among contests. An outburst by Aja, another contestant, over the judges' Evangelista-flavored praise has become such a meme that Evangelista herself caught wind and posted a screengrab on her Instagram.
While the supermodel has posted some inspirational quotes on her page before, this is, we should note, the first time Evangelista has posted a straight up meme on her Instagram account.
So we've established that both Naomi and Linda are fans of RuPaul. The only question is when they might drop by her show to serve as guest judges.
After all, a who's who of fashion already has. Designers Marc Jacobs, Jeremy Scott, and Bob Mackie included. Models Gigi Hadid, Chanel Iman and Paulina Porizkova have as well. Joan Small is set to turn up sometime during the current season as well. Of course, Ru herself already did do a cameo on Campbell's own reality competition show The Face. We're waiting.
Related: RuPaul Has So Many Creative Names to Call Donald Trump
Naomi Campbell Sits Down With Edward Enninful:
Roxanne Lowit's Magical Moments With Cindy, Naomi and Linda
"Rub-a-dub-dub, three models in a tub! This is at an after-party for Versace Couture at the Ritz. We were all in the bathroom together with Sylvester Stallone. He was pretending to turn the water on, which is why they're laughing and squealing."
Photo by Roxanne Lowit.
"These ladies are dressed to kill! Inspired by an Annie Leibovitz photo of Joan and Jackie Collins."
Photo by Roxanne Lowit.
"David [LaChapelle] and Pamela [Anderson] are two crazy kids out on the town, on their way to the Oscars."
Photo by Roxanne Lowit.
"Giambattista Valli is looking très chic as he channels Coco Chanel."
Photo by Roxanne Lowit.
"Jean Michel Basquiat was one cool cat, looking sharp and having a smoke on the down low at The Palladium."
Photo by Roxanne Lowit.
"You'll never meet a more professional, charming guy then Giorgio Armani. Here he is looking cool and stylish in his car."
Photo by Roxanne Lowit.
"Julian Schnabel kissing Andy Warhol in a touching, tender moment together."
Photo by Roxanne Lowit.
"I love how excited they are, gossiping and leaning in together like they have so much to catch up on when, meanwhile, they had just seen each other earlier that same day for lunch."
Photo by Roxanne Lowit.
"Pop goes the weasel! A cigarette pops each balloon until there are no more left and all is exposed. Ooh la la!"
Photo by Roxanne Lowit.
"Christopher Meloni is letting loose with a little help from Lady Ace."
Photo by Roxanne Lowit.
"Actor Scott Cohen is holding on tight!"
Photo by Roxanne Lowit.
"The second picture is of me in NY, during the German Vogue shot. I was pretending to strike a pose like Marilyn, wearing a Roberto Cavalli outfit. I had a few days off, as I was shooting in Seattle Rose Red written by Steven King. The same night, I remember that Roxanne shot Little Kim, who had just got out of prison." — Yvonne Scio
Photo by Roxanne Lowit.