RuPaul's Drag Race All Stars 3 Episode 3 Power Rankings: The Ballad of Milk & Kennedy
It's a study in contrasts.
---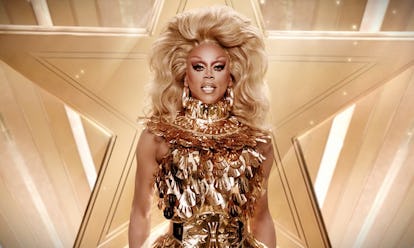 RuPaul's Drag Race didn't quite find its footing as a television program until it stopped pretending that all drag queens are basically the same and learned to embrace the differences inherent in the drag world. It was a lesson producers learned with the game-changing arrival of Raja in Season 3, and was really solidified by Phi Phi and Sharon's now near-mythological "Tired Ass Showgirl" vs. "Future of Drag" saga of the fourth season. Embracing the range of drag has not only helped to dispel tired stereotypes about the art form, but has also delivered a hefty amount of juicy drama over the years.
Tonight's episode offered itself up as a study in contrast of two queens who are both polar opposites in the world of drag, and as people. On one side, you have Kennedy Davenport whose Texas via South Florida drag upbringing and cautious interactions with other queens often lends itself to letting some fans stereotype her as a bitter pageant queen. On the other, you have Milk, a statuesque Manhattan club kid and current darling of the New York fashion world with a unique aesthetic that breaks past traditional drag.
The lines were drawn at the top of the episode with the queens fresh after Shangela's decision from the previous episode to send Thorgy home over Kennedy, a move most in the room seemed to agree with until Milk, still under the impression her hyper-specific take on Celine Dion was slept on by the judges, broke the peace by claiming, actually, she would have sent Kennedy home instead. Kennedy, of course, was not sent home, and was actually in the room at the time. This shocked Kennedy, who was under the impression that all the time she's worked with Milk on the post-Drag Race club circuit meant that they had a solid relationship. The issue was dropped, and the pair didn't come into direct conflict for the rest of the episode (because, as Kennedy claims, Milk won't even talk to her, let alone apologize), but from there the two queens took two divergent paths, and ultimately converged in a dramatic moment at the end.
The challenge this week combined two elements you actually can't believe the show hadn't done before: a spoof of The Bachelor and a focus on improv (queens have had to improv many times before, but never has the talent been so specifically highlighted). Our queens were assigned a specific dating show contestant stereotype to act out. Unreal's Jeffrey Bowyer Chapman served as the perfect Bachelor, but of course it was Kennedy and Milk's performance that proved to be the most interesting. Kennedy completely disappeared into her "Party Girl" role, and her unpredictable portrayal provided the most laugh-out-loud performance of the night. Milk, meanwhile, seemed to think that the key to comedy is taking things to extremes, and ended up ruining not only the performance of her scene partner Trixie Mattell, but also her own chance of redemption from last week.
So how do things play out? Well, off to our not-quite-serious power rankings below:
1. Bendelacreme
Another week, another top two placement for Miss DeLa. Of course, not only is character creation right up her wheelhouse, but by now we all know she excels at aping older women. At this point, we almost kind of wish she was given any other role by "The Cougar." We're sure she would have crushed it at well, and it would have been nice to see some variety. Then again, much like drag queens, older women aren't all the same, and The Cougar couldn't have been more different from her impression of, say, Maggie Smith.
2. Shangela
Shangela got bumped up a single spot from last week, if only because its become increasingly clear she's one of the queens who this season will revolve around. Sure, she's grown a bit since her last time on the show. "Season 3 Shangy would have picked up my cocktails and threw it on that hoe, but as Beyoncé has taught me I should be a more evolved, grown woman," she said. Yet, she clearly has not learned how to exclude herself from narratives from Taylor Swift, because she found a way into just about every one in the season so far. Her actual performance was decent considering her scene partner (and, we should note, Shangela had to work in tandem with Chi Chi far more than any of the other pairs). It's like she based their characters on Eddie Falco and Chloë Sevigny's classic guest roles as Lesbian house flippers on Will & Grace, but just forgot to explain to Chi Chi who Chloë Sevigny is (to be fair, you try explaining Chloë Sevigny to someone who doesn't know who Chloë Sevigny is).
3. Trixie Mattell
More than most, Trixie feels particularly haunted by her experience on the show the first time around. While she became a fan favorite and media superstar, she failed to make much of an impression during the actual challenges. She did everything she needed to in order to win tonight, but there's no accounting for Milk spilling over into your performance either. Oh well, there's always next week. Nothing to cry over.
4. Bebe Zahara Benett
Bebe comes from one of those seasons before Drag Race really found its groove, and that couldn't have been more clear tonight. The show never would have done a challenge like this in Season 1, and Bebe seemed a little lost. Her African Princess virgin character is fine when she's portrayed in talking heads, but sort of falters when she has to interact with others. It's not disastrous by any means, but it's the first crack we've seen in Bebe's performance so far this season .
5. Kennedy Davenport
We could continue to talk about Kennedy here (no, we really could), but it might be best to use this spot to talk about tonight's lip sync. It's always exciting when the show uses a song that was ripped from the recent Billboard chart (in this case Lorde's "Green Light.") Unfortunately, neither queen really found a way to satisfyingly connect with the tune. Then again, Lorde is a bit of enigma. Ben sort of got lost in the riddle of Lorde without finding a satisfying answer, while Kennedy just performed the song like it's the most serious of Diana Ross's ballad. Both odd choices, but we suppose Kennedy got the win for presenting a more unified statement.
6. Aja
Miss Aja came up with so many backstories for her Bachelor character except the one she was actually assigned. Aja was like, "I'm 'Used to Be Christian for Attention' Fish," and everyone else was like, "no, sweetie, you're supposed to be needy." Aja was like, "I'm a single mother of three who just signed up for Phoenix University to get my degree as a dental technician fish," and everyone is like "Needy, sweetie. Needy." Aja was like, "I'm raised by my parents in a cult but broke free and am now a power producer in Hollywood fish," and everyone was like, "No! Needy!" After all that she somehow settled on a characterization that accidentally read more like a stalker than Milk's character (who was a stalker). Then, of course, we find out that Aja has no idea what "needy" actually means in the first place.
7. Chi Chi
Oh, Chi Chi. Her new boy hair is really working for her, but her old insecurity issues come back to play. She thinks maybe she was on the show a few season too early, but in actuality we think she might have been best served by finding herself in Season 6 and taking Bianca Del Rio's tough love confidence classes.
8. Milk
Well, she certainly looked great walking the Hugo Boss runway this week.
Related: RuPaul's Drag Race All Stars 3 Episode 2 Power Rankings: It's Not Right, But It's Okay