RuPaul's Drag Race All Stars 3 Episode 7 Power Rankings: A "Woke" Episode in the Midst of Controversy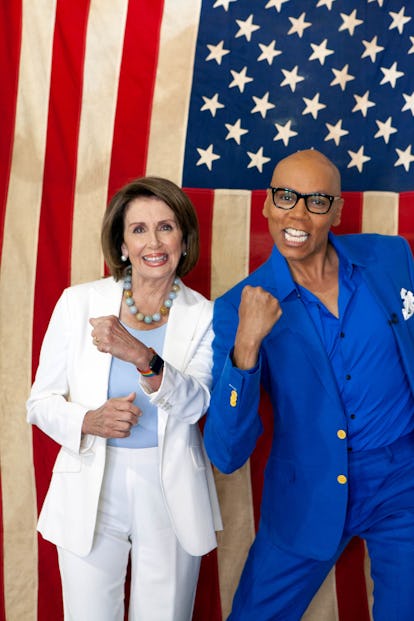 Photo via Vh1/WoW
Sigggghhhh… Just after we thought Bendelacreme's shocking exit would be the biggest controversy of the RuPaul's Drag Race season, along comes a messy interview in a British newspaper in which RuPaul took the bait of a pushy, and either woefully ignorant or bigoted, journalist and gave truly cringeworthy responses to questions about the notion of transwomen competing on the show (they have before, obviously, but Ru cast doubt on allowing a queen who had "fully transitioned," whatever that means). Following public outcry, Ru first doubled down on her remarks, before tweeting out an apology by the end of the day. "Each morning I pray to set aside everything I THINK I know, so I may have an open mind and a new experience," she wrote. "I understand and regret the hurt I have caused. The trans community are heroes of our shared LGBTQ movement. You are my teachers."
While perhaps not everyone needs to (or is the best person to) dash off an impassioned think piece on the issue, this episode's "Stay Woke, Stay Active, Don't Stay Silent" side theme, underscored by a workroom visit by House minority leader Nancy Pelosi, no less, makes any notion to just quietly sidestep the controversy and pretend like nothing happened feel shallow.
The reality is that transwomen have always been part of the drag community, and through innovation, mentoring of young queens, and organization, the drag community is stronger for their contributions. Likely, it may not even exist as we know it at all. Sadly, exclusion of transwomen from certain spaces of the drag world also has a long history. The surprisingly detailed Wikipedia entry for Drag Pageantry attests to that. The network of Miss America-esque drag competitions, from which many Drag Race contestants have sprung, has a long and messy history with the issue. Some have doubled down on only allowing cismale competitors and give extra emphasis to judging the transformation from male to female (one apparently takes points away for overplucked natural brows). Others have instead emphasized pure entertainment value and talent above all else, and have long allowed transwomen to compete along cis queens, even taking pride in the fact. The issue, however, is even more pointed with Drag Race. The show is a gateway to a level of fame, acceptance, exposure, and money unlike anything before it, and there's really no alternative. The show has reached a point where it can afford to be more open and diverse (last week's episode was the highest rated in its history), and not doing so feels like climbing a mountain but not lowering a hand to help those whose shoulders you stood on to reach the peak as well.
Hopefully, something was learned from all of this, and we'll see actual changes in future seasons. Though it also reminds us all that no matter how big Drag Race gets, there's no way one show can ever fully carry the responsibility of representing a wide and varied community (and even less of a chance that one person can). Here's hoping this lesson not only gets to Ru, but the World of Wonder production company, VH1, and Logo, or someone in Hollywood who can at the very least give us some sort of Real Housewives-style reality show focused on a drag club that features entertainment from drag queens, drag kings, bioqueens, and transwomen that we all know we'd watch the hell out of.
With that being said, let's actually dive into the content of this episode …which somehow centered around a giant fart joke (what a world).
This week's challenge saw the queens tasked with playing parodies of recent highbrow Oscar-winning characters and placing them in something of a My Best Friend's Wedding/Girls Trip/Bridesmaids-style broad comedy (much like Kennedy, we, too, do not remember the actual title). Wisely (and ironically) sidestepping Cate Blanchette's Woody Allen-created Blue Jasmine character, the queens had to chose from loose parodies of the central characters from Black Swan, Erin Brockovich, La La Land, The Queen, and a mashup of Octavia Spencer's characters from both The Help and Hidden Figures (sadly, this was filmed before the release of The Shape of Water, so there are no fish sex jokes).
The result …well, it made us wonder if producers have ever thought about using some of this VH1 money to hire outside comedy writers. There's always a bit of charm in seeing the queens act out the intentionally campy lines they're giving, and you could argue that perhaps asking them to take on actually nuanced comedy might be a bit too much for many of them (no shade). Sure, we get that. We also get that raunchy bathroom humor is now a trend in female-driven comedies. Ok, fine. Yet, did we really need an elongated fart joke sequence?
On the same episode that featured House minority leader Nancy Pelosi?
Come on, folks!
It wasn't the worst thing we've ever seen on this show (Season 7's Shakespeare challenge still holds that crown), and yet, now we just really want to see Bendelacreme in Three Billboards drag.
Despite the best actress shenanigans, and Pelosi-assisted activism PSA, the real highlight of the episode probably came during a workroom moment where the queens got real about both life after Drag Race and their issues with how they come off to others in a way that reminds us, despite the characters they portray onscreen both in drag and out, that they are real people underneath it all. Queer people often grow up and develop an acute and uneasy awareness of the vibes they give off to others that can stick with one well into adulthood, and it's even stuck with many of these queens. It was a nice moment of reality (not realness) and relatability that also reminds us that the more points of views and stories the show can incorporate from other corners of the queer community, the better.
Anyway, on to our not-too-serious weekly power rankings:
1. Shangela
Kudos to the person who wrote the tweet I saw this week (and have since lost track of) predicting that Shangela would analyze Ben's surprise exit as just another form of strategy and game playing. Ms. Laquifa Wadley is at once both now the star player and the main commentator on this show. She's like LeBron James and Dick Vitale in one (and, yes, thank you, I did just Google who ESPN's top basketball announcer is), but as she heads into the final she might be better served worrying more about actually scoring and less about keeping track of the score.
One more shout-out to political correctness: How did we feel about tonight's fat suit comedy stunt in the lip sync? It was hilarious at the time, but I sort of felt guilty for laughing.
2. Trixie Mattel
Out of all the queens, it may be Trixie who benefited most from Bendela's self-sacrifice. It's not as if she can't share the spotlight (you can't say that about anyone who often sits besides Katya), but she's clearly not too comfortable when there's too much competition around drowning her out. She likes to be a star player in a small ensemble, and she got that tonight. Bendela's exit also means she now has a much clearer path to the crown.
3. Kennedy Davenport
Quick story: Before Season 7 premiered I went to a pre-season tour down in Miami where I was living at the time. I didn't know it until she took the stage, but Kennedy had spent quite a few years early on in her drag career living in South Florida, so she viewed the performance as something of a triumphant homecoming. Her extended drag family was out in force (these drag families go deep; we're talking like second drag cousins, and third aunties, and stepsons), and she comes out and gives this amazing, club-turning performance. High kicks, jumps, multiple flips-into-splits, things I've never seen drag queens do before and am not even sure if I have the words to fully describe. It was amazing. Everyone in South Beach got their life, and it was truly one of the most magical drag moments I've ever seen with my two eyes. So, it's just a bummer to learn that when Kennedy is on the road, audiences may not be open to receiving that kind of pure joy, or that maybe Kennedy feels she can't bring that to every audience.
However, Kennedy is a queen who is sometimes sublimely amazing, and other times feels kind of lost. Her assignment tonight of Emma Stone was the weirdest matchup of drag queen and character by far, and maybe under different circumstance that could have alchemized into some bizarro hilarity, but mostly it just felt so-so.
4. Bebe Zahara Bennet
As Trixie has benefited from Ben's departure the most, Bebe may have been hurt the most. Ben's decision not to pursue the crown despite her talent suddenly makes you wonder why Bebe needs two? It's not that she's become a full-on villain here, but, in lieu of an actual villain, she was edited into the spot.
5. Morgan McMichaels
It's always nice though whenever a cast member does get at least two episodes' worth of screen time. What more to say?
Related: RuPaul's Drag Race All Stars 3 Episode 6 Power Rankings: The Night Bendelacreme Became a Goddess
Carmen Carrera: Show Girl
Roberto Cavalli dress; New York Vintage tiara; House of Lavande earrings; CZ by Kenneth Jay Lane bracelets; Giuseppe Zanotti Design sandals.
Gaultier Paris dress; Lynn Ban earrings.

Photographer: Steven Meisel Stylist: Edward Enninful
Prada top, bottom, hat, sleeves, and shoes.
Proenza Schouler bustier; Early Halloween, NYC vintage bow tie (in hair); Badgley Mischka earrings; Lynn Ban necklace.

Photographer: Steven Meisel Stylist: Edward Enninful
Agent Provocateur playsuit; Siman Tu headpiece; Fenton earrings; CZ by Kenneth Jay Lane rings and bracelets.
Beauty note: Play up your bronze ambitions with Vita Liberata Phenomenal 2-3 Week Tan Mousse in Medium.
Dsquared2 dress; Thorin & Co. for House of Lavande earrings; Lele Sadoughi bracelets; Giuseppe Zanotti Design sandals.

Photographer: Steven Meisel Stylist: Edward Enninful
Gillian Gardner for Show-Off Las Vegas bra and briefs; Giambattista Valli cape; Siman Tu tiara; Nicole Romano earrings.

Beauty note: Shoot for a full moon with Talika Paris Backup 3D Serum.

Photographer: Steven Meisel Stylist: Edward Enninful
The Blonds corset; I.D. Sarrieri briefs; Iradj Moini earrings; (from top) Dannijo cuff, R.J. Graziano bracelet; Lynn Ban ring.

Photographer: Steven Meisel Stylist: Edward Enninful
Gillian Gardner for Show-Off Las Vegas G-string; Lynn Ban tiara, earrings, and bra (on mirror); Dannijo necklace (in hand); Carrera's own pasties.

Photographer: Steven Meisel Stylist: Edward Enninful
Jason Wu bra and skirt; Ranjana Khan earrings.

Photographer: Steven Meisel Stylist: Edward Enninful
From left: Louis Vuitton playsuit; Thorin & Co. for House of Lavande earrings and necklace; CZ by Kenneth Jay Lane ring; Pologeorgis fur scarf; Lynn Ban bracelets. On Linda Evangelista: Burberry London trenchcoat; New York Vintage headpiece; her own dress and bag.

Beauty note: For lush lashes that keep them guessing, call on Benefit They're Real Mascara.

Photographer: Steven Meisel Stylist: Edward Enninful
Gillian Gardner for Show-Off Las Vegas bra and briefs; Giambattista Valli cape; Siman Tu tiara; Nicole Romano earrings; (right wrist) Lynn Ban bracelet; (left wrist) Bounkit cuff; Christian Louboutin shoes.

Photographer: Steven Meisel Stylist: Edward Enninful
Thakoon jumpsuit and jeweled body piece; Early Halloween, NYC vintage headpiece; Kenneth Jay Lane earrings; (right wrist) Ben-Amun bracelet; (left wrist) CZ by Kenneth Jay Lane bracelets; CZ by Kenneth Jay Lane ring; Jimmy Choo sandals.

Hair by Oribe for Oribe Hair Care (Oribe Salon Miami Beach); makeup by Pat McGrath for Covergirl; manicure by Jin Soon Choi for JINsoon. Models: Carmen Carrera at Elite Model Management; Bart Grzybowski, Andre Ziehe, Josh Upshaw at Ford Models; RJ King, Brittain Ward at Wilhelmina; Nate Gill, Jae Yoo, Dorian Reeves at Soul Artist Management; Ollie Edwards, Corey Baptiste, Danny Schwarz at VNY Model Management; Diego Miguel, Ryan Kennedy at IMG; Tomas Skoloudik, Cameron Gentry at DNA Model Management. Set design by Stefan Beckman at Exposure NY. Production by Steven Dam for PRODn at Art + Commerce.

Photographer: Steven Meisel Stylist: Edward Enninful