RuPaul's Drag Race: The Case For and Against Crowning Each Remaining Queen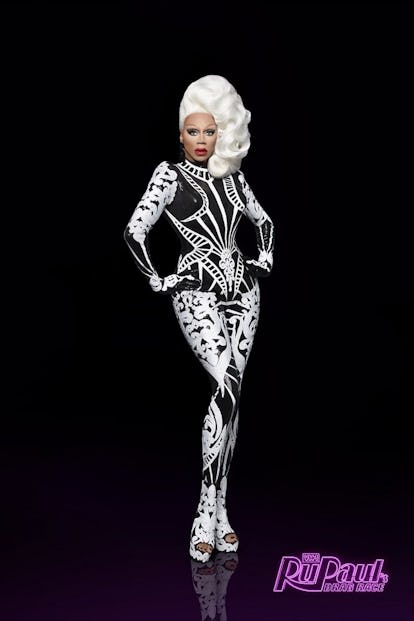 How long has RuPaul's Drag Race been going on for now? Was there a time when we weren't getting new episodes nearly every week? With RuPaul announcing the second top four of all time, this episode sort of seemed inconsequential. So let's just skip the formalities and get to what we'll all be talking about for the next two weeks: who deserves the crown!
Aquaria
For
During All Stars 3, I just felt it was cosmic for Shangela to win. She was, after all, the first queen to ever compete on the show after being inspired to start drag because of it. There's been several more sense then, but Aquaria may be the first who was exposed to the show as quite literally a child. When they talk about inspiring all the kids at home trying to find their tribe as a driving force of the show's existence, lets remember that Aquaria was that kid. What better way to celebrate 10 improbable years on air? If they crowned Aquaria, they might as well unfurl a "Mission Accomplished" banner behind.
Though, there's another somewhat cosmic reason in Aquaria's favor. She'd be the first winner ever to come out of the New York Club kid scene as RuPaul herself once did. In fact, it's the very same party promoter, Susanne Bartsch, who championed both. If they had come out of a different drag scene, you might even be able to say that Ru and Aquaria are from the same family.
Of course, cosmic matter aside, there's no denying that Aquaria turned it all season. At this point what else is left to say about the fashion? The looks were there all season long and they were fantastic to no one's surprise. Yet, she proved herself more than a look queen several times over with winning Snatch Game being the icing on the cake.
With the statistical edge in her favor, might it finally seem that in a season where we were left so long without a clear frontrunner that we finally have one?
Against
Aquaria is so sleek, but underneath there's still signs of a awkward kid. Sometimes it comes off relatable, but other times it reads as sort of a distance. She doesn't seem like someone whose personality fills a room, nor does she give the impression that she'd be your BFF. It's a minor quibble, but those personality traits do seem necessary to the queens who suceed the most after the show.
Eureka
For
Personally, I think there's something about the Drag Race fandom's petty hate that has actively made me root for queens who I think are misunderstood and get dragged up and down online (yes, post-Katya's elimination, I was rooting for Kennedy Davenport in the top three of Season 7 and Ginger Minj for the win, thank you). Even then, I still don't think I even understand the hate directed at Eureka. She showed up, she went above and beyond with the assignment, she's funny, talented, personable, a powerful lip sync-er, and had what may be the best fashion season ever for a big girl. Like, what more do you want and what else would she have had to have done to prove she's worthy of the crown? You don't like her personality? She's a drag queen! They're not supposed to be reserved!
Aquaria may have eeked out the most wins, but no one was in the top three this season more often that Eureka.
Against
It's been an awful long time since Ru has crowned a divisive winner, and clearly Eureka's larger-than-life personality clearly irks many. You don't get to ten seasons by choosing winners that anger your fanbase.
Asia O'Hara
For
Aquaria may gets point for being a truly Drag Race inspired queen, but more than anyone else in the top four or maybe even this season, Asia gives the impression that she'd still be doing drag even if this show wasn't greenlit by Logo all those years ago. She's in love with and excels at this art form in its most classical sense, and she really does seem to be driven not by fame, but by both the community and history that drag has provided her. Season 10 could crown a queen that represents the legacy of Drag Race, but you could say it would be even more appropriate to represent a queen the represents the legacy of drag as an art form, and that's Asia.
Against
Really, the only thing my brain muster that might register as anger should Asia actually win is that, yes, technically, Aquaria and Eureka did have stronger track records throughout the season.
Kameron Michael
For
It's an extrovert's world more than ever, so why not throw one to the introverts? Listen, she did everything asked of her, didn't she? She killed those lip syncs, right? She's in the top four, correct? Who says she necessarily has to get there leaving a trail of catch phrases and drama in her path. Give us our first introvert diamond crowned queen, Ru! The shy kids of the world deserve representation!
Against
Here's my latest working theory on why Kameron is in the top four: Miz Cracker and Monet clearly had challenges in the race they failed to address, and it would hard to argue they outright deserve the crown. Yet, if they had made it into the top four they would have changed the entire calculus. Both those queens inspire such strong feelings. I'm not afraid to admit if Monet had made it into the top four I might be tempted to yell "F-ck the track record, and f-ck fashion too! We're all wearing pussycat wigs and expose tucking tape for fall!" Their inclusion in the top four might have lead to too much drama and overshadowed the winner (just think for a moment of how we might have reacted to Violet if Katya made her way into the top three?). Kameron arrives as the safe, drama choice. A top four filler that gives us enough girls for a lip sync tournament, but who doesn't threaten to delegitimize the actual winner.