Nicky Doll Recreates Sophia Loren's Signature Eye Makeup Look
The Rupaul's Drag Race season 12 contestant transforms herself into the Golden Age Hollywood actress.
---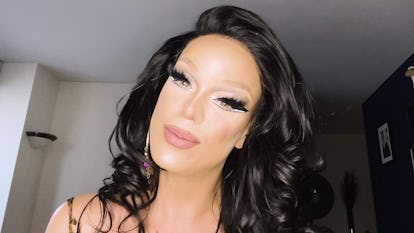 Since Nicky Doll joined season 12 of Rupaul's Drag Race, the French queen has described herself as many things: an "editorial queen," a "mixture of fantasy and fashion," a "label whore" and a "video game whore"—these are just some of her self-ascribed labels.
Now, she can tack on yet another persona to the list: Sophia Loren, whose full makeup look Nicky recreated in a video tutorial for W magazine's #WithMe series.
Nicky, who was eliminated from Drag Race in late March, became notorious on the show for the over-the-top fashions she sported on the runway each week. She's maintained, and even extended, this dedication to aesthetic for her Sophia Loren makeup look, which requires intricate eyebrow work and a heavy hand on the lashes. To be sure, it's an artistic interpretation of Loren's signature winged eyeliner and nude lip, which the actress sported late into her life.
Watch as Nicky Doll reveals her beauty secrets for a sharp contour and a perfectly lined lip—and gives a round of applause to emergency workers on the front lines with her fellow New Yorkers at 7 p.m.
"RuPaul's Drag Race" Season 12 finale airs Friday, May 29th at 8:00 PM ET/PT on VH1.
Related: How to Remove a Gel Manicure At Home With Celebrity Nail Artist Naomi Yasuda