RuPaul's Drag Race Power Rankings Episode 4: These Queens All Really Want It
RuPaul's Drag Race episode four proved that the queen who wins this season really has to want it.
---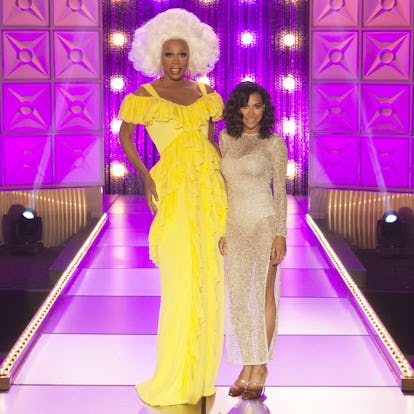 Our RuPaul's Drag Race queens may have walked into the workroom three episodes ago, but it seems like more of their personalities have finally arrived. They've settled in, the reality that they're here has hit them, and, in grand reality show tradition, they're not afraid to start getting real. Aja sets the fiercer tone with a continuation of the "You're perfect, you're beautiful, you look like Linda Evangelista" outburst she unleashed on Valentina during last week's Untucked (now available in a tribal house remix) at the opening of an episode full of feuds and fights.
Fights that seem to underscore the fact that so many of these queens really, genuinely want to win and feel like they have something to prove beyond just having been cast in the first place.
There's a school of Drag Race thought that queens in later seasons show up and don't actually care if they win. Being cast in the first place is the real prize; it's enough for many of them. The relationship between how often they get booked and get to travel the world after the show isn't in direct correlation to how well they place anyway. Past contestants have said as much in interviews. Show up. Coin a catchphrase. Make a song out of it and print it on a shirt and sell it to fans in Australia when you tour there twice a year.
It seems that won't be enough this season. Jaymes never got it together. Kimora was axed and left with the "I was just happy to be here" attitude. Our exiting queen tonight resigns herself to her fight and doesn't even battle in the lip-synch (much to the disappointment of her fellow contestants). Catching a theme here? You either really, really want this, or you're going home. And a lot of the remaining queens aren't afraid to let it be known, in one way or another, that they do indeed want it.
If the point wasn't clear, Trinity actually drops a variation of the "I'm not here to make friends" reality TV trope before her lip-synch. "I'm here to win," she says with no nonsense. "I don't care for friends."
There also might be another factor involved in the dynamic. This might bewilder casual fans of the show, but ever since the time Raja, who had previous reality TV experience as an on-camera makeup person on America's Next Top Model, walked into the workroom in Season 3, there's always been a few queens each season who's reputation precedes them both to the other queens and the super fans (who often scout queens on Instagram and YouTube).
With our thesis statement made, let's get into a few stray observations:
Watching Trinity's team trying to decipher meaning from the title "Not on Today" without realizing it was a take on an Alyssa Edwards-ism was painful. It was pure editorial shade that the editors didn't even explain the joke, and just figured the audience would understand it better than the queens.
Speaking of, we really thought Eureka's insistence on taking things "ghetto" was going to get uncomfortable. Instead, she gave Nina a chance to shine, while sticking to her own authentic southern charms. Phew.
Eureka and Sasha's confrontation seemed like a real life twitter fight. It even ended in a requisite "Well, I'm sorry if you're offended." Twitter is exhausting, and so was that scene.
You all immediately though of Lea Michele when Naya Rivera talked about other actresses who might not take to kindly to unprofessional talk show hosts too, right?
We may never got to see what it would be like if Sofia Vergara joined a community Shakespeare theater troop, but that's pretty much what Cynthia and Charlie's dynamic was.
If Charlie gave us nothing else than a firsthand account of what it was like coming of age as a gay man during the AIDS crisis, it was worth it. A tear-inducing moment, but even in 2017 there's still no better show on television equipped to deal with such issues, reality or otherwise.
Now, our power rankings:
1. Shea Coulee
Shea Coulee's alarm clock went off, and she is awoken. The Chicago queen came into the workroom with a slightly higher profile than a lot of other girls (her fashions had caught attention on Instagram and she started drag with last season's favorite Kim Chi), but she certainly had not been acting like. This was finally the episode she came alive. Here she finally shines both in the challenge (a well deserved joint win) and in the workroom and talking heads. Has she emerged as the clear favorite? Not yet, but Valentina seemed dinged enough to let someone else have the top spot this week.
2. Valentina
Ah, Linda Evalentina. She didn't wow this episode, but you have to give her credit for not only not letting Aja get to her with either her outburst or her flubs when they were paired together, but handling the situation with grace. All things considered, she still pulled off the challenge well giving the circumstance, but it's not like it would have been a winning performance even if everything else had gone right. She's calm and collected and can carry it off, but can she add enough character to really make a pop in future acting challenges? "Snatch Game" is only two episodes a way, and we'll be very curious to see how she performs.
3. Sasha Velour
Sasha and Shea have always been towards the higher ends of our rankings, and it's nice to get the confirmation this week that they can be contenders.
We've noted that Sasha is good at keeping true to her aesthetic no matter what the situation, and—this is nit-picky—it seemed a little forced this episode. Opera gloves during a morning news show? A candelabra on the nightgown runway? Weren't the nipple tassles enough? Oh, well, at least she's not boring and predictable.
Let's talk about her brief fight with Eureka, though. It sort of came off like watching a real life Twitter spat? Like most Twitter spats of its nature, it ended in Eureka's "Sorry if you were offended" non-apology.
4. Eureka O'Hara
We can all agree that Eureka and Nina were basically the runner-ups here, right?
O'Hara is an interesting case. She hasn't been top three since the premiere, but continues to be a strong presence in each and every episode. Her personality may rub the wrong way (both at home and in the workroom), but she's not a classic villain and her performances are consistently in the top half of the pack every time.Yet, she can be all over the place in terms of how the editors are positioning her. Last week, a big deal was made out of how she helped other queens during an individual challenge. This week her storyline was being difficult to work with during a team challenge. We're not sure what to make of her, only that we're more that certain we'll have quite a few more episodes to figure it out.
5. Nina Bo'bina Brown
In a show where so many queens get criticized for not showing enough vulnerability, Nina somehow gets criticized for showing too much. The judges worry about her unprovoked crying on the runway, but she seems to be both a judge and fan favorite. It's sad to see her not realized that she is actually quite the contender (especially for a show where most of the contenders historically act like the know they're contenders). In any event, maybe it's good, all things considered this season, that she's showing that she really, really wants this.
6. Trinity Taylor
She may have been bottom two, but that lip-synch more than keeps her from plummeting into the bottom half. It was, indeed, not only our first classic of the season, but the kind that said "You can put me in the bottom half five more times but I'm still going to be here and slay every single one of them." She literally seemed to pull out every trick she had even when she basically was guaranteed the win anyway. That's dedication to the cause.
7. Cynthia Lee Fontaine
Cynthia notes that she's already made it farther than she had in season 7, but unless she really asserts herself in a challenge she might not make it that much farther. I mean, we fully expect her to fully make her "Snatch Game" debut, but can we imagine her in the top three? Not yet. (Of course, we write this on the assumption that everyone is in agreement that we all love Cynthia, and she's an absolute angel, but how many times can we write it?)
8. Peppermint
We really like her. Everyone in the work room seems to like her. The judges, more or less, seem to like her. Yet, we can't quite shake the thought she'll be gone before the mid-point, even after her top three placement in the previous episode. In an episode of so many queens who desperately seem to want the crown, Peppermint seems content on just being well-liked. Nothing wrong with that, but winning needs more.
9. Alexis Michelle
Alexis was the only queen you could actually imagine being plopped down on some local morning show somewhere in St. Louis and actually fitting in perfectly, right? She does have a thirst for the gold, and yet, while she hasn't outright failed, she hasn't really even come close to deserving a top three result all season.
10. Farrah Moan
She did fine in the challenge. She still looks cute. Still hasn't really had a triumph that erases her struggles yet.
11.Aja
She may have given us our first true meme-able moment of the season with, "She looks like Linda Evangelista," but her plan to upstage Valentina really backfired.
12. Charlie Hides
A comedy queen who was never actually that funny. Yet, an older comedy queen whose fashion sense was surprisingly contemporary and put together and not just campy. Charlie just never came together on the show, and seemed resigned to that fact. She may have dressed better than Mrs. Kasha Davis, but like her she's gone well before we get to see her supposed celebrity impression strong suit in Snatch Game. Maybe one day we'll get around to watching those YouTube videos.
Related: RuPaul's Drag Race Episode 3 Power Rankings: Something Seems Different This Season
See What's Trending in W Video: