RuPaul's Drag Race Power Rankings Episode 7: Who Asked For All These 90210 Jokes?
Unless you've watched the E! True Hollywood Story of 90210 recently, tonight's challenge was not for you.
---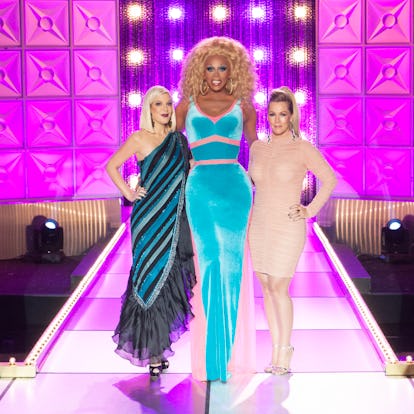 What exactly is the overlap between fans of RuPaul's Drag Race and '90s teen soap 90210? Enough to justify this episode? Because if you weren't a fan of the original or you haven't at least happened to watch the E! True Hollywood Story episode of 90210 lately, most of the so-called humor involved in this challenge probably went straight over your head.
Sure, the "queens have to act in a campy TV or movie spoof" challenge is a hallmark of the Drag Race, and it's a completely valid challenge. Not only has RuPaul himself maintained a career-long side hustle of doing guest-starring bits on everything from Sabrina The Teenage Witch and Walker, Texas Ranger to, more recently, Animals and The Comeback, but a few contestants have followed in those footsteps. Who can forget Chad Michaels' iconic work on 2 Broke Girls or Jinkx Monsoon's Emmy-snubbed role on CBS's Blue Bloods? Straight up TV acting is a necessary skill to test our queens on.
Yet, these types of challenges tend to work best when they're spoofing broad genres. Season 3's "Queens in Space" remains an all-time classic, and previous spoofs of horror movies, classic sitcoms and telenovelas all had their moments. In recent seasons however, producers have tended to close in on specific programs for no apparent reason with diminishing returns. Sure, '90s nostalgia may be in right now, but that doesn't mean that anyone under 30 is going to get these very niche jokes. The vibe in the workroom probably mirrored that of the viewers at home. Alexis Michelle was certainly getting her life from the theme, while everyone else was kind of like, "Um, ok, sure…"
A general teen soap spoof with a 90210 gag here and there mixed up with a Gossip Girl joke, a Pretty Little Liars reference and a The O.C. callback might have pleased more viewers. We're sure Jennie Garth and Tori Spelling wouldn't have minded too much.
Oh well, at least it's not the queens' fault, and when viewed in terms of competition this episode still had its moments and played out more or less how we would have expected, even if the queens were working with less specific material. While no one was quite the acting disaster we saw in, say, Season 7's Shakespeare exercise, the bottom two was clear, though the reasoning for the full bottom three, was less obvious.
Meanwhile, we will give producers credit for a good runway challenge, even if we wish there was at least one queen who took it a bit further.
Now on to our power rankings: a loose assessment of where the queens seem to stand in the competition each week.
1. Shea Coulee
If you didn't get the joke: her character was based on a high schooler from the original who was played by a 30-something actress. Haha, get it? Hilarious! Shea Coulee however managed to imbue more humor in it than the joke really deserved. After an early Valentina surge, it's getting harder and harder to imagine anyone but Shea taking the crown.
2. Valentina
And yet Valentina still remains the most viable competition. Yet, while she keeps being perfectly sufficient, its been a long while since she's made a strong case that she's even in the discussion to win an episode. The Diana Ross homage on the runway was nice though. She may be young, but the girl clearly has her legendary diva references down.
3. Trinity Taylor
It shouldn't feel like Trinity is a constant surprise when she does well, and yet it kind of does, doesn't it? With the win here she's now tied with Shea for most wins, and unlike Shea she didn't share one of them.
4. Sasha Velour
Sasha's placement in the bottom three felt random if not suspicious, and one figured that her strong and left field take on the runway assignment should have saved her. It's hard to shake the feeling that this was the show's way of signaling she ultimately won't make the top three. That's far from a done deal, but the producers and judges just basically found an excuse to give themselves that option.
5. Alexis Michelle
Alexis really gives off that high school junior really gunning for Drama Club president next year vibe, doesn't she? Apparently that constitutes "villain" in some viewers' book, but she's ultimately harmless. She's basically the Lea Michele of drag.
6. Peppermint
Personally, we were impressed by Peppermint's performance and she pulled out a "good for her" runway look, but at this point it's hard to feel like she's in the running for anything other than Miss Congeniality.
7. Nina Bo'nina Ann Demeulemeester Brown
How do you solve a problem like Nina? While some viewers may be put off by Alexis's drama kid vibe, Nina's paranoid confidence issues are starting to grate on us …and, it seems, Ru as well. Yes, she can come out in something like this episode's astounding jungle cat outfit (basically pulling a Rihanna at the Met Ball: staying completely on theme and making the other queens seem lacking for not kicking it up a notch), and the instinct is to forgive her. She's either heading for an earlier than first anticipated exit or a stern talking to from Mama Ru herself.
8. Farrah Moan
Farrah benefitted greatly here from perfect casting. If she had been given her a role that challenged her to play, well, almost anything else, we think the bottom three might have looked a lot different here.
9. Aja
The moment we knew it was done for her during the lip sync: after highlighting Nina's duck walk as the gag of the century, Aja's impressive flip split got the editing equivalent of "Yeah, ok, whatever."
It's hard to argue, though, that it wasn't her time. If you had asked us last week who was going home next, we'd say it was really a coin flip between her and Farrah. At least Aja leaves us with one of more iconic outbursts of the season, which is better than being sent home without making any mark what so ever.
Related: RuPaul's Drag Race Power Ranking Episode 6: The Greatest Snatch Game in Ages
See What's Trending in W Video: