Russian Designers
If it's Tuesday, there must be a new batch of Russian designers creating a buzz abroad. Here, three to know:
---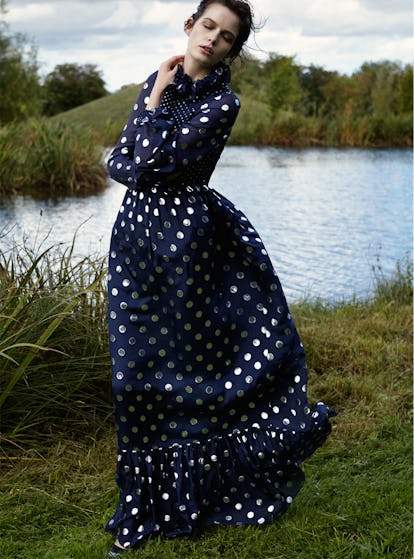 Alexandr Kondakov makes modern, clean-lined clothes that belie his traditional sensibilities. "Everything is very fast now," complains the 28-year-old designer, who started his eponymous label in 2012 after working as a patternmaker for fellow Muscovite Vika Gazinskaya. "I like to stop, to think, and try to do something timeless." Inspired by the notion of strong women who are soft at heart, his spring collection is filled with tailored suiting in lipstick hues and architectural cocktail dresses with panels of tulle. And although he is slowly expanding his reach, selling for the first time on Moda Operandi this season, Kondakov claims to have no desire to become a powerhouse: "I'd like to remain a small story in fashion."
Like many Russian designers, Olga Vilshenko, who grew up in the Southern Urals, began making clothes out of necessity. "It was so hard to buy anything in Soviet times," explains Vilshenko, who got her start sewing frocks for her dolls. In 2010, after sharpening her skills at the Istituto Marangoni in London, the designer launched her line, Vilshenko, fusing the crafty techniques and folkloric prints of her childhood with simple, elegant silhouettes. Her spring collection, which references the lyrical heroines and cool color palettes of the 19th-century Russian symbolist artist Mikhail Vrubel, includes sheer midnight-hued blouses worn with narrow skirts, and silk organza gowns with ruffled necks and hems. "I'm inspired by Russian tradition," says the 35-year-old designer. "But I like my clothes to be wearable."
In 2006, at the behest of her friends, Natasha Zinko, a freshman at London's Central Saint Martins, began making jewelry—intricate, whimsical pieces that would become the foundation for full-fledged fine-jewelry and fashion lines sold all over the globe—from TSUM in Moscow to Maxfield in Los Angeles to her own boutique in London's Mayfair neighborhood. And that's not the only aspect of the 36-year-old designer's backstory that has a fairy-tale feel: Her spring ready-to-wear collection is an exuberantly feminine parade of French lace, flounced hems, and exaggerated hourglass curves inspired by bellflowers, which grew in abundance outside her family home in Odessa. "I'm a romantic," she says. "Love is the common link in all my creations."
Photos: Russian Designers
Alexandr Kondakov. Portrait by Ilona Stolie.
Look from Alexandr Kondakov's Spring 2014 collection. Photograph by Sergey Rogov.
Olga Vilshenko. Portrait by Richard Bush.
Olga Vilshenko's collection. Photograph by Yelena Yemchuk.
Natasha Zinko. Portrait by Anton Kovalenko.
A look from Natasha Zinko's Spring 2014 collection. PHotograph by Alexey Katashinskiy.