Prepare to Fall in Love with Ruth Negga
After 15 years of professional acting, Ruth Negga is on the verge of stardom.
---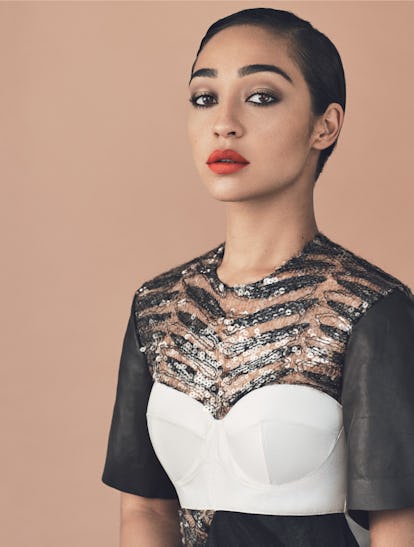 Photograph by Emma Tempest, Styled by Michelle Cameron; Hair by Marcus Francis for Suave Professionals at Starworks Artists; Makeup By Jo Baker for NARS at Forward Artists; Manicure by Michelle Saunders for Essie at Forward Artists; photography assistants: Shayan Asgharnia, Cris-Ian Garcia; fashion assistant: Desi Aguilar.
When Loving, a surefire Oscar contender, received a standing ovation at the Cannes Film Festival in May, leading lady Ruth Negga was woefully underprepared. "I had only brought a one-ply tissue," the 35-year-old actress recalls. "It was a tiny, raggedy thing by the end." Opening next month, the movie tells the story of the real-life Virginia couple Richard and Mildred Loving, whose 1967 Supreme Court case legalized interracial marriage. "They were quite shy of publicity. They weren't aware of the impact they would have," says Negga, who was born in Ethiopia and raised in London and Limerick, Ireland.
After nearly 15 years of theater work, an occasional BBC series, and bit parts in blockbusters, Negga is suddenly on the precipice of international stardom. No sooner had she wiped away her tears in Cannes than she found herself on a plane to New York for the season premiere of the AMC comic book adaptation, Preacher. Negga has earned raves as the gunslinging badass Tulip O'Hare, who, in many ways, is the opposite of Mildred Loving. "I think a lot of actors feel like outsiders or miscreants," she says. "This profession provides an opportunity to play out all the different parts of ourselves."
Ruth Negga, Now an Oscar Nominee, Has Mastered a Gothic, Witchy Style on the Red Carpet
For a party celebrating her 2011 play, 'The Playboy of the Western World,' in which she co-starred with Irish actor Robert Sheehan, Negga wore a ruffled mini dress with a coordinating taupe jacket — one that she has been known to recycle on occasion.

Getty Images
For the London Evening Standard British Film Awards in 2012, Negga wore a conservative blue-and-teal chiffon dress accented with a red belt.

Getty Images
From 2013 to 2015, Negga had a recurring role on 'Marvel's Agents of S.H.I.E.L.D.'; she burst back onto the red carpet scene earlier this year with the debut of her new series 'Preacher' — and with a witchy new style to match. Here, she wears an edgy David Koma design for the series' Los Angeles premiere, May 2016.

Getty Images
Following the debut of 'Preacher,' Negga jetted off to France for the Cannes Film Festival with co-star Joel Edgerton, where they premiered their film 'Loving.' Negga came armed with the wardrobe to match the Oscar-buzz-worthy performance: She starts here with gold Suno dress for the film's photocall, May 2016.

Getty Images
At the film's star-studded Cannes premiere, Negga stood out in a daring lace design by Marc Jacobs paired with '50s-inspired hair and makeup.

Getty Images
Ruth Negga, looking like a red carpet sorceress, opts for a lacy Rodarte design for the premiere of 'Warcraft' in Hollywood, California, June 2016.

WireImage
Negga showed up at Giorgio Armani Privé's Fall 2016 couture show with longtime boyfriend (and 'Preacher' co-star) Dominic Cooper — at risk of overusing the witchy comparison for her red carpet style, the bottom is all Dorothy, the top all Wicked Witch of the West.

Getty Images
Branching out from her now-standard gothic all-black ensembles, Negga opts for a velvet Valentino design from the label's ballet-inspired Fall 2016 collection at the party celebrating Cartier's reopening in New York, New York, September 2016.

Getty Images for Cartier
Combining her love for black lace with a bit of a more tropical aesthetic, Negga selects another Valentino design for her festival run — here, at the Toronto Film Festival's Entertainment Weekly party, September 2016.

Getty Images for Entertainment Weekly
A sweet, classically feminine Prada design took center stage at the Toronto Film Festival looks when Negga stepped out at the InStyle/HFPA party, September 2016.

WireImage
Returning to the monochrome looks she favored earlier in the year, Negga premiered 'Loving' at the Toronto International Film Festival in a long-sleeved grey-and-black dress by Prada, paired with a set of cabernet-colored velvet platforms for a playful edge.

Getty Images
Ruth Negga at the Loving after party at the 69th annual Cannes Film Festival in Cannes, France, May 2016.

Getty Images.
Ruth Negga in Givenchy at the Gotham Independent Film Awards in New York, New York, November 2016.

Getty Images/FilmMagic
Ruth Negga in Valentino at the premiere of Loving in West Hollywood, California, October 2016.

Getty ImagesFilmMagic
Ruth Negga in Prada at People's 'Ones To Watch' event in Hollywood, California, October 2016.

Getty Images for People
Negga wore Valentino to the 28th Annual Palm Springs International Film Festival Film Awards Gala at the Palm Springs Convention Center on January 2, 2017.

Getty Images
Negga was dressed to win in Louis Vuitton at the 2017 Golden Globe Awards.

Getty Images
Negga's somber black Dolce & Gabbana look was the perfect take on Elvira at the Santa Barbara Film Festival.

Michael Kovac/Getty Images
Ruth Negga, like all of us, loves a skirt with pockets. This one's Miu Miu.

Dan MacMedan/Getty Images
A pastel riff on her usual witchy silhouettes, Negga takes on the red carpet in Valentino. Movies for grownups, indeed.

Jason LaVeris/Getty Images
The best way to execute a conservative, ankle-length dress? Paired with a fur stole, of course. In Erdem, Negga is radiant at a Farfetch event.

Todd Williamson/Getty Images
Luck of the Irish: Negga can pull off that tough grass green like no one else — here, she works varying shades, including a Miu Miu dress and a Max Mara coat.

Alberto E. Rodriguez/Getty Images
HOLLYWOOD, CA – FEBRUARY 26: Actor Ruth Negga attends the 89th Annual Academy Awards at Hollywood & Highland Center on February 26, 2017 in Hollywood, California. (Photo by Frazer Harrison/Getty Images)

Frazer Harrison
Watch W's most popular videos here: