Remember The Time Ryan Gosling Released a Perfect Halloween Album?
All I want for Halloween is "Boo!"
---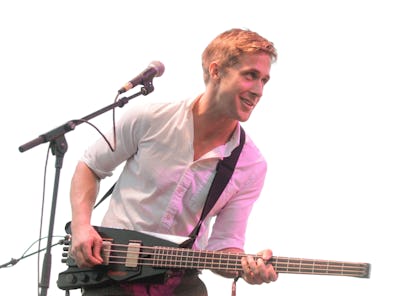 Photo by Noel Vasquez/Getty Images
Ryan Gosling's ultimate off-screen legacy will likely include the likes of that Feminist Ryan Gosling meme, his charming banter during interviews, breaking up a street fight that one time in New York, and that unforgettable on-stage kiss with Rachel McAdams at the 2005 MTV Movie Awards. Though, one area that shouldn't go overlooked is his brief, but particularly spooky music career with the band Dead Man's Bone. Their lone record deserves it place as a Halloween classic.
While the actor-turned-musician trend has been rightfully critiqued in recent years, it's no secret that aspiring talents of the golden age were once expected to be triple threats with the skillset to sing, dance, and act. Anyone that knows their '90s history is aware that Gosling grew up performing on Disney's The New Mickey Mouse Club alongside pop icons Britney Spears, Christina Aguilera, and Justin Timberlake. As their careers ascended into global stardom, Gosling veered far away from the Magic Kingdom toward the grittier parts of Hollywood that would eventually earn him Oscar nominations instead of his former cast mate's Grammy awards.
Over the decades, Gosling has starred in a carousel of beloved indie films while also turning on the charm in the occasional romantic comedy. Somewhere in the midst of all that, the Canadian heartthrob decided to start a band with Zach Shields called Dead Man's Bones. According to Rolling Stone, the pair met through his ex-girlfriend and The Notebook co-star McAdams. In 2009, the duo dropped their debut self-titled album on ANTI- Records which earned a respectable 7.1 rating on Pitchfork. Given that it came out after Gosling's role in the dark sex doll comedy Lars and the Real Girl, the eerie vibes feel very aligned.
The project was a special collaboration with the Silverlake Conservatory of Music and was recorded at Bob Baker Marionette Theater in Los Angeles where Dead Man's Bones had a residency. Apparently, Gosling and Shields never intended to do vocals on the record, but while working with the children's choir they started singing along and decided to keep in their parts. Lucky for us! (Fun fact: Lydia Night, lead singer of LA punk band The Regrettes performed with the band when she was only nine years old.) While the lyrics are simple to sing along and come off as cutesy because of the kids, closer examination reveals a darker side—the opener for "Werewolf Heart" is "You'd look nice in a grave." Of course, while it's all in good fun, there are clear themes of death, destruction, love, and loss between all that talk of souls, bones, and bodies.
Dead Man's Bones had just one tour where they recruited local choirs and included a talent show as the opening act in the 12 cities that they visited. Unfortunately, while I was not plugged in at the time, from what I've been told by someone who bore witness to the whole spectacle, it was "one of the weirdest/coolest shows ever."
Now that the fall fits are in full rotation and we're all breaking out our best fleeces to hit the apple orchards, its the perfect season to spin some Dead Man's Bones. Today officially marks the 11th anniversary of their album and after listening to what was "intended to be a soundtrack to a play about a monster-ghost-love-story" more closely, I realized that Gosling, in his own small way, was very much ahead of his time. The closing track "Flowers Grow Out of My Grave" could easily be mistaken for one of Okay Kaya's songs with its monotone spoken-word delivery before the melody kicks in with support from some guitars, drums, a tambourine, and other production elements, found in "Palm Psalm" and "Emulate" specifically, feel particularly relevant.
Vulture writer Hunter Harris recently tweeted a thread that set off a discourse comparing Gosling's impact to Jake Gyllenhaal's. I would also argue that while one starred in a Halloween adjacent movie with Donnie Darko, the other straight up wrote and recorded an entire Halloween-themed record with a children's chorus in his spare time. I rest my case. (How this hasn't convinced Tim Burton to cast him in one of his films is beyond comprehension, but I digress…) Even though I tend to lean toward this record as Halloween approaches—Gosling himself has even described it as "spooky doo-wop"—the music as a whole still holds up, creepy crooning and all. "Pa Pa Power" and "My Body's A Zombie For You" will always hold a special place in my heart.
To all of the fellow fans that never got to fully live this truth, I want you to know that I see you. The only DMB we should speak of this time of year is Dad Man's Bones. Given the project seemed like a one-time lark, I might be waiting on my deathbed for a sophomore album to materialize, but trying not to summon any spirits that are trapped in purgatory in the meantime.
Related: Ryan Gosling Reunited With Britney Spears for the First Time Since The Mickey Mouse Club