Ryan Gosling Beautifully Thanks Eva Mendes in His Emotional Acceptance Speech
Ryan Gosling single-handedly made love a thing again.
---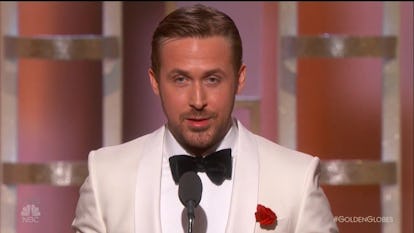 NBC
2017: The year Ryan Gosling single-handedly made love a thing again.
The actor won Best Actor in a Motion Picture – Comedy or Musical Sunday night at the Golden Globes for his magical portrayal of a jazz pianist in Hollywood in La La Land, but what he'll be remembered for long after the film leaves theaters will be his loving, kind, honest, and sweet acceptance speech in honor of his wife, Eva Mendes.
Mendes was noticeably absent from the award show where Gosling was predicted to win. But Gosling explained why his wife wasn't present by explaining the tumultuous year she's had dealing with her brother's ailing health.
After briefly and humbly insisting the award should've gone to Ryan Reynolds (nominated for Deadpool), the actor launched into a moving thank you to his wife and the mother of his two children.
I'd like to try and thank one person properly, and to say that while I was singing and dancing and playing piano and having one of the best experiences I've ever had on a film, my lady was raising our daughter, pregnant with our second, and trying to help her brother fight his battle with cancer. If she hadn't taken all that on so that I could have this experience, it would surely be someone else up here other than me today. So, sweetheart, thank you. To my daughters, Amada and Esmerelda, I love you. And if I may, I'd like to dedicate this to the memory of her brother, Juan Carlos Mendes.
Immediately following Gosling's incredibly romantic gesture, the Internet lit up with fans confirming Gosling's status as the ultimate heartthrob — yet another loss for Reynolds. If we're this shaken up at the Globes, just imagine what Ryan has in store for the Oscars.
Photographer: Mert Alas & Marcus Piggott Stylist: Alex White
Photographer: Mert Alas & Marcus Piggott Stylist: Alex White
Eva Mendes wears Nina Ricci's faux fur jacket, at Jeffrey, New York.

Photographer: Mert Alas & Marcus Piggott Stylist: Alex White
Dolce & Gabbana's silk dress, at select Dolce & Gabbana boutiques, 877.70.DGUSA.

Photographer: Mert Alas & Marcus Piggott Stylist: Alex White
Marc Jacobs's alpaca coat with attached belt, at Marc Jacobs, New York, marcjacobs.com; Nina Ricci's silk dress, at Barneys New York, New York, barneys.com; Zainab, Los Angeles, zainabonline.com; Agent Provocateur's nylon lace bra, at Agent Provocateur, Chicago and Los Angeles; Bloomingdale's, New York. Harry Winston earrings.

Photographer: Mert Alas & Marcus Piggott Stylist: Alex White
Photographer: Mert Alas & Marcus Piggott Stylist: Alex White
Talented, sexy and something of a ham, Eva Mendes proves there's more to her than meets the eye. Here, she wears Miu Miu's wool dress with metal adornments, at select Miu Miu boutiques, miumiu.com. David Yurman's platinum, tourmaline and diamond ring, price upon request, at David Yurman The Townhouse, New York, 212.752.4255.

Beauty Note: Mendes heats things up but still stays cool with Shiseido Makeup Sheer Matifying Compact Foundation SPF 22; Luminizing Satin Eye Color in Squirrel, Caramel, Cavern and Slate; Smoothing Eyeliner in Brown; Perfect Mascara in Black; Accentuating Color Stick in Bronze Flush; and Perfect Rouge lipstick in Valentine.

Photographer: Mert Alas & Marcus Piggott Stylist: Alex White
Watch Elle Fanning discuss her crush on Ryan Gosling: