Ryan Gosling's Kids Think He's an Actual Astronaut
First Man sets can be confusing.
---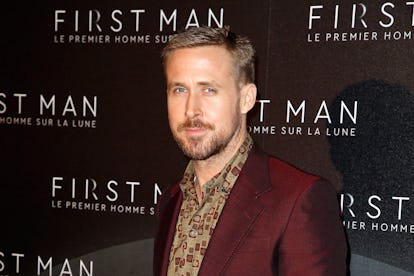 Laurent Viteur/Getty Images
Ryan Gosling is playing Neil Armstrong in the new biopic First Man, a film that chronicles the immense trials and tribulations that occurred in the years leading up to the (ultimately successful) Apollo 11 mission to the moon. Gosling, as any reasonable person might deduce, spends a solid chunk of the film donning spacesuits and other space-appropriate garb that were popularized in the 1960s, so much so that his two young daughters now genuinely believe he's a bona fide astronaut.
"They came to set," Gosling explained with a laugh on Jimmy Kimmel Live!. "They came on this day where I was shooting a launch scene, so I was in the spacesuit and pretending to launch. I think they think I'm an astronaut now. My oldest said the other day — she pointed to the moon — she was like, 'That's where you work, right?'"
Funny enough, Gosling's wife, Eva Mendes, also mentioned her daughters' adorable First Man confusion last month: "They loved it! And they now think Poppy's an astronaut. We haven't corrected them yet."
Gosling's Kimmel appearance went by without mentioning the current "controversy" (note the quotations) surrounding First Man, which regards the film's omission of Armstrong planting an American flag on the moon during Apollo 11's mission. Following some vocal conservatives fanning the flames on social media, Gosling responded by explaining the rationale behind the creative decision. "I don't think that Neil viewed himself as an American hero. From my interviews with his family and people that knew him, it was quite the opposite," he explained. "And we wanted the film to reflect Neil. I'm Canadian, so might have cognitive bias."
Now, we just have one question for Gosling's daughters: Did they think he was a jazz musician during the filming of La La Land, too?
First Man premieres in theaters next week.
Related: How Ryan Gosling and Emma Stone Reacted to That Moonlight-La La Land Mix-Up
Eva Mendes's Style Evolution As Hollywood's Femme Fatale
Fresh on the scene, Eva attended the LA premiere of The Others wearing a simple white button-up dress paired with a bold orange shoulder bag and tan platform sandals. Photo by Getty Images.

Getty
Eva opted for a sexy black menswear inspired look while visiting the Mann Village Theatre in 2002. She completed her look with super long locks. Photo by Getty Images.

Getty
At the 2003 Toronto Film Festival, the actress kept her look simple on the red carpet. She donned a black v-neck maxi dress with what floral appliqué on the waist and hemline. Photo by Getty Images.

Getty
At the Golden Globe Awards, Mendes opted for a slinky halter top with an exposed back. Photo by Getty Images.

Getty
Mendes stunned in a gold floor grazing slip dress as she attended the Gucci Spring 2006 Fashion Show. She completed her look with a small gold clutch bag and minimal jewelry. Photo by Getty Images.

Getty
The actress upped the sex appeal of a white Christian Dior skirt suit, wearing nothing under it. The paring of black peep-toe pumps with this look kept it chic. Photo by Getty Images.

Getty
Mendes looked ultra hot in a bright red halter gown for the 2006 MTV Movie Awards. She accessorized with a small gold clutch bag, gold bangle bracelets and gold hoop earrings. Photo by Getty Images.

Getty
At the New York premiere of We Own the Night, the actress looked classic and stunning as she posed on the red carpet in a one shoulder grecian inspired gown. Photo by Getty Images.

Getty
Mendes looked darling in a strapless floral cocktail dress with nude scrappy platform sandals for The Spirit at New York ComicCon in 2008. Photo by Getty Images.

Getty
Dressed in a canary yellow Bill Blast strapless column dress, Mendes radiated on the red carpet of the Los Angeles premiere of The Spirit. She completed her look with a gorgeous diamond Van Clef & Arpels bracelet. Photo by Getty Images.

Getty
All eyes were on the actress as she posed on the red carpet at the 66th Annual Golden Globe Awards in a white Christian Dior gown paired with a turquoise Van Clef & Arpels sterling collar necklace. Photo by Getty Images.

Getty
The actress strutted down the red carpet of the 66th Venice Film Festival in a black Armani Prive gown featuring a center cutout bodice and ribbon bondage skirt. Photo by Getty Images.

Getty
At the 2010 Met Gala, the actress glowed in a vibrant orange Prada strapless gown. The gown featured a beaded bodice and peplum skirt with frontal split. Photo by Getty Images.

Getty
Staying true to her infinity for strapless feminine gowns, Mendes donned an exquisite red floor length Gucci gown at the La Dolce Vita World Restoration Premiere during The 5th International Rome Film Festival. Photo by Getty Images.

Getty
At the Art Of Elysium Heaven Gala 2011, the actress looked angelic as she donned a romantic silk Valentino gown featuring a rose ruffled shoulder with draped neck and bow waist. Photo by Getty Images.

Getty
Mendes smoldered at the Holy Motors premiere in this little black square-neck lace dress. She accessorized with simple black pumps and a gold and black clutch bag. Photo by Getty Images.

Getty
Mendes took to the red carpet for the 2013 Vanidades Icons of Style Awards dressed in a sexy black vintage Luis Estévez black frock with fringe details falling from the halter neckline. Photo by Getty Images.

Getty
The actress turned new fashion designer looked lovely in a black and white printed frock at the Eva Mendes for New York And Company Spring 2014 Collection pop up store launch party. Photo by Getty Images.

Getty
During her most recent Eva Mendes x New York & Company FW 16 Show, Mendes posed in a darling bureaux peter pan styled dress. She completed her looks with black lace stockings and burgundy Mary-Janes. Photo by Getty Images.

Getty
Actress Eva Mendes made her first public appearance in 6 months at the opening of a new New York & Company store in Miami on Thursday. Photo by Getty Images.

Alexander Tamargo/FilmMagic/Getty Images