Ryan Gosling Eats Rooney Mara's Foot in Terrence Malick's Song To Song Trailer
Ryan Gosling, Rooney Mara, Natalie Portman and Michael Fassbender all appear in Terrence Malick's eagerly awaited film Song To Song.
---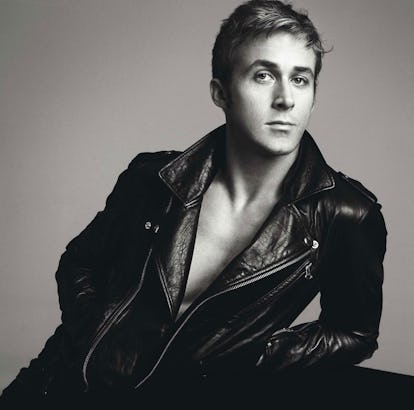 Inez van Lamsweerde and Vinoodh Matadin
Ryan Gosling and Rooney Mara lead the star-studded cast of auteur director Terrence Malick's new film Song to Song, but it was a long journey to get to this point.
The drama, which is set in Austin, Texas's indie music scene, was originally announced in 2011 and began filming in 2012. In that period, the movie had three name changes (it was originally known as Lawless and Weightless before settling on its current title), and a veritable who's who of both Hollywood actors and notable musicians are said to have filmed scenes.
None of this is atypical for a Malick film. The director isn't known for working fast (he once took off 20 years between films), but rather in mysterious ways. Rarely giving interviews and hesitant to heaven his photo taken, Malick releases films when he's good and ready. Even if it's half a decade after he originally shot his first scene.
It seems he's finally ready to release Song To Song into the wild. The first trailer debuted today, and the film will be the opening feature for the SXSW Film Festival (apt considering the subject matter).
Not too much is known about the film other than that it's a musically themed love story centering on two couple. Gosling and Mara play two young songwriters in love, who appear to be quite affectionate (see the scene where Gosling lovingly nuzzles on Mara's feet). They're basically every obviously in-love hipster couple with a thing for PDA you've ever come across.
Meanwhile, Michael Fassbender plays a music mogul who promises to help Gosling and Mara make it big. Along the way he hooks up with Natalie Portman's waitress character. Their vibe seems a bit more sexual. "What part of me do you want?" asks Portman's character at one point from Fassbender's waste level.
Cate Blanchett, Haley Bennett, Val Kilmer, Christian Bale, Holly Hunter, Boyd Holbrook and Benicio Del Toro are also said to have roles in the film, but Malick has a habit of dropping entire characters and plot points during the editing process. Jessica Chastain, Rachel Weisz, Amanda Peet, Barry Pepper and Michael Sheen all filmed scenes for Malick's To The Wonder, but a not single one of them actually appeared in the final cut. Kilmer seems to have a blink-or-you'll-miss-it trailer appearance, but who knows about the others.
Song to Song is also said to include a melange of musician cameos. Patti Smith and Florence Welch supposedly play themselves, and bands like Arcade Fire, Iron & Wine, Spank Rock, Fleet Foxes, Black Lips and Lykke Li, basically a Pitchfork's best-of list, are also said to appear.
Though, the musician cameos we spot for sure in the trailer belong to The Sex Pistol's John Lydon and the unmistakable torsos of Iggy Pop and Red Hot Chilli Pepper's Flea.
The film is set for its SXSW premiere on March 10th, and will then roll out to a regular release on March 17th.
Natalie Portman Still Has Some Fantasies About Patrick Swayze: