Ryan Murphy's Hollywood: Everything We Know So Far
Ryan Murphy's Netflix show Hollywood is a revisionist history of Tinseltown that details both show business and sex work.
---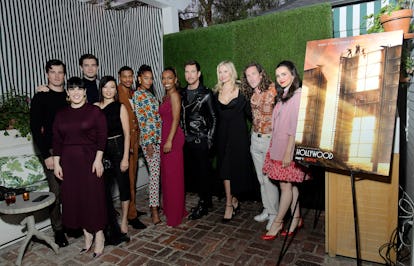 For his upcoming series Hollywood, Ryan Murphy is taking advantage of the fact that Netflix is where TV megacreators come to make projects they couldn't create anywhere else. And what Ryan Murphy wants to make, apparently, is a glittery alt-history period piece about male sex workers.
While the early description of Hollywood called to mind the playful but relatively faithful adaptation of the real Tinseltown history seen in Feud, it turns out the show will thoroughly filter cinema's golden age through the Murphy-verse. While real-life figures like Rock Hudson, Hattie McDaniel, and Gloria Swanson will pop up, a sneak peek event attended by Variety reveals that the series may have just as much to do with the business of sex as it does the business of show.
Here, everything we know.
David Corenswet Stars as a Gas Station Call Boy
The Politician breakout star David Corenswet plays one of three leads on the show, and according to Variety, his character, Jack, comes to Hollywood hoping to make it as an actor, but winds up working for a prostitution ring run out of a gas station by Dylan McDermott's character. Among his clients? Patti LuPone's character. "The first half of the scene I get to sit there and listen to her deliver this amazing monologue, and then she gets to tell me to undress," the actor told the trade paper. "It's the most uncomfortable moment, getting undressed down to your tighty-whities in front of Patti LuPone!"
Corenswet's storyline, however, may not be pure fiction. It bears striking resemblance to the documentary Scotty and the Secret History of Hollywood. In the film, Scott Bower, a former gas station attendant, claims to have had affairs with about half of Hollywood, both men and women, and more often than not for money.
Jeremy Pope Plays a Screenwriter Who Falls in Love With Rock Hudson
We've already covered Rock Hudson's real-life history and how it may figure into the script, but now we know a bit more. Pope will play a screenwriter who has a quick paid fling with Hudson (although it's unclear from our reading which of them is the customer), but then falls in love with him.
Darren Criss Plays an Aspiring Director
Criss has promised to no longer play gay characters after doing so multiple times in Murphy shows, and out of the three main characters his storyline is the only one that doesn't involve sex work and homosexuality (as far as we know now, anyway). He plays an aspiring director who dates a Dorothy Dandridge–like character played by Laura Harrier.
Several Real-life Figures Pop Up
While all three main characters are fictional, according to the IMDB listings, several Hollywood icons from the time do appear. Keep in mind, IMDB is not always fully accurate, but here's who we spotted.
Vivien Leigh (The actress best known for Gone With The Wind)
Hattie McDaniel (The first black actor to win an Oscar)
George Hurrell (The legendary photographer of Hollywood glamour shots)
Guy Madison (The Wild Bill Hickok actor)
Mickey Cohen (The infamous Los Angeles crime boss)
Irving Thalberg (The power producer)
Robert Montgomery (The leading man who served in World War II)
Hedda Hopper (The legendary gossip columnist)
George Cukor (The director)
Sidney Franklin (The silent film director)
Luise Rainer (The first actress to win two Oscars)
Henry Wilson (The agent of several beefcake actors)
Leo McCarey (The comedy director)
Gloria Swanson (The Sunset Boulevard actress)
William Meiklejohn (The legendary talent agent)
Rory Calhoun (The actor best known for Westerns)
Loretta Young (The Oscar-winning actress)
Tab Hunter (The actor who shared an agent with Rock Hudson)
Meanwhile, a Bunch of Today's Stars Pop Up in Roles
In addition to the previously mentioned actors, Holland Taylor, Carl Reiner, Maude Apatow, Janet Mock, Mira Sorvino, Joe Mantello, Jim Parsons, and Samara Weaving pop up.
We Should Have Seen This Coming From Murphy
In her very first collaboration with Murphy, Sarah Paulson played a sex worker in an episode of Nip/Tuck. That was one of several sex worker characters he put on that show, and Paulson would play a sex worker again on American Horror Story: Hotel. Matt Bomer played a prostitute on another season of AHS, Cody Fern had a pornography past in the most recent AHS season, and another sex worker character was in an episode of Asylum. Sex work figures heavily in the plot of Pose, and even on Glee, he managed to let Fox portray Chord Overstreet as a teenage stripper in one episode. Often, Murphy employs sex work as shock-and-awe plot points, so maybe it's time he takes a more nuanced view of the subject.