Ryan Murphy and Sarah Paulson Are Back to Make More Television Out of Your Worst Nightmares
Nurse Ratched of One Flew Over the Cuckoo's Nest is getting her own show.
---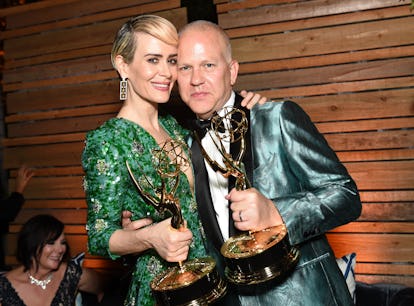 Emma McIntyre/Getty Images
A new season of Ryan Murphy's American Horror Story just got underway—the creepy, Trump-era Cult—and The Assassination of Gianni Versace: American Crime Story is slated to begin airing early next year. Feud, which charted the rivalry of Joan Crawford and Bette Davis, wrapped its first season in April. In May, Murphy announced a new, [ER-esque series starring Angela Bassett, 911](https://www.wmagazine.com/story/angela-bassett-tv-show-ryan-murphy), which is anticipated to debut on Fox next year. But this was not sufficient for Murphy, one-man camp factory: This week, Netflix picked up his new collaboration with Sarah Paulson, a regular on American Horror Story and the star of the first season of The People Vs. O.J. Simpson: American Crime Story—and, in classic Ryan Murphy fashion, Ratched is a small-screen adaptation of your worst nightmares.
In Ratched, Paulson stars as the titular Nurse Ratched, the sadistic psychiatric hospital nurse from Ken Kesey's One Flew Over the Cuckoo's Nest. Louise Fletcher played Ratched, who has been interpreted as an allegory for the inefficiencies, and cruelties, of bureaucracy, in the classic 1976 film adaptation co-starring Jack Nicholson, a role that earned her a Best Actress Oscar.
Judging by early reports, the series appears to toe the line between the convoluted fiction of American Horror Story, the product of Murphy's twisted imaginings, and the fictionalization of American Crime Story, largely based on real-life events and narrative, in that Ratched presents an invented backstory for an existing character. The series presents her origin story, beginning in 1947 "and will follow Ratched's (Paulson) journey and evolution from nurse to full-fledged monster," according to Deadline. Because there is nothing more terrifying than a murderous health-care professional—or a bureaucracy. Murphy, a former newspaper reporter with an eye for headlines, will no doubt make veiled references to the flaws of the American healthcare system and the need for an Obamacare-like salve.
Paulson, for her part, is a longtime collaborator with Murphy: She's a regular on American Horror Story, and she won an Emmy for her role as Marcia Clark in The People Vs. O.J. Simpson: American Crime Story. Her parts have varied from a zombie-junkie (Hotel), a pair of lovestruck conjoined twins (Freak Show), a high-powered prosecutor (The People Vs. O.J. Simpson), and a medium (Murder House). She's slated to star in the upcoming season of American Crime Story based on the fallout from Hurricane Katrina, which will film early next year—and then, she will move on to Ratched.
Ratched was at the center of a bidding war between Amazon, Hulu, and Netflix, according to Deadline, with Netflix emerging victorious. The streaming platform ordered 18 episodes of the show, which was written on spec by a recent Loyola graduate named Evan Romansky, to be divided over two seasons; Michael Douglas, who produced the earlier big-screen version, has also signed on as an executive producer. Production is anticipated to begin next year, and Murphy plans to direct the pilot episode.
Ratched marks the first time Murphy has developed a series for streaming. In the words of the Coen brothers, who likewise will make their streaming debut with the Netflix series The Ballad of Buster Scruggs next year, Murphy is "streaming motherf—ers!"
Bradley Cooper's best birthday involved Egg McMuffins and the Jersey Shore: