Ryan Philippe, Soldiering On
A high-profile divorce made last year the worst of Ryan Phillippe's life. Now, with some perspective and an intense new role, he's ready to move forward.
---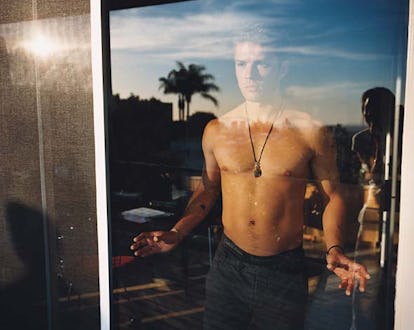 You'd think it would be easy to spot Ryan Phillippe. He's told me to meet him at the Viceroy hotel in Santa Monica. Outside, one of the heaviest rains in years is beginning to fall, and the lobby is practically empty. I station myself on a chaise longue right in front of the main door, where I'll be sure to get a good look at anyone who enters. A guy walks in wearing a couple days' worth of stubble, a gray sweatshirt, black cargo pants and a tweed military cap with the brim pulled low. I stare right at his face and then go back to reading the paper. It's only when this stranger circles back toward the men's room that I realize my mistake. I sheepishly call out to his back, "Ryan…" When Phillippe turns around, I apologize for not recognizing him, blaming the hat.
"Good," he says. "It works."
After the year Phillippe has had, one can easily understand why he'd want to travel incognito. His divorce from Reese Witherspoon—she filed papers in November 2006, and the proceedings were finalized this past October—had tabloids picking over every excruciating detail of their lives in search of what went wrong with the Hollywood golden couple.
The 33-year-old actor is understandably not eager to rehash the specifics. But he is forthright, genuine, even a little vulnerable when the topic comes up. Asked if he's slowed down his acting career—his upcoming film, Stop-Loss, about Iraq war soldiers, is one of just two films he's made in two years—he says, "I've had a lot of upheaval in my personal life. I wanted to take time to make sure that my kids were okay and to build a new life that was going to be suitable to being a single parent. Every once in a while you kind of want to take a step back and refocus to make sure you're doing it for the right reasons."
A little later, Phillippe says his divorce was "the darkest, saddest place I had ever been. It was a struggle—there were a good four or five months of not being able to get out of bed. It was the worst time in my life." These days, things are better. "You get through it. It's a process that's not easy, but I get less and less sad about it every day."
Phillippe plays an Iraq war soldier in the upcoming film Stop-Loss.
The Delaware native was cast in his first major part in 1992, as a gay teenager on the soap opera One Life to Live. Television and movie roles followed, but his breakout film was the 1997 teen horror romp I Know What You Did Last Summer. In recent years, he's taken on more serious fare, such as Robert Altman's English country-home murder mystery, Gosford Park; Paul Haggis's meditation on racism, Crash; Clint Eastwood's Flags of Our Fathers; and, coming to theaters in March, Stop-Loss, directed by Kimberly Peirce, her first film since her Oscar-winning debut, Boys Don't Cry, in 1999.
"The idea of being a movie star is less appealing than being an actor," he says. "I think a movie star tends to be representative of a certain type of film that has to be palatable, maybe genre-specific, and is not that high-risk. There is a safe association with it."
He revels in the fact that reactions to Crash, which won the Oscar for best picture in 2006, were so strong. "It polarized people, and I love that," he says. "Some people loved it, some people hated it. I love being a part of something that isn't completely clear to everyone. People get to make up their mind."
Reactions to Stop-Loss, which essentially takes place inside the minds of Iraq war soldiers wrestling with whether the war is worth fighting, could be just as polarizing. Phillippe plays an Army sergeant on a tour of duty in Iraq who is looking forward to his discharge. But when he and his buddies get back to Texas, he is told that he is being deployed on another tour because of the Pentagon's "stop-loss" policy, which allows the military to send soldiers back to Iraq even after they've served out their enlistment contracts. Some 80,000 enlisted men and women in Iraq and Afghanistan are now serving under stop-loss, which some have labeled a "backdoor draft."
Phillippe with Jesse Bradford in Flags of Our Fathers.
For much of the film, Phillippe's character is a fugitive on the run, trying to decide whether to return to the war as a matter of duty—to his army buddies, if not to his country—or to follow other stop-loss soldiers and go into hiding in Canada. In recent years, Phillippe has gravitated toward roles in which he plays young, naive men facing a rite of passage—the rookie cop paired with a racist partner in Crash, the idealistic junior FBI agent assigned to gather evidence against a possibly corrupt mentor in Breach. But in Stop-Loss his role requires—and Phillippe delivers—an unmistakable maturity. His soldier may be unsure of what to do next, but he is never unsure of who he is.
"You are defying death every single day over there, and if you do make it to the end of your contract and you fulfilled your commitment to your country, I can't imagine a feeling worse than being told that you have to go back to that hellhole," he says. "That is beyond whether or not you believe in this war. That is just something completely unfair and devastating to a person's human path."
"When he read the script, he just cut through it," says Peirce, whose younger brother enlisted after September 11 and was shipped off to Iraq. (He was ultimately discharged after he was wounded in combat.) "It's about what it means to be a leader. For the part, I needed him to play a real-life soldier. I needed real soldiers to buy into it; I needed him to earn their respect as an actor."
So far, though, the aspect of the film that has attracted the most attention is the rumor that Phillippe and his costar Abbie Cornish became romantically involved on set and are currently dating. The film was shot in the summer and fall of 2006, just as Phillippe's marriage was falling apart. After the film wrapped, he says, the two did not see each other for months and only at the end of last year began to spend time together again. But, he insists, they are not a couple.
"She and I are close friends, and as far as if there is any future, that is not where we are at now," he says. "That is what other people like to say or like to assume. As far as I'm concerned, it's a friendship, and we are getting to know each other in a really difficult situation."
Cornish was labeled the "other woman" after it was rumored that the two slept together during production on Stop-Loss. Asked about the veracity of the gossip in a rather blunt manner, Phillippe bursts out laughing and says, "First of all, I wouldn't answer that, but I would say that things are never as simple as it's made out to be in the tabloid press. It was unfair for her to be called the names that she was, because it wasn't about that. I don't think an outside person can ever cause a divorce. I had difficulties in my relationship, and in my marriage, long before I ever met her."
Phillippe with Amanda Peet and Kieran Culkin in Igby Goes Down.
Phillippe is weary of seeing his personal life played out in public. "If you are going through the worst time of your life, the last thing you ever want is for the rest of the world to have an opinion about it, or feel like they have a say," he says. "That is the primary struggle with being famous. You still have to live and deal with it in your own personal way, but you also have to accept and understand that it's public knowledge."
As any reader at the checkout aisle knows, Phillippe and the two-years-younger Witherspoon met in 1997 at her 21st-birthday party. They married two years later and had two children, Ava, now eight, and Deacon, now four. In the public eye, their relationship became something of a test case for such burning pop-psych questions as whether a marriage can survive when the woman earns more money and is, by most accounts, more successful.
Phillippe says these popular diagnoses of his failed union widely miss the mark. "I certainly understand the level of interest that comes along with a public marriage," he says, "and with being married to someone like Reese, who so many people love with good reason. People want answers. But I think sometimes they wouldn't be happy with what the answers would be."
The split, he adds, was "as typical as any relationship that doesn't work. It's far more complicated and far less interesting than it's made out to be. To look and search for these salacious reasons, to pin it on a person, or a moment in someone's life, it's not realistic."
Now that the divorce is final, Phillippe and Witherspoon share custody of the kids, which he says has kept things civil. "I think for both Reese and I the focus remains our children. I think we have done a really good job at keeping things peaceable and completely focused on their welfare," he says.
Phillippe with Kristin Scott Thomas in Gosford Park.
Even though the personal tumult has quieted down, Phillippe remains plagued by its aftereffects. "I spend a lot of time just holed up in my house in Los Angeles. I'm thinking of leaving here because of that," he says. "I don't really go out because I know it's going to turn into a photo shoot." And he is concerned about how his kids are being affected by the paparazzi. "It's really scarring. It definitely does a number on my eight-year-old daughter. To hear her say that she worries about what she's wearing when she leaves the house because she knows her picture will be taken…. She's worried about friends at school who come up to her and say they see her in magazines. It's a really disturbing environment to bring up a child in. You don't know that when you are in your early 20s and you have your first kid. You don't know how ugly it can get."
This past fall Phillippe escaped town to film a British indie called Franklyn, a serpentine story set in the future in which he plays a masked atheist vigilante in a dystopian London that's in the grip of a religious cult. He describes it as "Batman meets Magnolia." Phillippe's next picture was supposed to be Last Battle Dreamer, a historical Viking drama in which he'd again appear opposite Cornish, but production has been delayed indefinitely.
Phillippe in Crash.
So for now Phillippe is taking things slowly and focusing on some personal projects. He's been writing a script—though he's not yet ready to give details—and he's contemplating directing it himself: "I want my work to be fulfilling and interesting, and that's it. It's not about chasing a paycheck, or chasing the lights." The only reason he can attract paparazzi at a supermarket, he maintains, "is because I was married to the highest-paid actress in the world. Even though I'm not with her any longer, there is a certain amount of notoriety that I guess sticks beyond.
"It's just not interesting to me," he continues. "It's not how I want to be defined."
Stop-Loss: Francois Duhamel/2007 Paramount Pictures; Flags of our Fathers: DreamWorks SKG/Neal Peters Collection; Igby Goes Down: United Artists/Neal Peters Collection; Gosford Park: USA films/Neal Peters Collection; Crash: Lions Gate/Neal Peters Collection