Sabine Ghanem's Multifaceted Appeal
The Lebanese-Egyptian beauty has an eye for gems.
---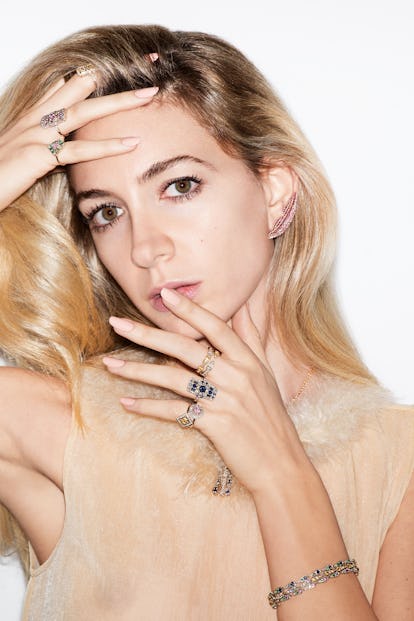 Photographs: Katja Rahlwes Stylist: Gianluca Longo
"I could have done many other things," Sabine Ghanem says as she folds her willowy frame into the corner of a sofa, "as long as it involved the creative process." The 30-year-old Lebanese-Egyptian beauty was born in Switzerland, spent her teens splitting her time between Beirut and the South of France, and now resides in London with her fiancé, Joseph Getty, grandson of the oil tycoon Sir John Paul Getty. She founded her jewelry line, Sabine G, soon after graduating from the Gemological Institute of America (GIA) in London in 2012. Her first earrings were inspired by a picture of a medieval reliquary in a book on decorative arts ("The shapes on the box were so cool that I just started to draw," she says) and produced by a small workshop in Florence, where the collection continues to be made. While on vacation in Los Angeles, she showed them to a buyer at Maxfield; the store placed an order immediately. Ghanem favors white and rose gold and uses pink and yellow sapphires, as well as other precious stones, to craft pieces that are unapologetically pretty but pack a punch. "When I started, I had no press, no PR, nothing to show anyone except the jewelry," Ghanem says. "But that's what worked—the jewelry itself."
Hair by Mari Ohashi at LGA Management; makeup by Lucy Burt for Mac; manicures by Pebbles for Ciate. Digital technician: Rebecca Lievre. Photography assistant: Virgile Biechy.