Sabrina the Teenage Witch is Getting CW's Sexy, Dark Reboot Treatment
And it'll be a Riverdale spin-off!
---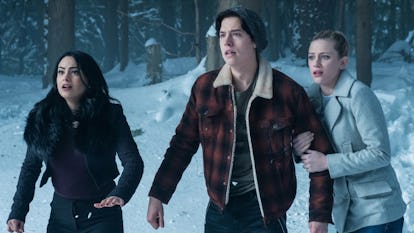 Courtesy of CW
From the sounds of it, think less Melissa Joan Hart's beloved TGIF classic, and more American Horror Story: Coven.
Hot off the massive success of Riverdale, the CW is developing another Archie-universe series that revolves around Sabrina the Teenage Witch. And by what Entertainment Weekly is reporting, it's going to be much darker than the many misadventures of Sabrina and Salem the cat in the original ABC sitcom from the early Aughts. The series, tellingly titled The Chilling Adventures of Sabrina, will be a bona fide drama plagued with a lot of death and destruction because nothing is sacred.
The series "reimagines the origin and adventures of Sabrina the Teenage Witch as a dark coming-of-age story that traffics in horror, the occult, and—of course—witchcraft," according to EW. "Tonally in the vein of Rosemary's Baby and The Exorcist, this adaptation finds Sabrina wrestling to reconcile her dual nature—half-witch, half-mortal—while standing against the evil forces that threaten her, her family and the daylight world humans inhabit."
Additionally, as Riverdale's current showrunner will be pioneering this Sabrina series, it leaves the door open for character sharing, or maybe even a crossover episode, between the two "companion" shows. (Who wouldn't want to see Jughead participating in some spooky witchcraft with Sabrina across the lake?) The CW also hopes to get it on the air by the end of 2018 so the two dramas can air simultaneously.
With The Chilling Adventures' announcement out of the way, now comes the fun part: Who's going to play the titular role? And will she at least still have two wonderful aunts and a snarky talking cat? No casting decisions have been revealed yet, although Riverdale fans have been particularly keen on Disney star Dove Cameron.
No word either on whether the world is truly ready for a version of Sabrina who finds herself surrounded by mysterious murders and steamy shower scenes.
Related: An Appreciation of the Unexpected Feminism in Riverdale
Fall Fashion Advice from a Very Young Stylist: